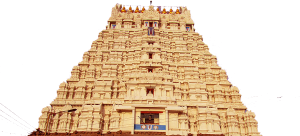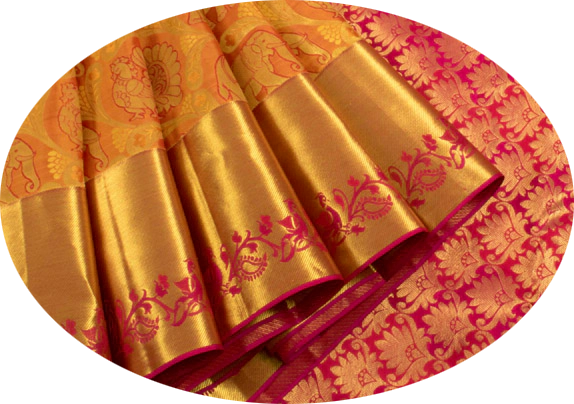 #1 online store to buy pure kanchi pattu sarees or Kanjivaram silk sarees certified by govt of India for silk mark and handloom mark.
Looking for Custom Made Kanjivaram Silk Saree?
At Kanchisilksarees.com, the specialty of pure Kanjivaram silk saree collections would be that you can get the designs of Silk and Silk customized with your favorite designs or traditional sets which you have longed for one to wear on your special day or function. Contact Us for more information.
Looking for Wedding Sarees
Latest Trending Jewellery
About Kanchipuram Silk Sarees
Kanchisilksarees.com tempts us with the best and finest silk sarees collections from the Temple town Kanjivaram. This traditional place gives us the latest and trendy designs with customized features on pure Kanchipuram silk sarees. Various categories are here on Kanchi Silk Saree collections like Soft Silk, Gift Silk Sarees, Traditional Pure Silk, Silk Cotton, Semi Silk Cotton and Pattu Pavadai's. Kanchisilksarees.com is one of the leading and trusted store for pure Kanjivaram silks. The finest place to get pure Kanchivaram silk saree for occasion like engagement, wedding, party and special occasions.
Kanchipuram also popularly known as Kanchi or Kanjivaram is an authentic place to get silk sarees, light weight silk threads and other sarees for functions which comes with original Pattu, Border and Pallu. Get traditional old pattu sarees from Kanchisilksarees.com and do online shopping to get wide range of customized designs, patterns and colors. There are many types of Kanchipuram silk sarees that comes in colors like parrot green, golden silk saree, royal blue, pink, purple and more.You can see marvelous saree collection at Kanchisilksarees.com where the sarees are distributed to different places of south India such as Bangalore, parts of Kerala, Mysore,Mumbai, Delhi and Kolkatta.
Kanchisilksarees.com provides the silk sarees from weavers who have certified by Govt of India for silk mark trade and Handloom mark which is issued by the ministry of textile and Government of India. You can get Kanjivaram silk sarees for wholesale from Kanchisilksarees.com as well as get pure Kanjivaram pattu saree for Rs.1000, Rs. 5000, Rs. 10000 range and below 1.5 lakh. You can shop in Gandhi Road, Kanchipuram for Silk Sarees and do shopping to find your required Saree with wide range of collection available at best price.
Also, the Kanchipuram silk sarees are distributed to well known retailer all over India and Overseas. Kanchisilksarees.com has become most popular for Bridal Silk Sari and you can get the Blouse with latest designs including temple border, peacock border and more . Kanchisilksarees.com is the top destination for traditional pure silks with latest fashion, trending designs and collections. The fabrics are weaved by the expert weaver from Kanchipuram to give the best craftsmanship for the ethnic beauty of the magnificent silk work.
Frequently Asked Questions
Where can I buy silk sarees in Kanjivaram?
Kanjivaram is the Trademark for Silk Sarees which is rich in Texture and Appearance. Customers can get variety of Silks like Gift Sarees, Soft Silks, Festive collections, Bridal Sarees, Wedding Collections and Party Wear in KanchiSilkSarees, Prakash Silks, BaBu Shah, VaraMahalakshmi Silks, Pachiayappas Silks. You can also try the Arignar Anna Silk Co Op Society Ltd, Kancheepuram Murugan Silk Handloom Weavers Co-op, Kancheepuram vallalar Silk Handloom Weaver's Co-op and Kancheepuram Sri Varadarajaswamy Silk Hand-loom Weavers Co-operative for Original Zari.
How do I trust the Pure Kanjivaram Silk Sarees online?
Nothing can beat the way on seeing the sarees in person and purchasing it in store. During this Lock down phase, you can trust the sites that have wonderful reviews and do the shopping for Pure Silk Sarees only if it has a Silk Mark Tag. Specifically to point out the Kanchi Silk Sarees that comes from Kanchipuram weavers are bound to attach this Government certified Tag with all the Pure Kanjivaram Silk Sarees.
How often can I wash my Kanjivaram Pure Silk Saree?
Always Dry clean your pure Kanjivaram Pattu saree which is the best method to keep it as new as possible once you wear. Else you can soak in Shampoo water and rinse it immediately and leave in Shadow space for drying. Do not put the Kanchipuram Silk Saree in direct sunlight which might make your saree look dull.
What is meant by Soft Silk sold in Kanchipuram?
Soft Silks are Lightweight Pure Kanchi Silk Sarees that are elegant in look and rich to wear for an occasion. These are also referred as Pure Soft silk sarees from Kanchipuram. This type of Kanchi silk sarees can be purchased online in KanchiSilkSarees.com, Prakash Silks, Babu Shah, RMKV, Kumaran Silks, Nalli along with customer reviews and ratings.
How much does Kanjivaram saree cost?
Kanjivaram Silk Sarees range from Rs 2,000 to Rs 3 Lakh. Pure Silk and original zari costs from Rs 15,000 to maximum of Rs 3,00,000. Gift sarees starts from Rs 2,000. Pure soft silks with silk mark tag starts from Rs 6,000. Various categories ranging from Soft Silks, Traditional Kanchi Silks, borderless pattu sarees, Temple border collections come up with the price range according to design's on Border, Pallu and Butta's.
Our happy customer's reviews
Check what other think about Us
This silk saree fabric is very good and this silk are can be used for all kinds of occasion. It is worth for the money and I'm satisfied with the saree.


This kanchipuram saree is very beautiful as I expected and it is light weight. The price of the silk saree is also affordable and I would definitely recommend others.


I purchased Kanjivaram saree for my birthday and it is same as shown in the picture. It gives a gorgeous look and coming to the quality it is certified by the ministry of textile and government of India.


It is a beautifully designed saree and can be used for home and office. I'm totally satisfied with this Kanchi Silk Saree and the quality is also very good.


Buy Original and Be Original
100% Pure Wedding Silk Sarees from Kanchipuram Weavers