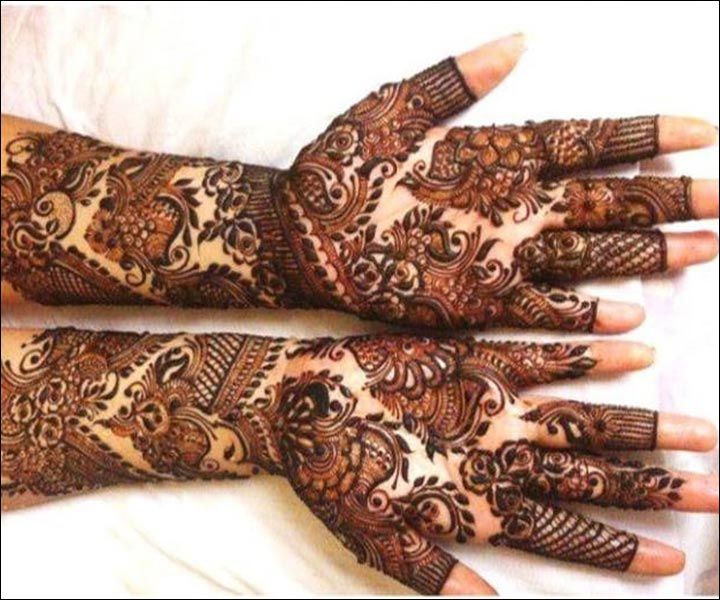 Mehndi is a traditional art practice that creates beautiful patterns on the hands and feet by using a range of colors and motifs. There are several designs that may be employed, and no two mehndi patterns are the same. Snakes, florals, and tribal motifs are also popular choices.
Are you seeking a simple, beautiful, and, most importantly, timeless Mehndi design? Take a look at this article! We've gathered a collection of the top Mehndi patterns that are simple, contemporary, and appropriate for any occasion. We have historic styles as well as the most recent trends. So, whether you want to spice up your life or express yourself in a unique and creative way, these basic Front Hand Mehndi patterns are precisely what you need.
[Click Here] Buy Organic Home Grown Fresh / Dry Henna (Mehndi) Leaves
1. MULTIPLE JALLI PATTERN FRONT HAND MEHNDI DESIGN
The jaali design is a net-like pattern made in the mehndi and is one of the most well-known patterns in the mehndi design. Of course, brides prefer them, but the bridesmaids and the couple's immediate relatives also adore this style. It surely looks well on ladies of all ages and accomplishes the dual goals of being voguish and traditional.
2. SYMMETRICAL FRONT HAND MEHNDI DESIGN
These kinds of mehndi designs have symmetrical patterns that draw attention due to their geometric appearance. But to obtain a well-balanced look, this must be done very carefully to look similar in both hands.
3. BRIDAL FRONT HAND MEHNDI DESIGN
The specific design is intended for upcoming brides looking for a trendy bridal front hand mehndi design concept. To make your wedding day appear more special, show this design image to your mehndi artist and ask for it to be done on your hands. You can also personalize this mehndi design. Your wedding attire would seem even more lovely.
4. HANGING BELL FRONT HAND MEHNDI DESIGN
Several dangling bells that appear to be hanging from the intricate jaali pattern enhance the beauty of this mehndi. Leaving some space and a lotus motif on the thumb finger, overall makes the design adorable.
5. CARTOON CHARACTER FRONT HAND MEHNDI DESIGN
If you want to apply mehndi on your children's hands, use cartoon character designs. Your children will adore the idea and will be able to relax and enjoy the procedure when you use these patterns.
Continue Reading...