Sorting and filtering through back-hand mehndi designs inspiration is more vital than front-hand mehndi designs when it comes to nailing down your mehndi design. After all, the backhand mehndi will reveal far more than the front hand both in person and in photographs. So, whether you're a bride, a bridesmaid, or want to decorate henna for a special occasion, this site has back-hand henna inspiration for everyone.
Here are some of the most gorgeous backhand mehndi patterns to give you some inspiration. Now is the time to pin your favorites!
[Click Here] Buy Organic Home Grown Fresh / Dry Henna (Mehndi) Leaves
1. DIAMOND SHAPE BACK HAND MEHNDI DESIGN
This design is a simple yet elegant choice for people who don't like elaborate arrangements at the back of their hands. The fingers are filled with similar patterns, while the central area of the hand's back has a diamond shape. Since the site around the diamond is left empty, the design looks impressive.
2. CRISS CROSS BACK HAND MEHNDI DESIGN
When it comes to criss-cross back-hand mehndi patterns, you'll discover a lot. Because it is highly popular, and the criss-cross pattern has a large female fan base. You can attempt mehndi patterns on simply your backhands or on your entire hand, depending on your preference.
3. HEART SHAPE BACK HAND MEHNDI DESIGN
There isn't much need to describe this mehndi design because the image speaks for itself. Simply a heart shape from larger to smaller sizes surrounded by leaf and curved lines. The best part about the mehndi design is that you may apply it without the assistance of anyone.
4. ARABIC BACK HAND MEHNDI DESIGN
Choose an Arabic design to breathe new life into your mehndi. The gorgeous flower designs in a diagonal pattern give an appealing appearance on the back of your hand. The dotted line that looks like a little net is another interesting addition to the idea. This design is suitable for any event.
5. EMPTY FINGER BACK HAND MEHNDI DESIGN
If you don't want mehndi patterns all over your backhand, consider the 'Empty Fingers back hand mehndi design,' which allows you to free up your five fingers and just apply mehndi on the middle section of your backhand. You can use whatever design you wish or attempt something similar to the one shown.
6. JEWELRY INSPIRED BACK HAND MEHNDI DESIGN
Jewelry patterns are becoming increasingly trendy and are a favorite among mehndi artists. Depending on your preferences, you may replicate regular women's jewelry with intricate or simple designs. These designs are most suited to the backhand.
7. JHUMKA LIKE BACK HAND MEHNDI DESIGN
The gorgeous backhand mehndi pattern is probably unfamiliar to you because it is popular among females in the Gulf nations. If you look closely, you can see a ring-shaped pattern that is joined to a set of Jhumka earrings that cover the rear hand region. To achieve a flawless result, you must hire a skilled mehndi artist.
8. ARABIC FUSION BACK HAND MEHNDI DESIGN
This is another back-hand mehndi pattern that brilliantly mixes the elegance of both Arabic and Indian motifs. The delicate embellishments in this design are exquisite and cover most of your hand, save for the index finger. This pattern is stunning on the back of your hand.
9. BRIDAL BACK HAND MEHNDI DESIGN
Whatever faith you follow, the bride cannot be seen without henna patterns on her back hands. And, especially in Asian nations such as India, Bangladesh, Pakistan, and Sri Lanka, mehndi design is required for brides. So, if you're looking for nice bridal heavy mehndi design ideas, start from the elbow up with this design.
10. FLORAL BACK HAND MEHNDI DESIGN
Floral patterns have been a staple of mehndi designs for decades, and this pattern is similar to an Arabic motif. The huge flowers on your hand have a black outside line that is filled with thin lines in the center. This basic design looks great for any event.
11. PAKISTANI BACK HAND DESIGN
Intricate patterns and styles are typical in Pakistani mehndi designs, and you can integrate them if you like that style. Unlike many other methods, this one covers your fingertips with intricate and one-of-a-kind patterns. Another distinctive feature of this mehndi design is the placing of a large bracelet on the back of your hand.
12. RAJASTHANI BACK HAND MEHNDI DESIGN
Rajasthani backhand Mehndi designs are distinguished by their use of floral themes and jewelry patterns. These patterns are beautiful and ornate, and they are put on brides' hands and legs. This lovely pattern may take some time to apply to the back of your hand, but it gives a stunning look.
13. COMPLETE FILLING BACK HAND MEHNDI DESIGN
This design is ideal for persons who do not want to leave any empty space at the back of their hands. It includes a variety of designs that completely occupy your palm and give it the appearance of a maze. Leave your nails open and fill them with stunning nail color.
14. PEACOCK BACK HAND MEHNDI DESIGN
Peacocks are symbols of monarchy in Indian culture and hence appear frequently in henna patterns. Combining peacock themes with different patterns gives the wearer's backhand a festive appearance. You can elaborate the strategy or employ it slantingly as you see fit.
15. SEMI-CIRCLE PATTERN BACK HAND MEHNDI DESIGN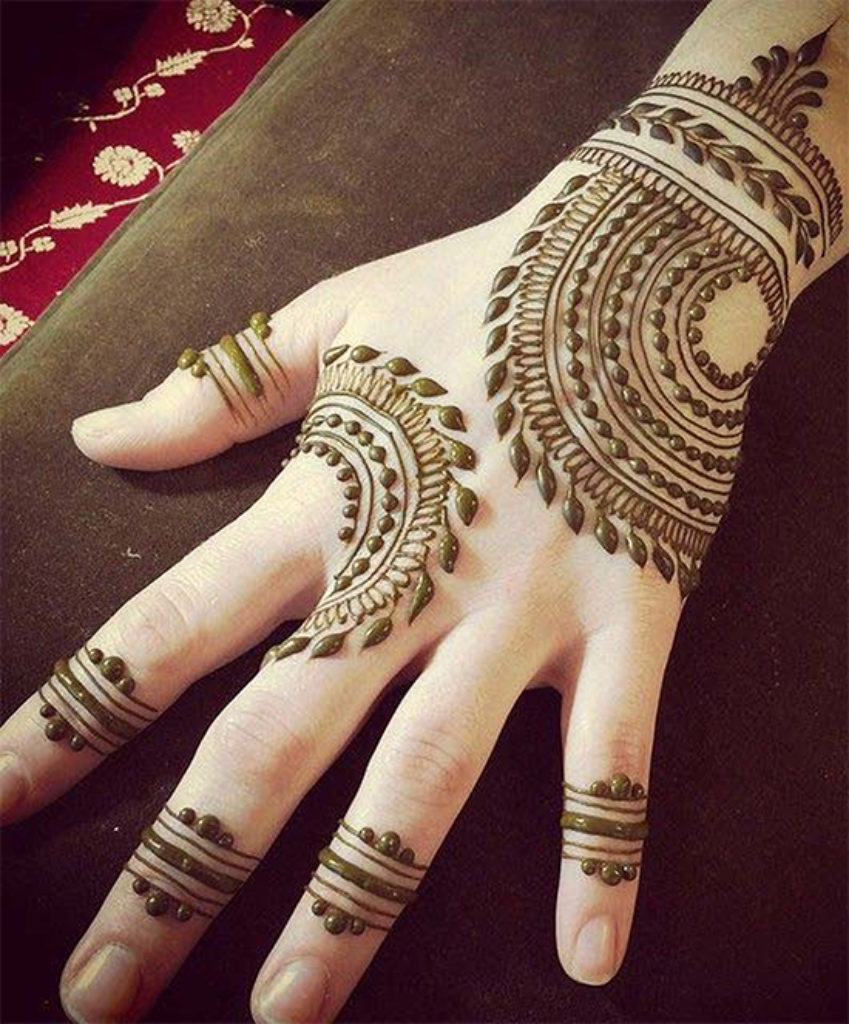 This semi-circle pattern on the back of your hand is loaded with motifs that resemble thin leaves and rice grains. This design is loaded with intricate and gorgeous motifs that fill up space neatly and give your hand an edgy appeal. This pattern is ideal for giving henna a contemporary twist.
16. FINGER ONLY BACK HAND MEHNDI DESIGN
Only henna design for the back hand is another lovely yet dreadful design you may encounter in the entire array. As illustrated in the image, you may experiment with five various styles for five fingers, which appears more trendy than using the same design for all five fingers. Only mehndi patterns for fingers with long nails appear beautiful.
17. WRIST AND FINGER ONLY BACK HAND MEHNDI DESIGN
Many females will not try the finger and wrist-only back hand henna design since they would prefer to have henna on the central backhand part. If you want to try stunning mehndi designs on your back hand, try putting the design simply on your wrist and fingers, leaving the back of the hand center area vacant. Believe us when we say that the end result is rather stylish. The mehndi design appears to be pretty simple, thus it would be appropriate to use such a design if you usually wear Kurtis.
18. TRADITIONAL BACK HAND MEHNDI DESIGN
This mehndi pattern is a very modern twist on the traditional mehndi outline. This may also be used as a henna tattoo if mehndi is not applied to the palm. The mehndi art is based on the tribal block design that runs down the little finger.
19. TATTOO STYLE BACK HAND MEHNDI DESIGN
This pattern is one of the best mehndi designs that provide the hands with a stunning appearance. The mehndi theme will be classic, with a butterfly in a flower making the outline fascinating and unique.
20. LEAF PATTERN BACK HAND MEHNDI DESIGN
Leaf pattern backhand mehndi patterns are also fairly popular, however, the designs of leaf forms may vary according to the preference of the person who puts on backhands.
21. RAKHI STYLE BACK HAND MEHNDI DESIGN
We all know that during Raksha Bandhan, girls used to tie rakhis on boys' hands, mostly in North Indian regions, to symbolize brotherhood. Rakhi is a type of rope that looks like a watch. A similar approach may be used in mehndi patterns.
22. DARK STAIN BACK HAND MEHNDI DESIGN
Again, various floral prints are included in the design. The design appears to be printed all over, but if you take careful notice of the design, you may even attempt it yourself at home. If the mehndi color on your hands is quite dark, the design looks great. Use organic cones to get deep, dark hues.
23. FULL BACK HAND MEHNDI DESIGN
Elaborate backhand mehndi designs are popular among brides, and when traditional patterns like mandala designs are used, it elevates it to the next level.
Read also Latest 55 Full-Hand Mehndi Design
24. MANDALA STYLE BACK HAND MEHNDI DESIGN
Mandala art is a traditional and popular mehndi pattern among ladies of all ages. This straightforward design has a massive mandala in the center, keeping the design area around the structure open. If you want complicated and precise designs, you may also fill in the space with whatever you like.
25. HALF MANDALA BACK HAND MEHNDI DESIGN
Choose a distinctive and modern mehndi design, such as this beautifully spaced mandala with complex decoration and flower motifs with finger designing.
26. ALPHABET BACK HAND MEHNDI DESIGN
Alphabet mehndi patterns are popular among females. There is no requirement for a specific celebration or occasion to apply the alphabet mehndi technique to your backhands. You may use the design for a casual outing by writing whichever alphabet letters or numbers you choose. You don't need a professional or a helper to apply the henna style since you can do it yourself.
27. STYLISH BACK HAND MEHNDI DESIGN
There are usually those mehndi patterns that catch our attention. And if you enjoy having all eyes on you, then these henna designs are for you. We stumbled and discovered some simple but eye-catching henna designs. And we're confident that our fashionable brides-to-be will adore them as well. So be ready to change your mehndi mood board with these amazing mehndi ideas.
28. PAISLEY PATTERN BACK HAND MEHNDI DESIGN
This mehndi design with significant paisley designs is amazing! The backhand's center is wonderfully embellished with a unique pattern, and the fingers are further enhanced with statement strokes.
29. TRAILED PATTERN BACK HAND MEHNDI DESIGN
Trailed diagonal patterns, often known as 'bel,' are an essential component of mehndi designs. And this basic bel design with flower themes, leafy patterns, and dotting embellishments is really lovely.
30. DUAL TRAIL PATTERN BACK HAND MEHNDI DESIGN
The design's allure multiplies when it includes two separate trails, each created with exquisite precision.
31. COILED BACK HAND MEHNDI DESIGN
Another basic yet lovely mehndi design for the back hand. This one has coiled constructions close to each other that are accented with patterned accents.
32. SHEER PATTERN BACK HAND MEHNDI DESIGN
This elegant mehndi design is basic and wide-spaced. The ring-style designs on the fingers and the trendy henna art on the wrists are also stunning.
33. LIGHT AND DARK STROKES BACK HAND MEHNDI DESIGN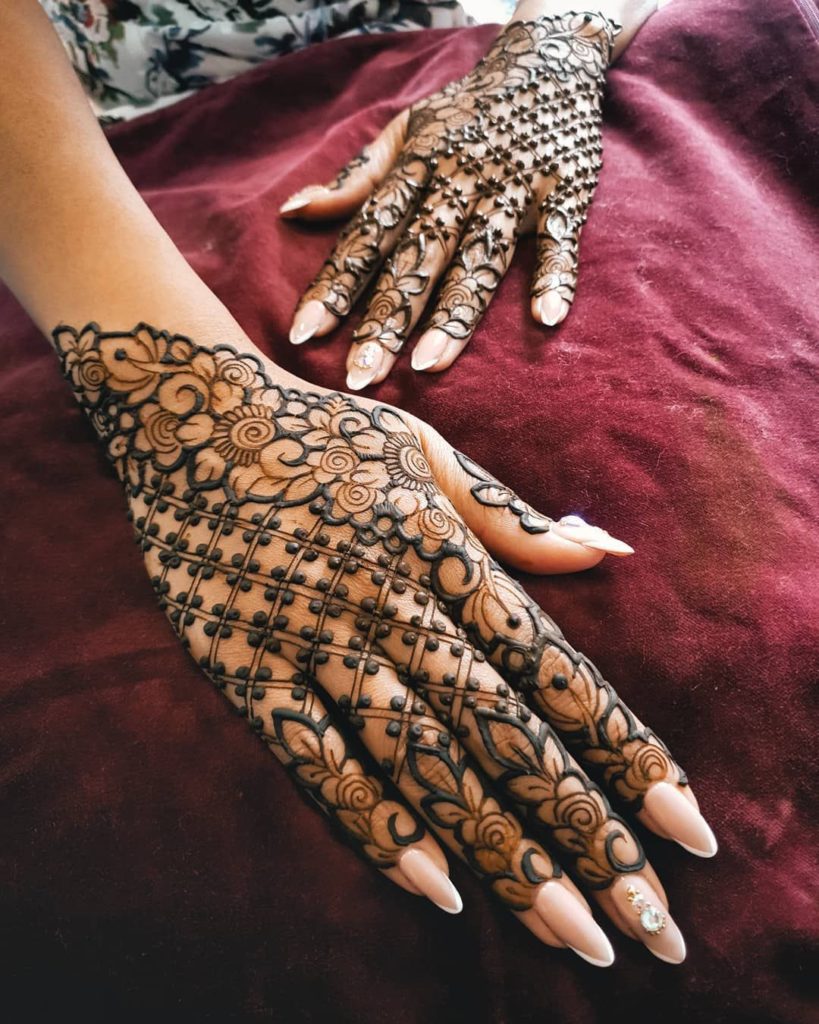 The beautiful flower patterns done with light and dark henna strokes distinguish this mehndi design. They appear to be both humorous and artistic.
34. GEOMETRICAL PATTERN BACK HAND MEHNDI DESIGN
In contrast to free-flowing geometric patterns, this mehndi design has a structural structure with sharp edges. Lines, symmetry, and light-dark strokes are used extensively.
35. LACE TYPE BACK HAND MEHNDI DESIGN
This popular mehndi pattern resembles a lacy glove worn by the girl on her hand. It is intricately drawn and appears very modern.
36. MULTIPLE CHAKRAS BACK HAND MEHNDI DESIGN
This mehndi design is rather unique, with its uniformly-sized chakras and striped patterns.
37. LEAVES AND STROKES BACK HAND MEHNDI DESIGN
It's common to see tiny leaf-like structures along the pathways, but this design uses them in an unusual way.
38. LOTUS MOTIFS BACK HAND MEHNDI DESIGN
These patterns are certainly appealing due to the swirls and twirls made when combining the lotus motif. Don't be shocked if you later find these flowery mehndi designs trending heavily on the internet since they're so unique and lovely!
39. MULTI-STRANDED CHAIN BACK HAND MEHNDI DESIGN
A multi-stranded chain trail develops from the index finger and thumb, which is connected to a large henna wristband.
40. BOLD STROKE BACK HAND MEHNDI DESIGN
The thing about bold strokes is that they capture your attention like nothing else. When it comes to this specific mehndi pattern, it is surely appealing and covers the full hand.
41. MOROCCO STYLE BACK HAND MEHNDI DESIGN
If you don't want to use a sophisticated henna pattern, consider this Moroccan approach. They have a certain allure and are easily drawn.
42. DETAILED BACK HAND MEHNDI DESIGN
This design incorporates details and open areas! It creates the impression of being fuller yet basic. It's a basic mehndi design that will make your hands pop.
43. JAALI STYLE BACK HAND MEHNDI DESIGN
The classic jaali patterns are more relaxed! It uses no other complementing patterns, focusing all emphasis on the lovely jaali details. Jaali patterns in the style of henna designs give the impression that the hand is embellished with beautiful diamonds.
44. BUTTERFLY BACK HAND MEHNDI DESIGN
Woah! This one is obviously aimed toward millennials. It's the newest trend in mehndi art, and you can't resist but attempt it. Because of its stunning beauty!
45. PERSONALIZED BACK HAND MEHNDI DESIGN
Personalized mehndi is one of the most popular coming-of-age Mehndi patterns these days! it appears beautiful in traditional mehndi designs. The examples above are both innovative and modern.
46. ABSTRACT FINGER TIP BACK HAND MEHNDI DESIGN
If repetition isn't your thing, try an abstract finger henna design! It adds character to your bridal mehndi and makes it stand out from the many patterns accessible on the internet. In a nutshell, start a trend!
47. SWIRL PATTERN BACK HAND MEHNDI DESIGN
Mehndi designs are more than just swirling patterns. The most recent and current technique is slightly different, yet it retains the same beauty and charm. It looks quite gorgeous with its floral and paisley designs.
48. SIDE TO SIDE BACK HAND MEHNDI DESIGN
Mehndi patterns flow diagonally from one side to the other. However, this specific design fills just one side of the diagonal. And it looks fantastic. The mission was completed!
49. MINIMALISTIC BACK HAND MEHNDI DESIGN
Another contemporary and minimalistic mehndi design. This lovely thing is made entirely of leafy vines. It doesn't say much but creates an impact.
50. FLORAL TRAIL BACK HAND MEHNDI DESIGN
Country roads take you home floral trails give you a heavenly beauty. Here is a mehndi design that trails across the back hand palm down below to the wrist. And it is magnificent. It is beautiful.
51. SYMMETRICAL BACK HAND MEHNDI DESIGN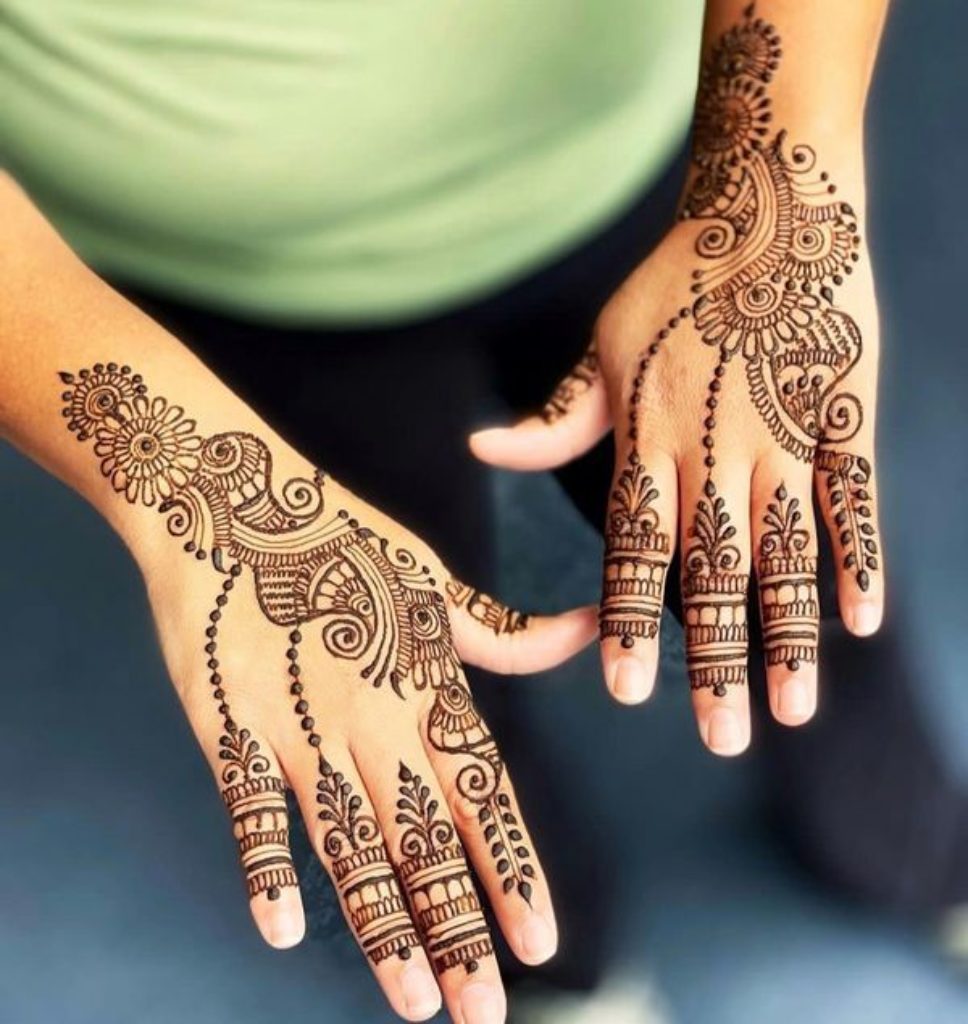 Nothing shouts elegance and beauty like this mehndi design is really stunning! It's a lovely design for the backhand. It has a symmetrical pattern on both hands and a blend of classic and modern mehndi designs.
52. FREE-FLOWING BACK HAND MEHNDI DESIGN
Mehndi designs are typically created in strong strokes, which elevates the appearance of your henna pattern. With flower designs, leafy patterns, and vines, this stunning mehndi design should be on your list for your celebrations.
53. SPIRAL BACK HAND MEHNDI DESIGN
This mehndi pattern's free-flowing structure and spiraling shape are sure to attract your eye. The beautiful design is constructed with great care and accuracy, which adds to its clarity and attractiveness.
54. HAND CUFF BACK HAND MEHNDI DESIGN
Choose mehndi designs in patterns of handcuffs or bracelets on your wedding day and appear effortlessly lovely in no time.
55. MINIMAL RING BACK HAND MEHNDI DESIGN
Ring Mehndi patterns are simple and uncomplicated mehndi designs that are really stunning.
It is a fitting conclusion to the collection of some of the finest backhand mehndi patterns. Choose a design that reflects your personality and tastes to turn your attention on your wedding day. We supplied you with appealing alternatives ranging from flower arrangements to themes and bracelet patterns. So, with the assistance of a skilled mehndi artist, get the chosen masterpiece created and display your exquisite hands.