Diwali is one of the most important and celebrated festivals in India. From the fall of the Diwali night sky to the beautiful lights of the family's house, Diwali is celebrated with joy and joy all over India. One of the specialties of Diwali is Mehndi, which is a long-lasting tradition in India. Mehndi, or henna, is the art of creating intricate, complex designs and patterns on the hands and feet. To celebrate Diwali, here are 25 of the best Mehndi designs you can try.
[Click Here] Buy Organic Home Grown Fresh / Dry Henna (Mehndi) Leaves
1. Floral Mughal Mehndi Design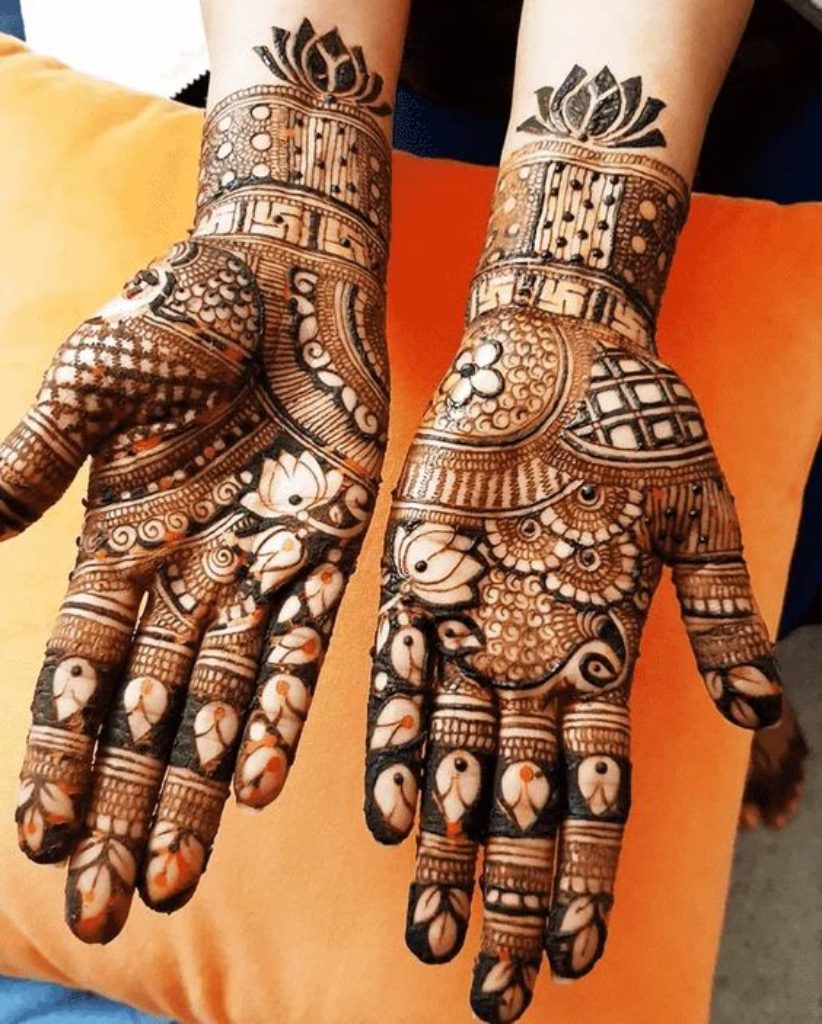 image credit thechhavi.in
The floral Mughal mehndi design is one of the most popular mehndi designs. It features a wealth of intricate floral designs in the traditional Mughal style. This type of design is perfect for special occasions, such as weddings, festivals, and traditional ceremonies. The design is usually drawn from the wrist to the fingertips. Mughal mehndi designs are often characterized by their organic, symmetrical, curving vines and delicate floral elements.
2. Traditional Rajasthani Mehndi Design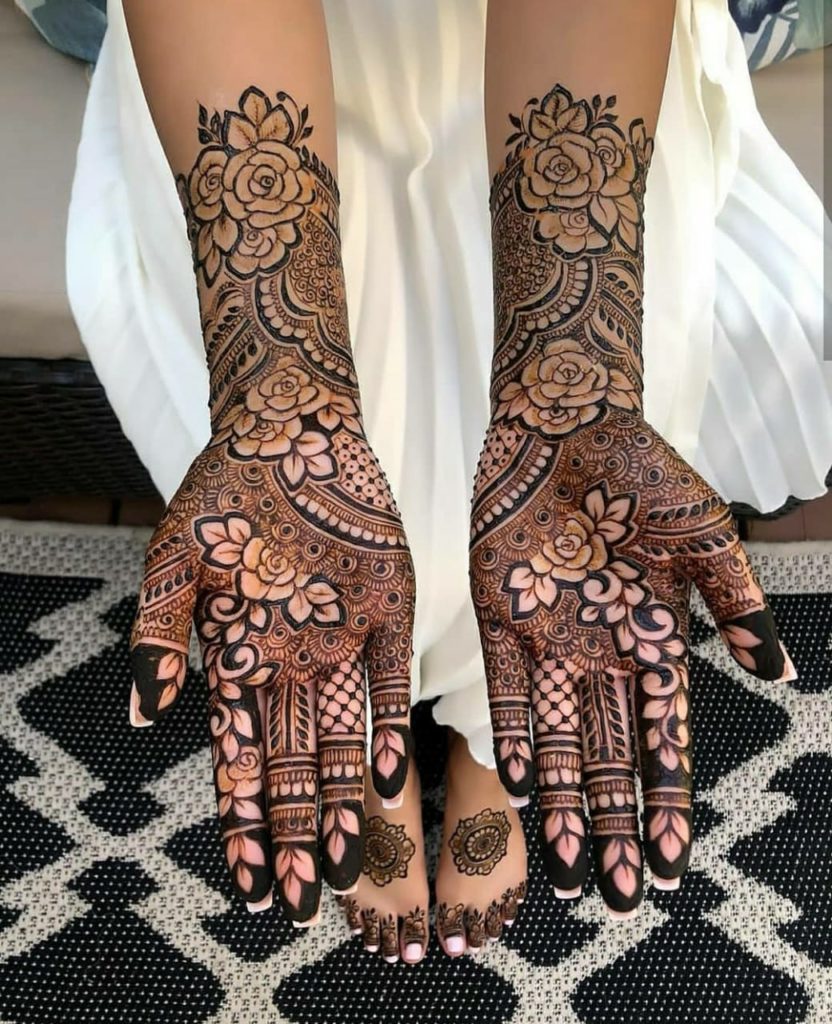 image credit weddingbels.com
Traditional Rajasthani mehndi designs are known for being intricate and detailed. Rajasthan is a state known for its royal heritage and ornate artwork. The traditional Rajasthani mehndi designs reflect that rich culture. Common features in traditional Rajasthani mehndi designs include floral motifs, intricate geometric patterns, abstract designs, and intricate lines and curves.
3. Blingy Elegant Mehndi Design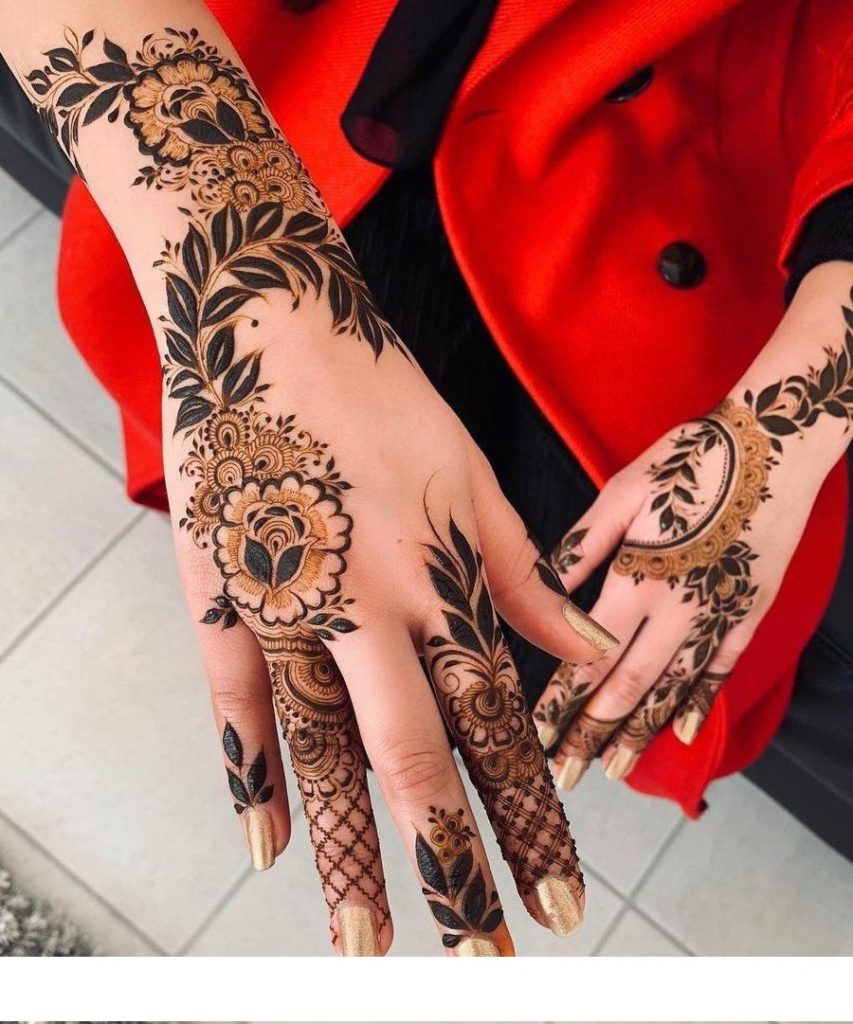 image credit blingsparkle.com
This blingy elegant mehndi design is perfect for creating an intricate and unique look for your event. The design starts with a paisley at the center which is then surrounded by floral motifs and leaves, with a spiral trail connecting them all together. The trail is further embellished with small floral motifs and dots to give a decorative effect. To give this design a touch of blinginess, add a few stones like rhinestones or beads in the center of each motif. This will give a finishing touch to this elegant mehndi design.
4. Arabic Mehndi Design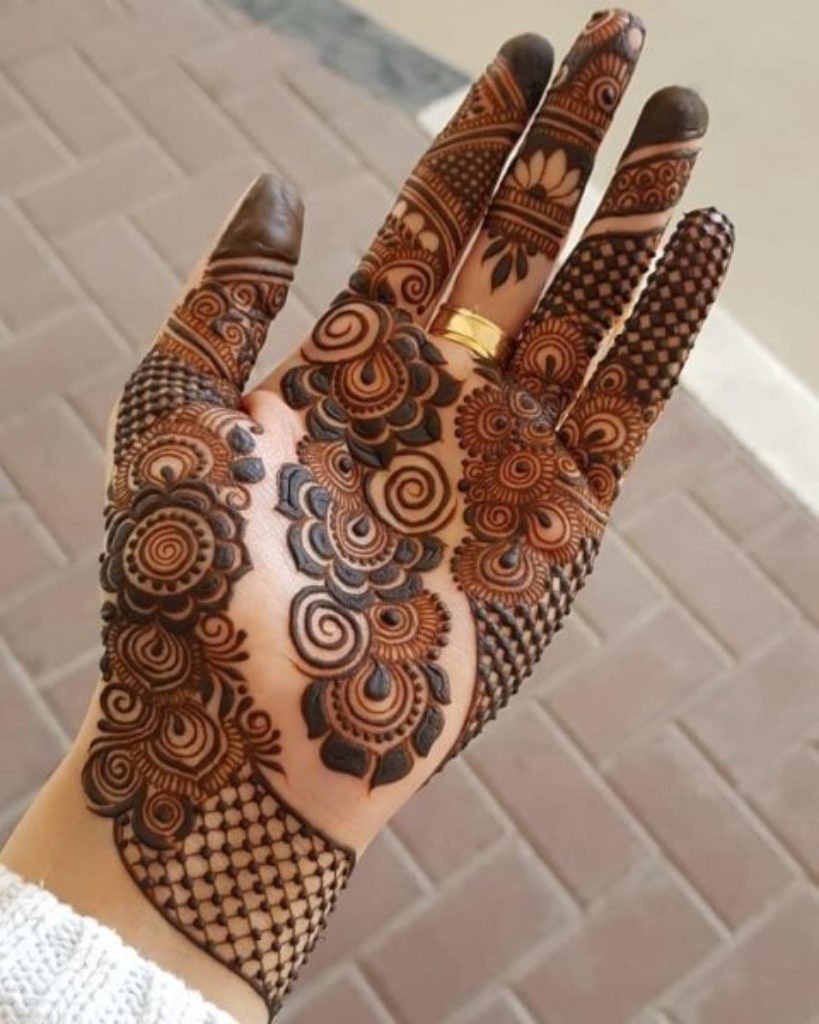 image credit stylesatlife.com
Popular Arabic mehndi designs feature intricate symmetrical patterns, mandalas and floral organic shapes. Generally, the patterns are denser closer to the palm while specialized designs such as peacocks, parrots, snakes, and other animals can be used for the back of the hand. Arabic mehndi often features bold line work and larger motifs. They can be combined with contemporary elements to create a unique look.
5. Crisscross Mehndi Design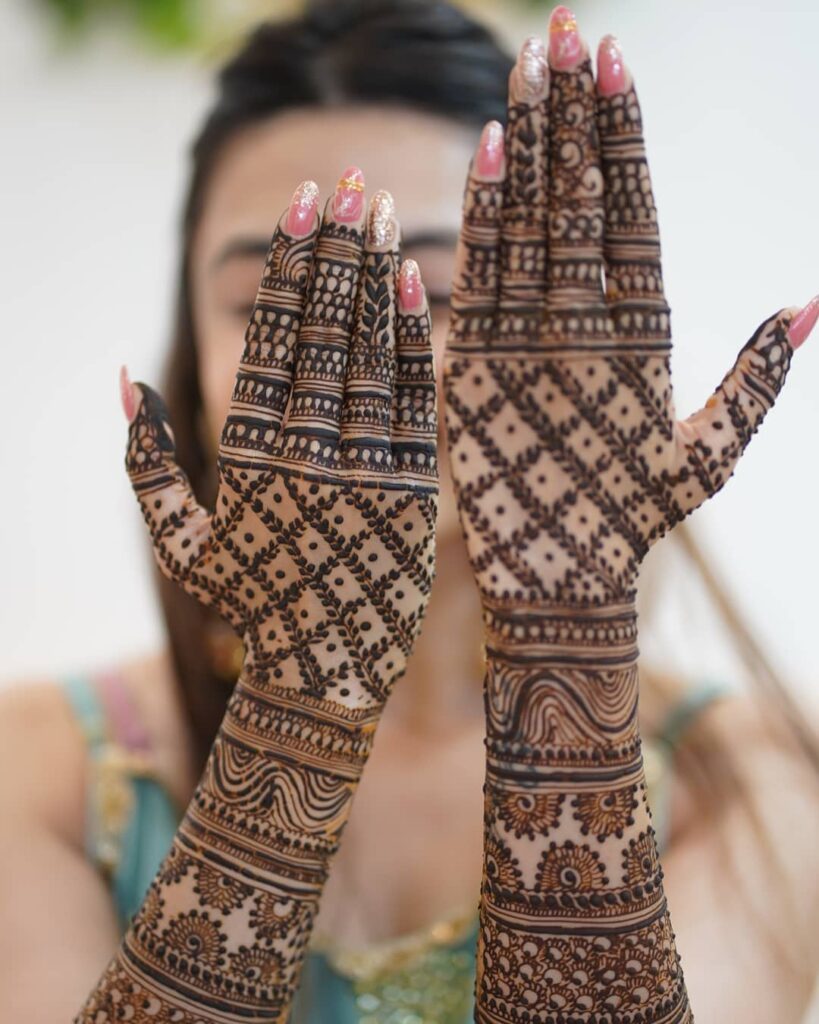 image credit wedbook.in
Crisscross Mehndi's designs incorporate intersecting lines and shapes, creating an intricate pattern that symbolizes the connection of two people. The crisscross design usually functions as the backdrop for a larger motif, such as a Mandala, peacock, butterfly, lotus flower, horse, or another Indian motif. The lines of the crisscross Mehndi Design can be curved, straight, or jagged to create a variety of different patterns, adding to the beauty of the finished design.
6. Glitter mehndi Design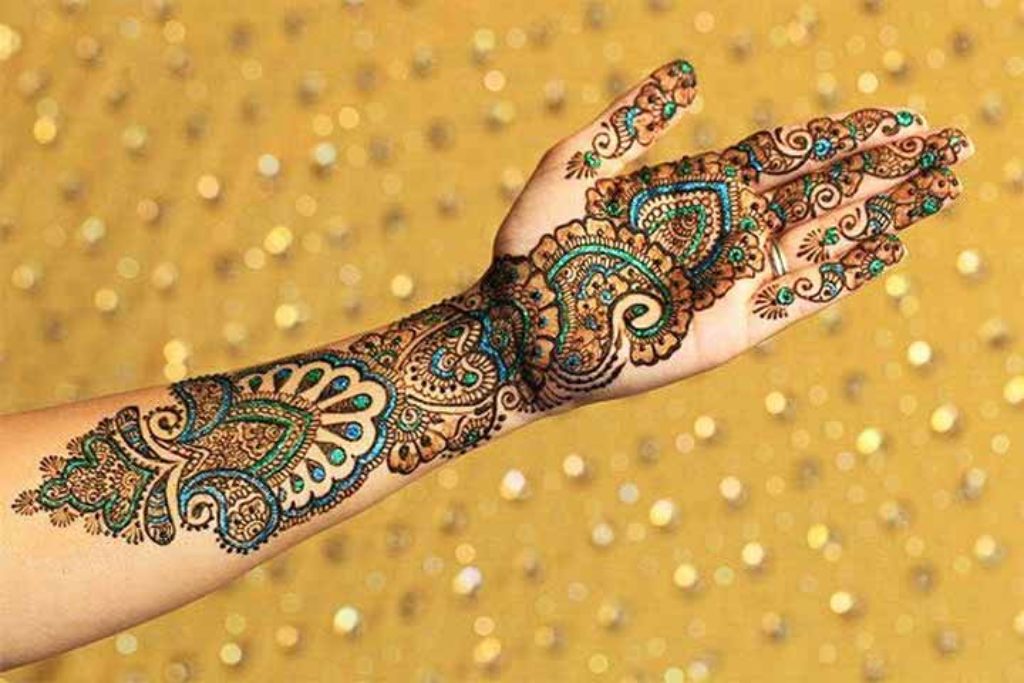 image credit thebridalbox.com
Glitter Mehndi's designs are fun, creative, and eye-catching. The glitter adds an extra dimension to your Mehndi design. You can opt for classic patterns like the paisleys, florals, and geometric shapes or get creative with abstract shapes and swirls. You could also opt for Arabic mehndi designs and then add glitter to them. You can use a combination of glitter colors like gold, silver, and bronze. To make it more interesting, add some color to the design with glitters of different colors.
7. Vintage Peacock Feather Mehndi Design: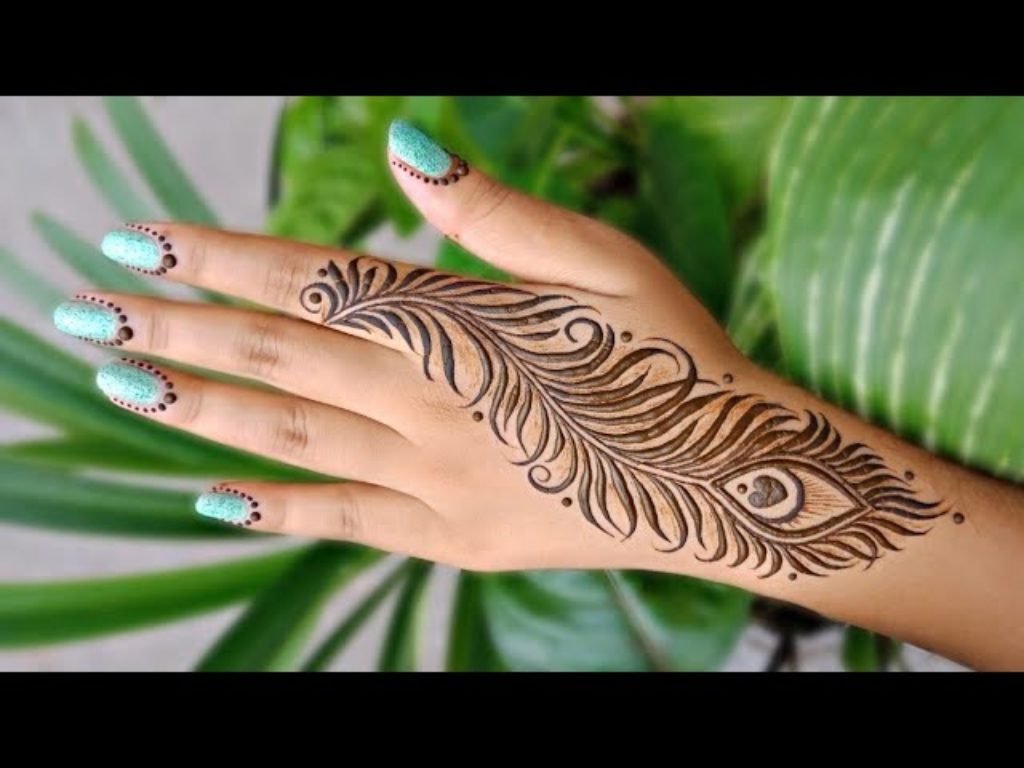 image credit youtube.com
The vintage peacock feather Mehndi design draws inspiration from the majestic beauty of peacocks, incorporating their elegant feathers into intricate patterns. This design typically features a prominent peacock feather at the center, with its delicate details and eye-catching motifs. The feather is surrounded by ornate swirls, paisley patterns, and floral elements that complement its gracefulness. The overall look is intricate, regal, and reminiscent of traditional art.
8. Spiral Swirls Mehndi Design: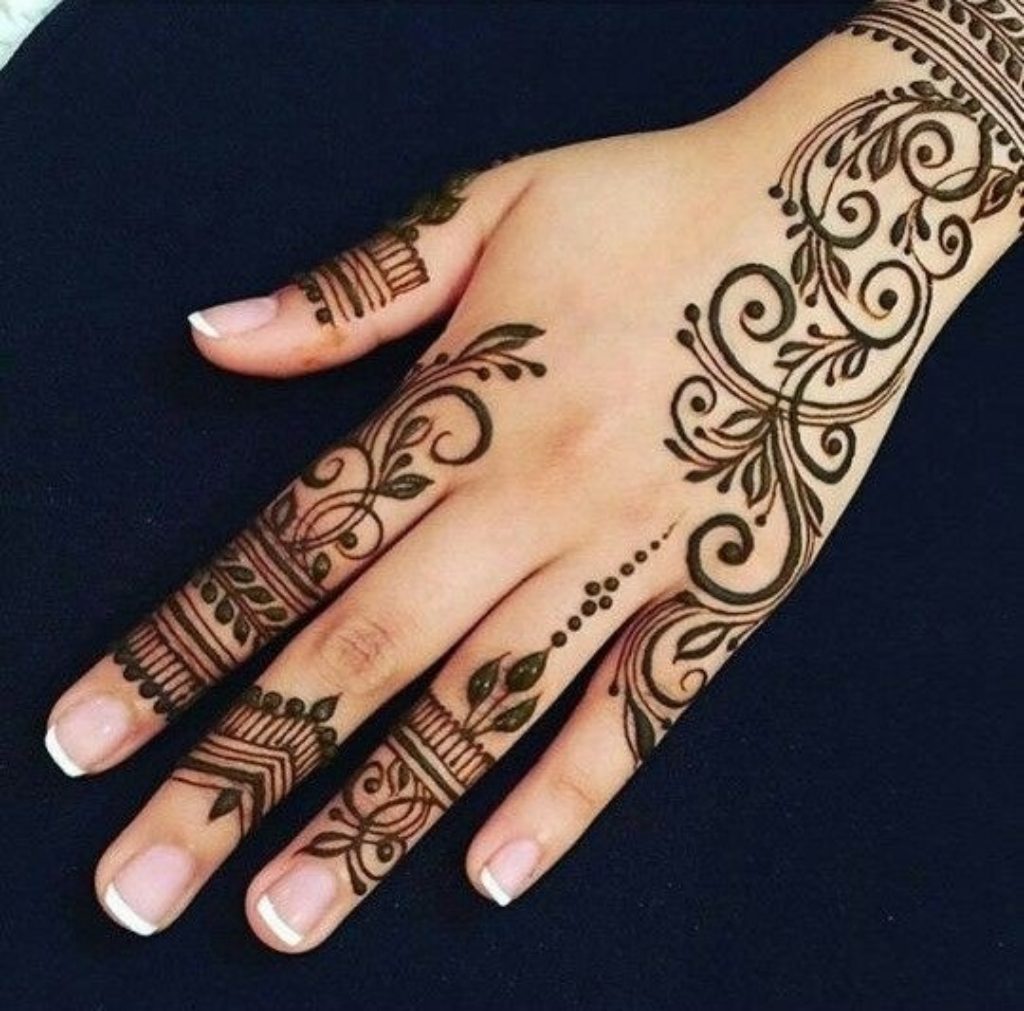 image credit weddingz.in
The spiral swirls Mehndi design is all about creating mesmerizing and dynamic patterns using swirling lines and shapes. This design showcases an array of spirals, curves, and circles that gracefully flow together. The swirling motifs can be interconnected or independent, forming an abstract yet harmonious composition. The design can be further enhanced by incorporating intricate details like dots, petals, or small floral elements.
9. Zardozi Mehndi Design: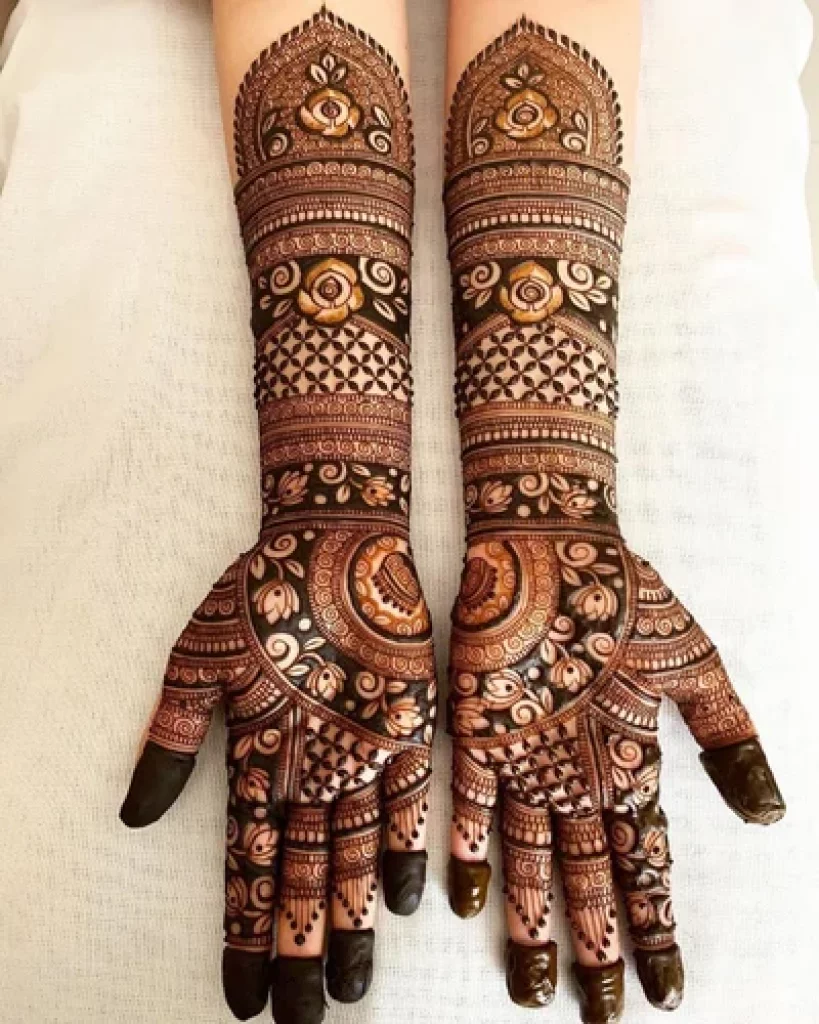 image credit indiamart.com
Zardozi Mehndi's design draws inspiration from the intricate embroidery technique of zardozi. This design incorporates rich and opulent motifs, reminiscent of the regal embroidery work. The patterns are bold, heavily embellished, and often adorned with metallic accents, beads, or sequins. The design may include floral motifs, paisley patterns, or intricate geometric shapes, with a focus on creating a luxurious and eye-catching look.
10. Gold and Silver Mehndi Design: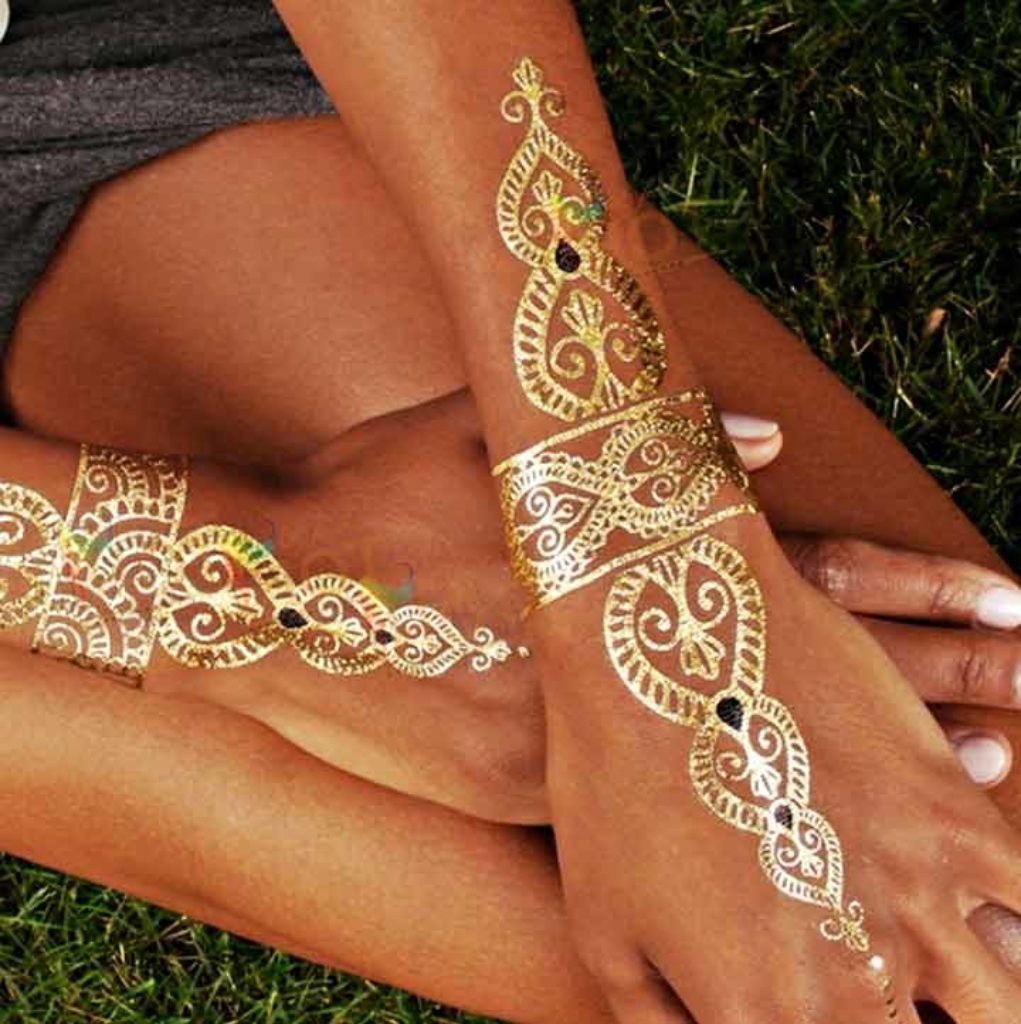 image credit thebridalbox.com
Gold and silver Mehndi design involve using metallic colors to create a stunning and glamorous look. This design typically incorporates gold and silver accents alongside traditional Mehndi patterns. The metallic colors are applied in a way that complements the intricate details of the design, enhancing its beauty and elegance. The gold and silver elements can be used to outline the Mehndi patterns, highlight specific motifs, or create shimmering effects throughout the design.
11. Dot Work Indian Mehndi Design: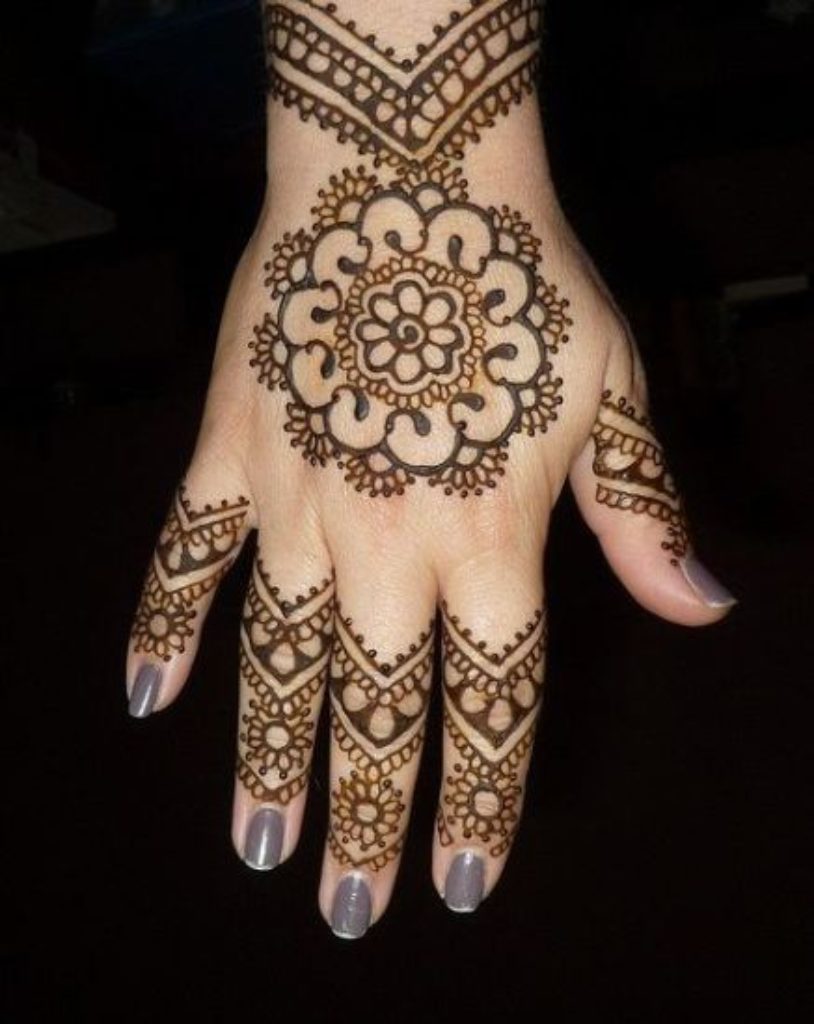 image credit bodyartguru.com
The dot work Indian Mehndi design focuses on the art of creating intricate patterns using small dots. This design relies on precise and delicate dot placement to form various motifs and patterns. The dots can be arranged in geometric shapes, floral patterns, or repetitive designs to create a visually appealing composition. This style of Mehndi design often showcases a balance between simplicity and intricacy.
12. Paisley Motif Diwali Mehndi Design: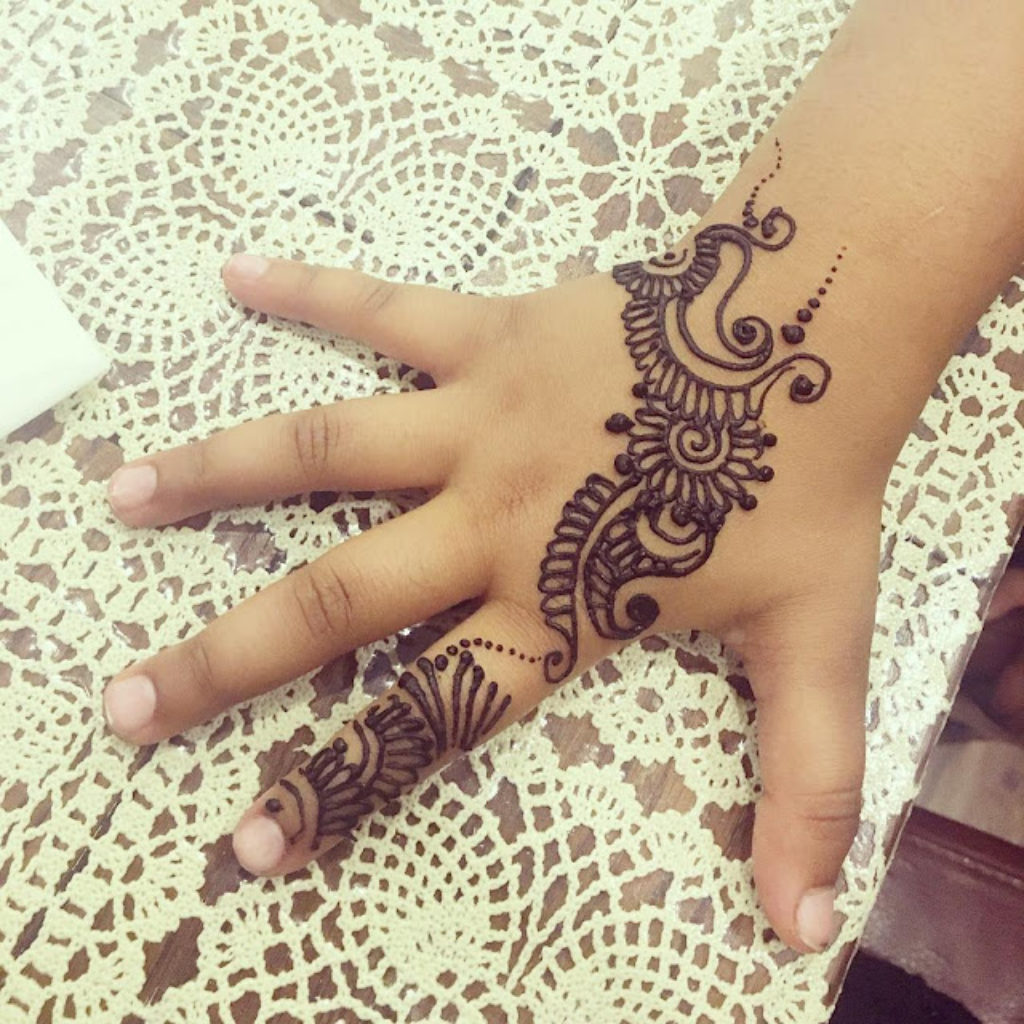 image credit blingsparkle.com
Paisley motif Diwali Mehndi design combines the traditional paisley pattern with elements that are specific to the Diwali festival. This design features prominently placed paisley motifs, known as "mango" in some cultures, accompanied by other festive elements like diyas (oil lamps), flowers, or auspicious symbols. The patterns are intricate and symmetrical, and celebrate the spirit of Diwali, making it a popular choice for the festival.
13. Bold and Vibrant Mehndi Design: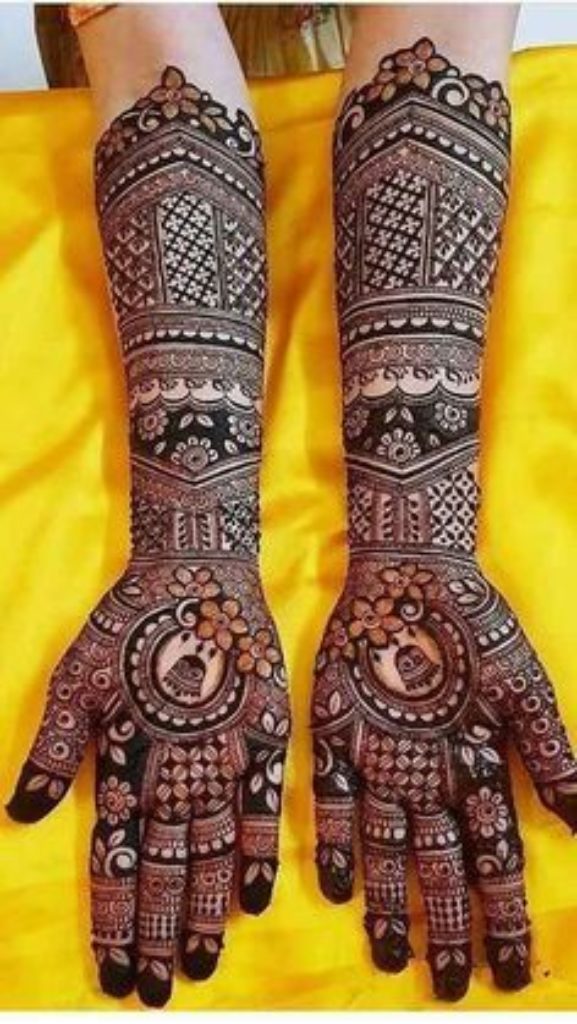 image credit bookeventz.com
Bold and vibrant Mehndi design is characterized by its use of striking colors and strong, prominent lines. This design features bold and thick outlines that create a visually impactful look. The patterns may include geometric shapes, abstract motifs, or floral designs. The colors used are often vibrant, such as deep reds, blues, and greens, to create a lively and eye-catching appearance.
14. Intricate Diwali Mehndi Design: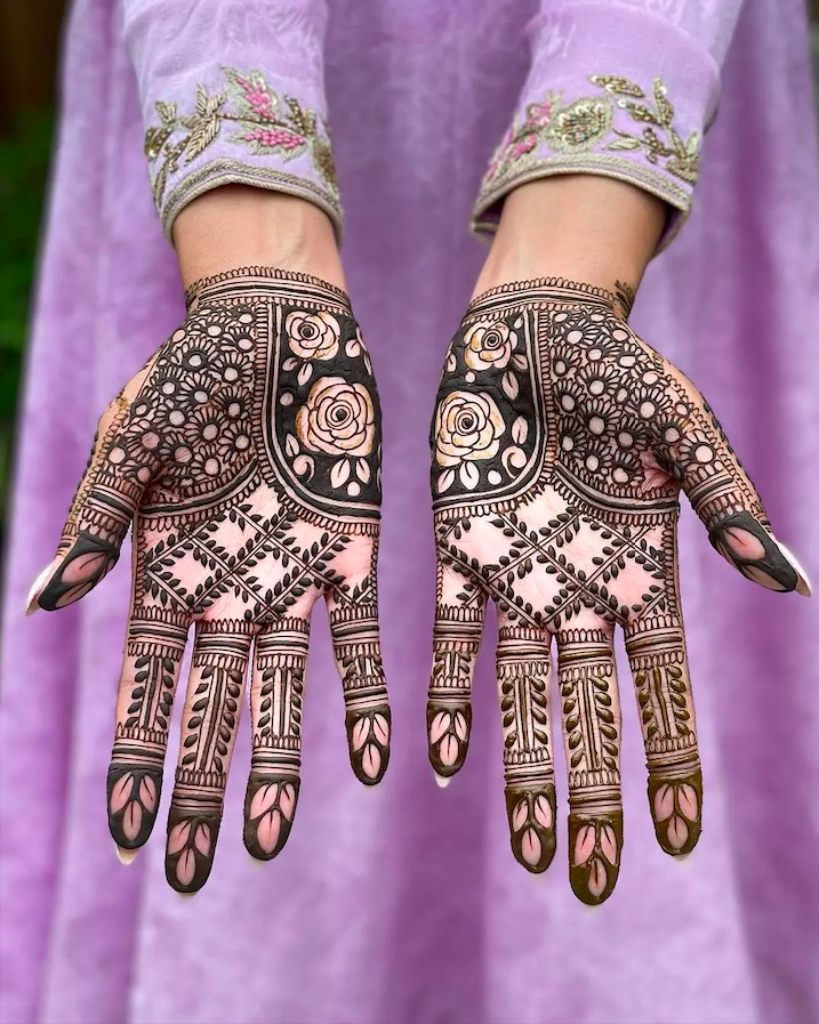 image credit pyaariweddings.co
Intricate Diwali Mehndi design focuses on intricate and detailed patterns that are specifically designed for the Diwali festival. This design often incorporates motifs that symbolize prosperity, good fortune, and celebration. The patterns can include diya designs, floral motifs, peacocks, or religious symbols. The level of intricacy is high, with delicate lines, dots, and shading used to create a visually stunning and festive Mehndi design.
15. Modern Mehndi Design with Glitter: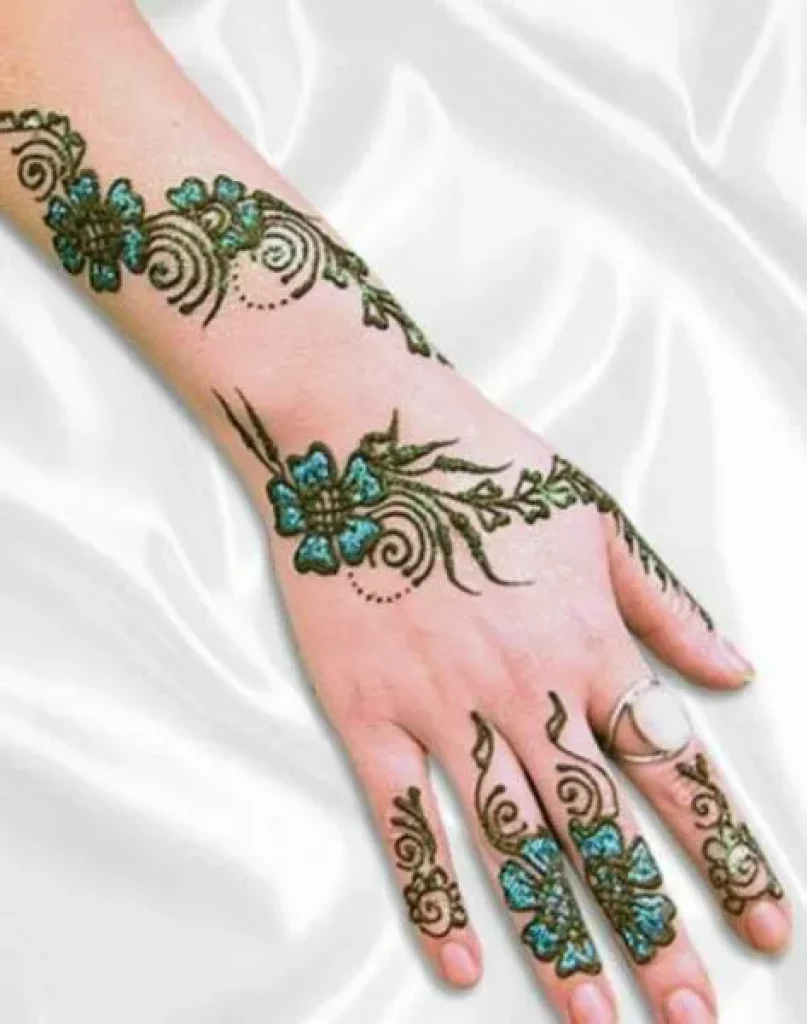 image credit stylesatlife.com
Modern Mehndi design with glitter combines traditional Mehndi patterns with a contemporary touch by incorporating glitter accents. This design features the use of Mehndi cones to create intricate patterns, which are then enhanced by adding glitter on top of the dried Mehndi paste. The glitter can be applied strategically to highlight specific elements of the design, such as the outlines or centerpieces, creating a modern and glamorous look.
16. Diwali Festival Specific Mehndi Design: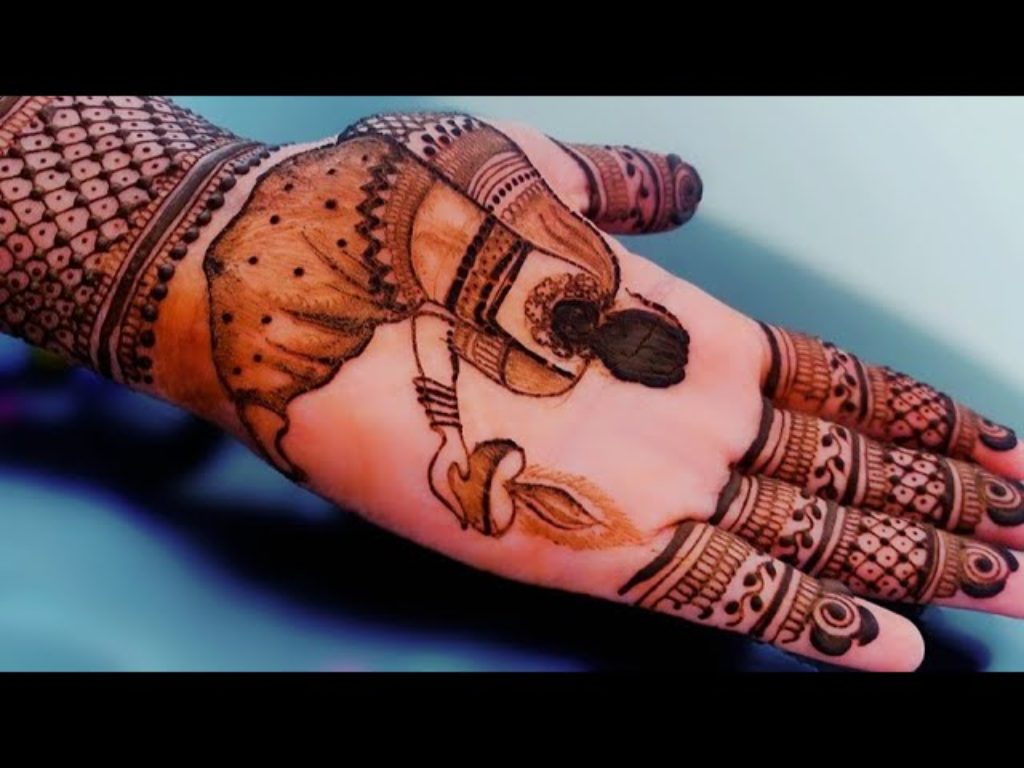 image credit youtube.com
Diwali festival-specific Mehndi design is specifically tailored for the auspicious occasion of Diwali. This design incorporates various elements associated with the festival, such as diya (oil lamp) motifs, intricate floral patterns, peacocks, or religious symbols. The designs often depict the celebratory spirit and joyous atmosphere of Diwali. They can be intricate or minimalist, depending on personal preferences, but always capture the essence of the festival.
17. Beautiful Multi-Colored Mehndi Design: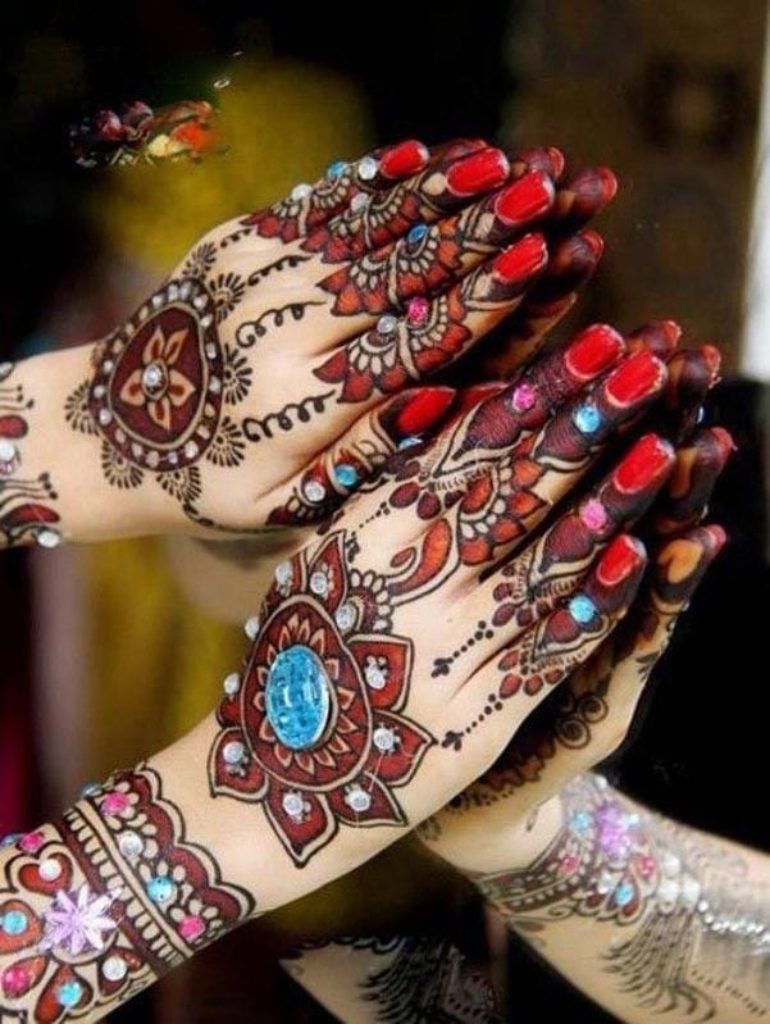 image credit outfittrends.com
A beautiful multi-colored Mehndi design is a vibrant and eye-catching design that incorporates multiple colors into the traditional Mehndi patterns. This design uses a combination of different colored Mehndi cones to create a stunning and lively look. The colors can be applied strategically to different elements of the design, such as flowers, paisley patterns, or geometric shapes. The multi-colored Mehndi design adds a playful and joyful touch to the overall look.
18. Delicate White Mehndi Design: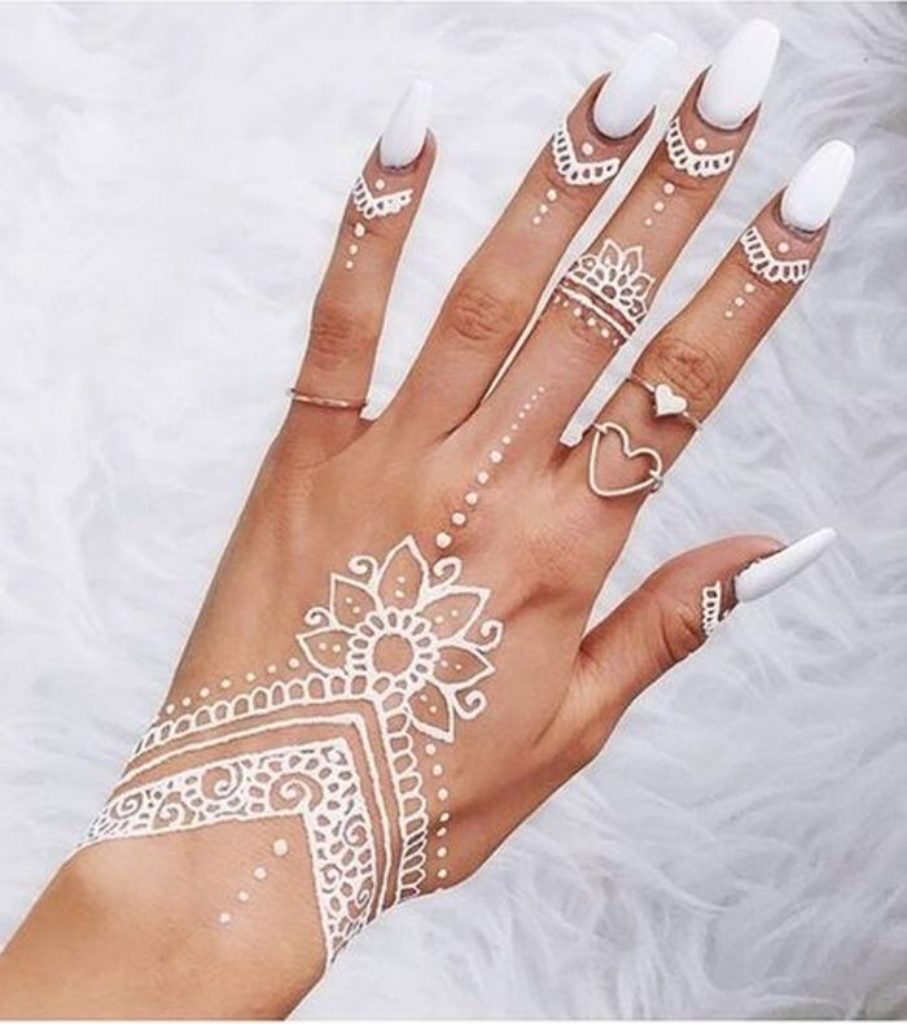 image credit wedmegood.com
Delicate white Mehndi design focuses on creating intricate and detailed patterns using only white Mehndi paste. This design is characterized by its ethereal and delicate appearance. The patterns can include fine lines, dots, floral motifs, or lace-like designs. The white Mehndi stands out beautifully against the skin, creating a subtle and elegant look that is perfect for weddings or other formal occasions.
19. Fingers Bordered Mehndi Design: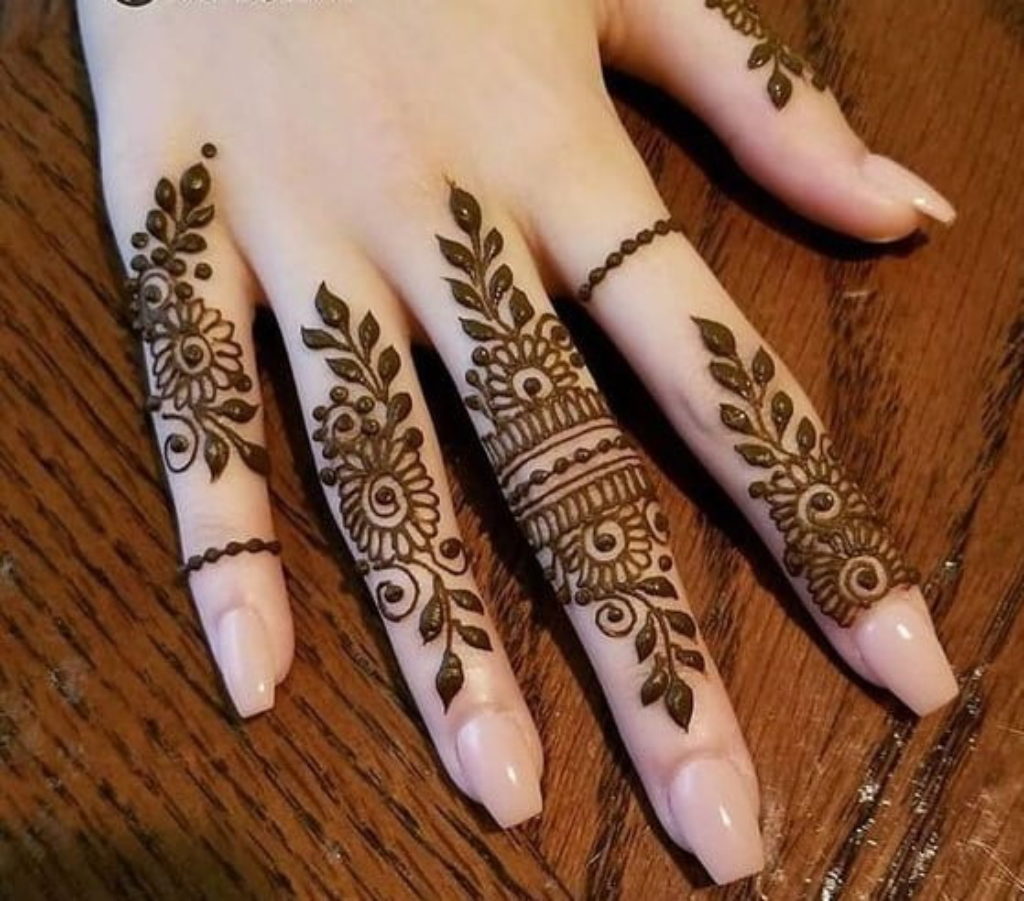 image credit thecrazytales.com
Fingers bordered Mehndi design places emphasis on decorating the borders of the fingers with intricate patterns. The central part of the hand may have simpler or more minimal designs, while the focus is on creating bold and elaborate patterns around the edges of each finger. The borders can include geometric shapes, swirls, dots, or paisley motifs, adding a unique and decorative touch to the overall Mehndi design.
20. Geometric Shapes Mehndi Design: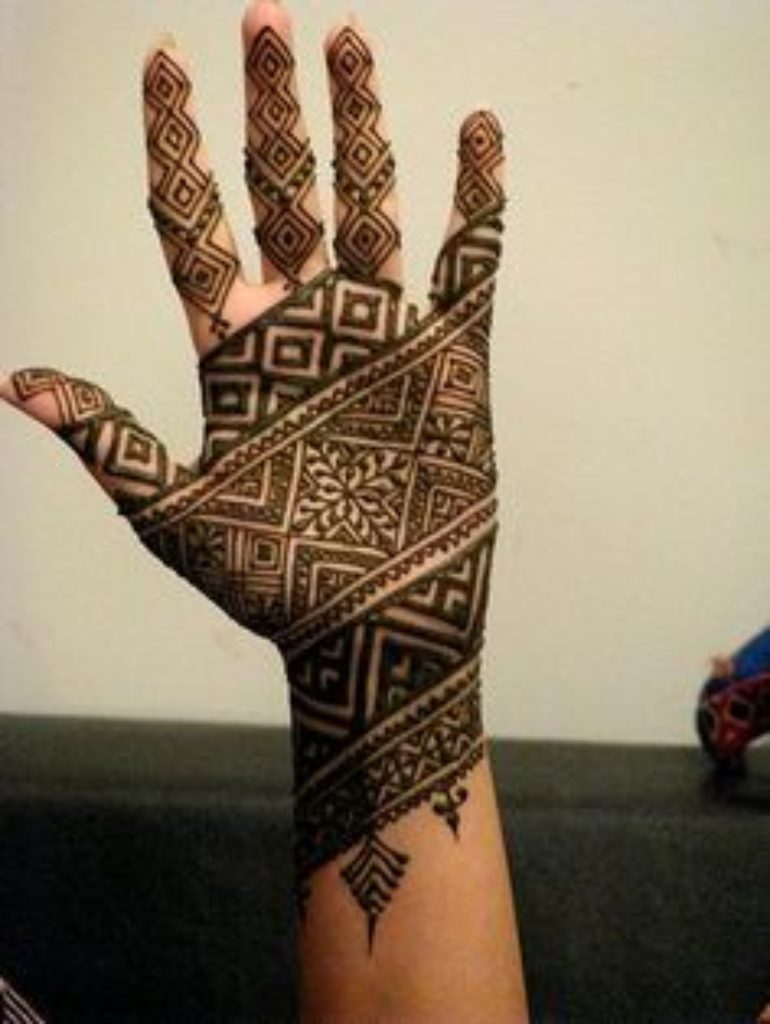 image credit pinterest.com
Geometric shapes Mehndi's design is characterized by the use of precise and symmetrical patterns inspired by various geometric shapes. This design incorporates squares, triangles, circles, or hexagons to create visually appealing compositions. The patterns can be interconnected or independent, forming a mesmerizing and contemporary look. The combination of intricate geometric shapes with Mehndi creates a modern and stylish design.
21. Diwali Quotes in Mehndi: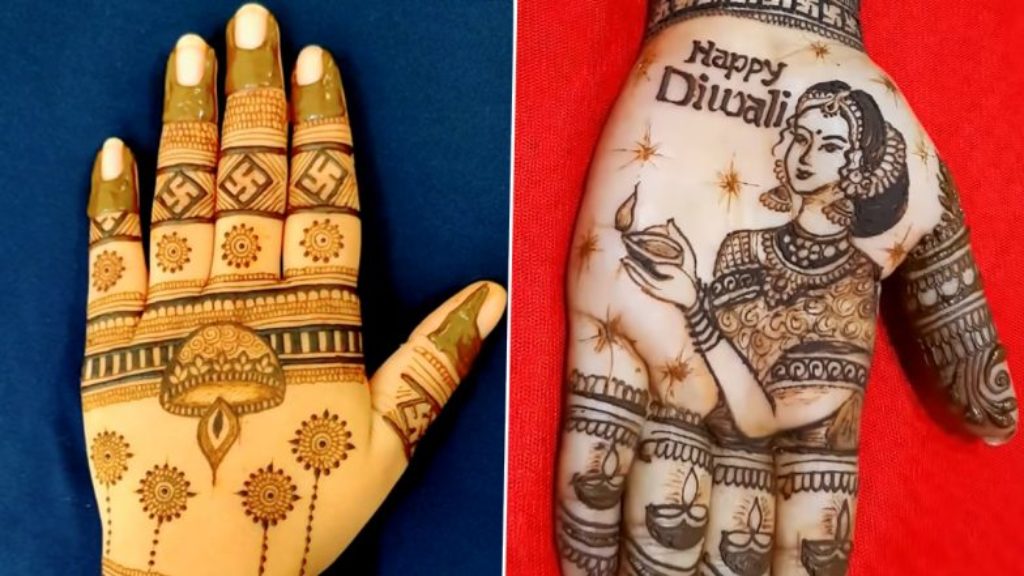 image credit latestly.com
Diwali quotes in Mehndi design involve incorporating meaningful quotes or phrases related to the festival of Diwali into the Mehndi patterns. The quotes can be written in beautiful calligraphy or stylized lettering, intertwined with other design elements. These quotes may convey messages of joy, prosperity, or blessings. The addition of Diwali quotes in Mehndi adds a personal and expressive touch to the design, making it more meaningful for the occasion.
22. Auspicious Mehndi Design for Diwali Festival: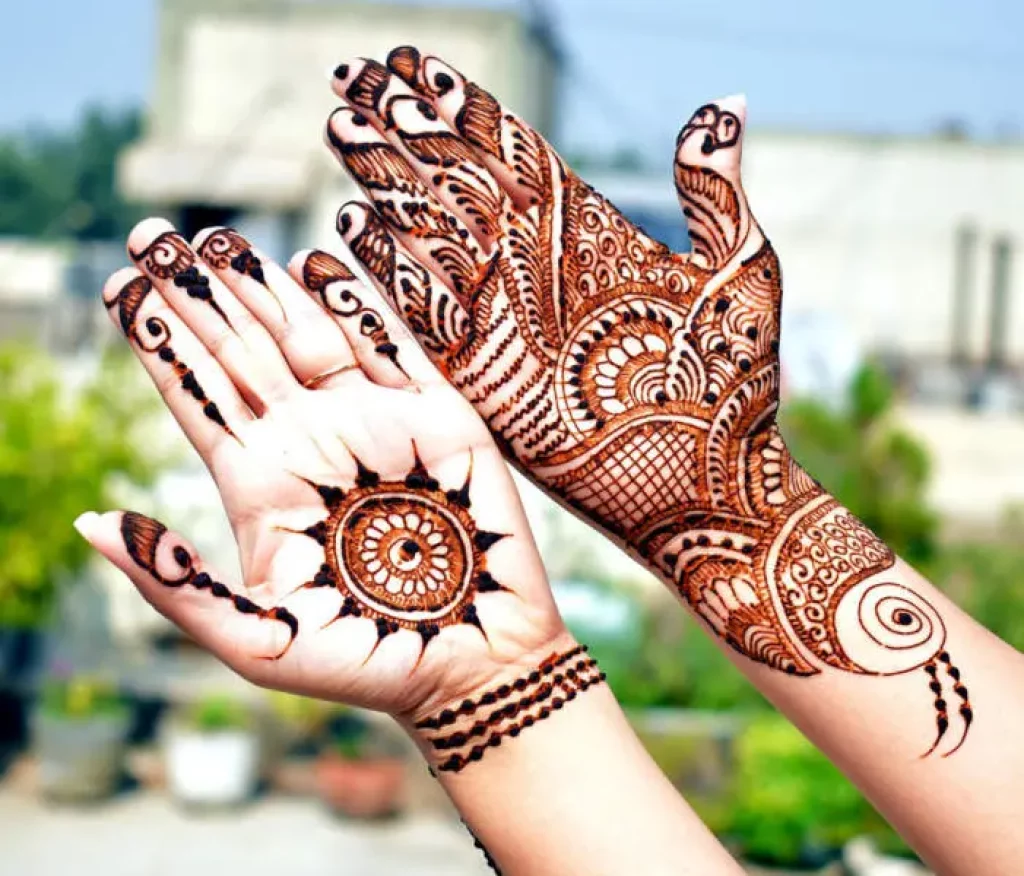 image credit stylesatlife.com
An auspicious Mehndi design for the Diwali festival focuses on incorporating symbols and motifs that are considered auspicious and associated with good luck. This design may include symbols like the Swastika (a sacred symbol in Hinduism), om (a spiritual symbol), or other religious and traditional symbols. The patterns are intricate, and the overall design radiates positivity and blessings, creating a sense of spiritual and festive ambiance.
23. 2D and 3D Diwali Mehndi Design: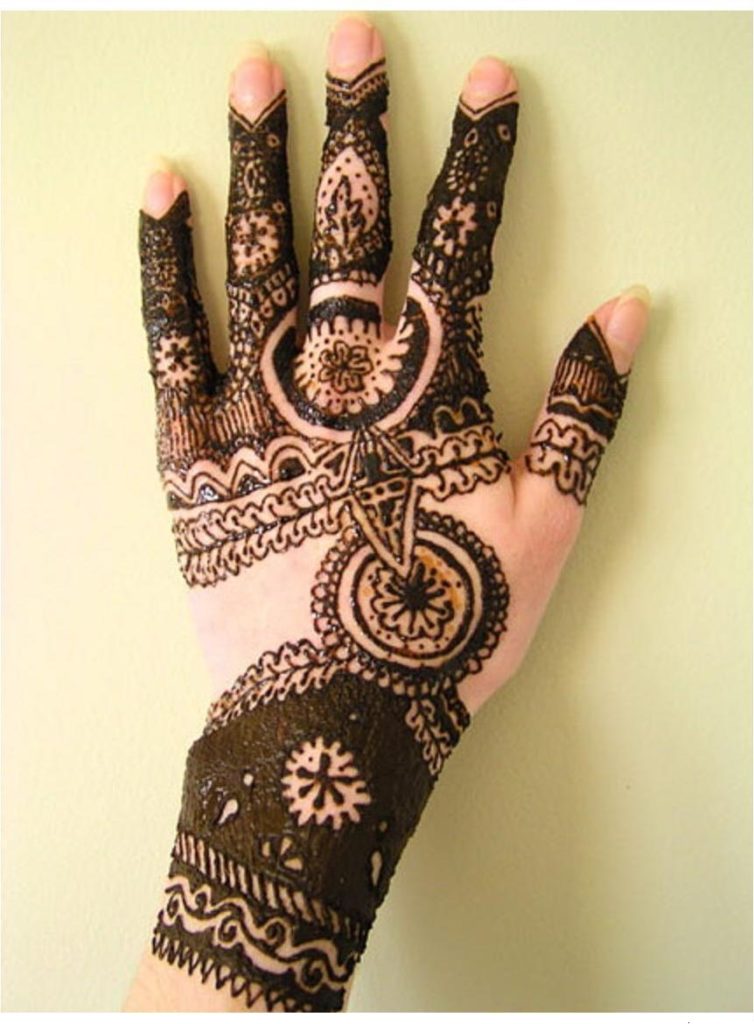 A 2D and 3D Diwali Mehndi design incorporates a mix of two-dimensional and three-dimensional elements. The 2D part of the design includes traditional Mehndi patterns drawn with henna paste, while the 3D elements add depth and dimension to the design. The 3D effects can be created using shading techniques or by adding additional layers of Mehndi paste. This design creates an illusion of depth, making the patterns appear more realistic and visually striking.
24. Indian Lord Krishna Themed Mehndi Design: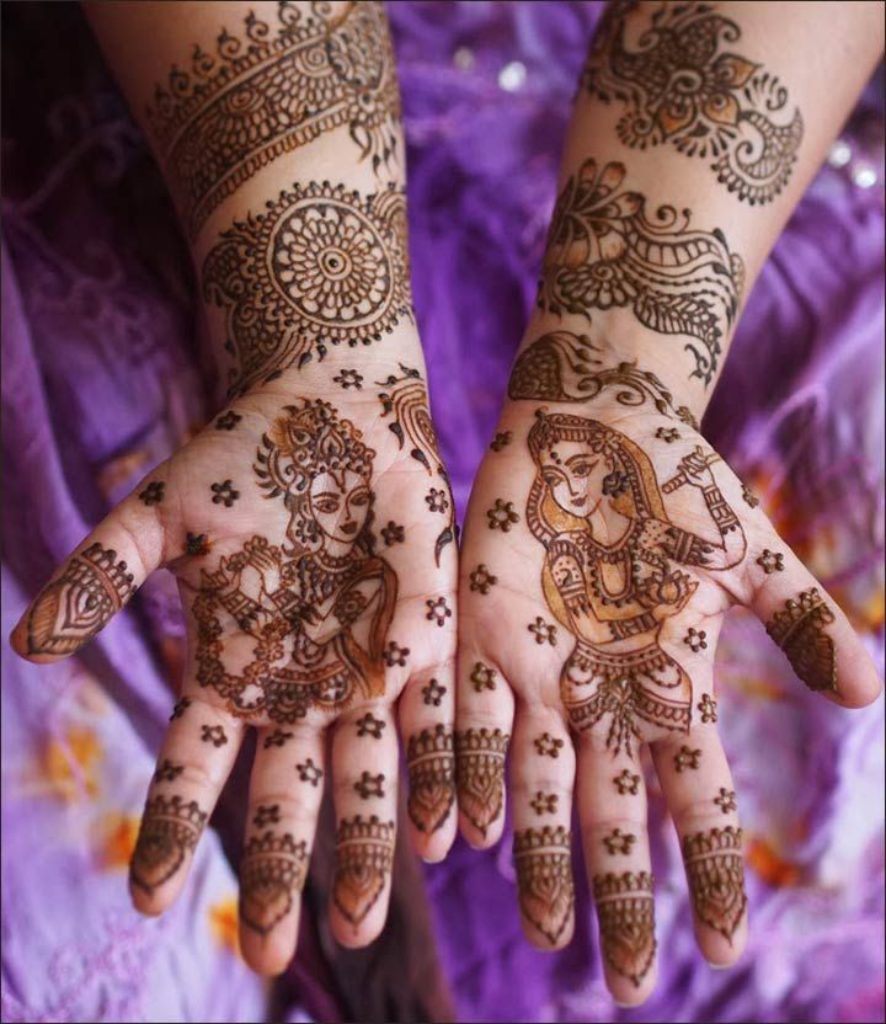 image credit in.pinterest.com
An Indian Lord Krishna themed Mehndi design is inspired by the Hindu deity Lord Krishna. This design incorporates motifs and elements related to Lord Krishna's life and legends. It can include depictions of Krishna playing the flute, his peacock feather crown, or scenes from his childhood, such as stealing butter. The patterns are intricate and often showcase the divine and spiritual essence of Lord Krishna.
25. Peacock Motif for Feet Mehndi Design: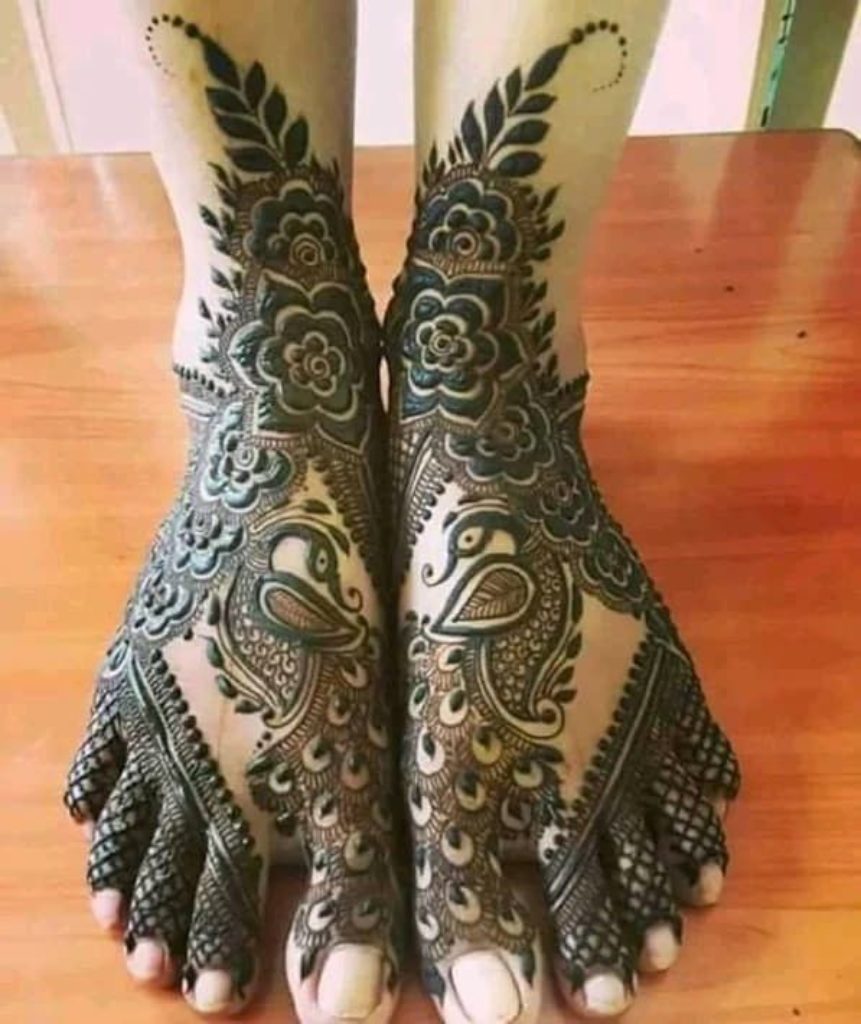 image credit pinterest.com
Peacock motif for feet Mehndi's design focuses on creating elaborate and eye-catching peacock-inspired patterns on the feet. The peacock motifs are drawn with intricate detailing, showcasing the feathers, body, and majestic presence of the peacock. The patterns can extend from the toes to the ankle or cover the entire foot. The peacock motif adds a touch of elegance and grace to the feet, making it a popular choice for special occasions.

Overall, these 25 best Mehndi designs for Diwali are sure to make for an elegant and festive look. From intricate paisley designs to sparkly creations, there is something for everyone. Whether adding small details to your hands or going for a full-fledged mehndi design, these options are sure to capture Diwali's beauty and bring joy to your day.