A saree blouse design can significantly improve the appearance of your six yards of elegance. That is why traditional designers are trying to incorporate their creativity into blouse styling to achieve their desired aesthetic for your wardrobe. This list has it all, whether you want an elegant and traditional saree look, a simple one with a clean line, or a sexy one with a designer twist! Make a note of the ones you like best:
1. Embroidered Sheer Saree Blouse Neck Design
Here is one from her recent collection that features embroidery on a sheer net covering. This is the party look you need in your wardrobe right away, paired with a sheer saree that allows the blouse to stand out.
2. Puffy sleeves and V-neck Blouse Design
Here is an idea for brides who want to try something different from the typically sleeves on a saree blouse. The border of her sari and the mint green make a beautiful combination. However, the V-neck blouse with its puffy sleeves is the focal point of the ensemble.
3. Round Back Cut Blouse Neck Design
If you are looking for a simple cut for your saree blouse design, this one is for you. This blouse is perfect for women looking for a clean design on this list, with floral work that balances the plain pink saree and uplifts the entire look.
4. Halter-Necked Blouse Design
When you want to combine a party look with a traditional one, the halter-necked blouse is a lovely pairing. The second image of her with her hair pulled back in a ponytail is essential if you intend to use this pattern as well.
5. Sheer Covering Blouse Neck Design
Who knew the entire blouse aesthetic could be improved with just a sheer covering? If you are like us, here is a style that combines a straightforward silk saree blouse with a sheer bandh gala covering. By taking off the cover and perhaps layering it with another one, you can also create a two-in-one look.
6. Boat Neck Saree Blouse Design
A boat neck gives an Indian outfit the ideal Western touch and gives you a neo-traditional appearance. For a classy look, these blouses can be plain or delicately embroidered. This outfit combines a sequined boat neck blouse with a net red saree, other matching accessories, and a low bun for a fun appearance. Don't you agree that it would be a wonderful source of inspiration for your newlywed look?
7. Sequined Saree Blouse Design
This look is very elegant and feminine. The eye-catching blouse pattern matches the multi-hued sequin border on the pastel green saree. The blouse itself has a cut that is so distinctive that it will look incredibly graceful on you when worn and will undoubtedly earn you a tonne of compliments.
8. V-Neck Cut Saree Blouse Design
Stunning satin silk saree worn with a sleeveless V-neck blouse. If you choose this blouse, be sure to accessorize it with a choker to highlight the cutting.
9. Net Saree Blouses Design
Here is a standout option for women looking for a ravishing look for their upcoming event! The saree's beauty is enhanced by the exquisite embroidery on the net. However, we advise that you only have a skilled seamstress create this style for you. When done incorrectly, the appeal will be completely lost.
10. Draping Cover Saree Blouse Design
Both the lovely net pattern and the delicate embroidery on this blouse stand out. If you really to stand out with your elegant saree look, choose one of these captivating patterns.
11. U-Cut Saree Blouse Design
A stunning blouse that will go with both your regular outfit and your party outfit when you want to counteract the minimalism. The deep U-cut is a discrete style that is easy to wear and does not detract from the elegance of the blouse. It is also comfortable to wear on any occasion.
12. Blouse Back Neck With Bow
The deeper the blouse, the better it is. If you are not into loud and gaudy, silk sarees are a great option for any occasion. They are both stunning and sophisticated. You can also play the modern card with a back neck like this. A large tie-able bow is ideal!
13. High Neck Blouse Design
Minimalistic fashion is the next big thing. It means highlighting the outfit with the design element rather than going overboard. If this is your signature style, it should already be on your Pinterest board. It is ideal for silk or cotton sarees with a plain body, a small border, and a printed blouse. You can adjust the sleeve length or go halter if you prefer, and it looks stunning either way.
14. Pot Neck And Back Open Blouse Design
Minimalistic fashion is the next big thing. It means highlighting the outfit with the design element rather than going overboard. If this is your signature style, it should already be on your Pinterest board. It is ideal for silk or cotton sarees with a plain body, a small border, and a printed blouse. You can adjust the sleeve length or go halter if you prefer, and it looks stunning either way.
15. Mirror work Blouse
Mirrorwork is evergreen and will never die, even though it has been around for a long time. The only thing you must remember is to ensure that the work is of good quality and finish. Otherwise, it can appear sloppy. Depending on the occasion, the work can be worn with chiffon, silk, or pattu sarees.
16. High Neck Sleeveless Blouse Design
A fashionable combination of a high neck and sleeveless top. Use a color-blocking technique that contrasts completely with the saree. The sweetheart neckline that connects the high neck with sheer fabric and collar embroidery is sure to turn heads.
17. Plain Sleeveless Blouse Design
Cotton silk and jute sarees exude elegance and class; if you prefer these sarees, here is a simple blouse design that might suit your taste. Even though it appears to be a standard sleeveless blouse, the transition from the high neck to the back into a slightly deep V in the front with a princess cut requires skill.
18. Deep scallop Blouse Neck Design
This blouse neckline with a deep scallop shape and Dori is stunning. This blouse would look great with both a saree and a lehenga. Win-win! Get it made in a neutral color, such as gold, silver, or black, so you can wear it with a variety of outfits.
19. T Shaped Blouse Neck Design
If you are looking for simple blouse back neck designs that are not too heavy or fussy, this T-shape blouse neck pattern is perfect for your saree!
20. Huge Tassel and Double Dori Blouse Neck Design
Oversized tassels are one of the most popular blouse neck designs right now. Ladies, this is ideal for wearing with a net saree or designer lehenga.
21. Pom Pom Blouse Back Neck Design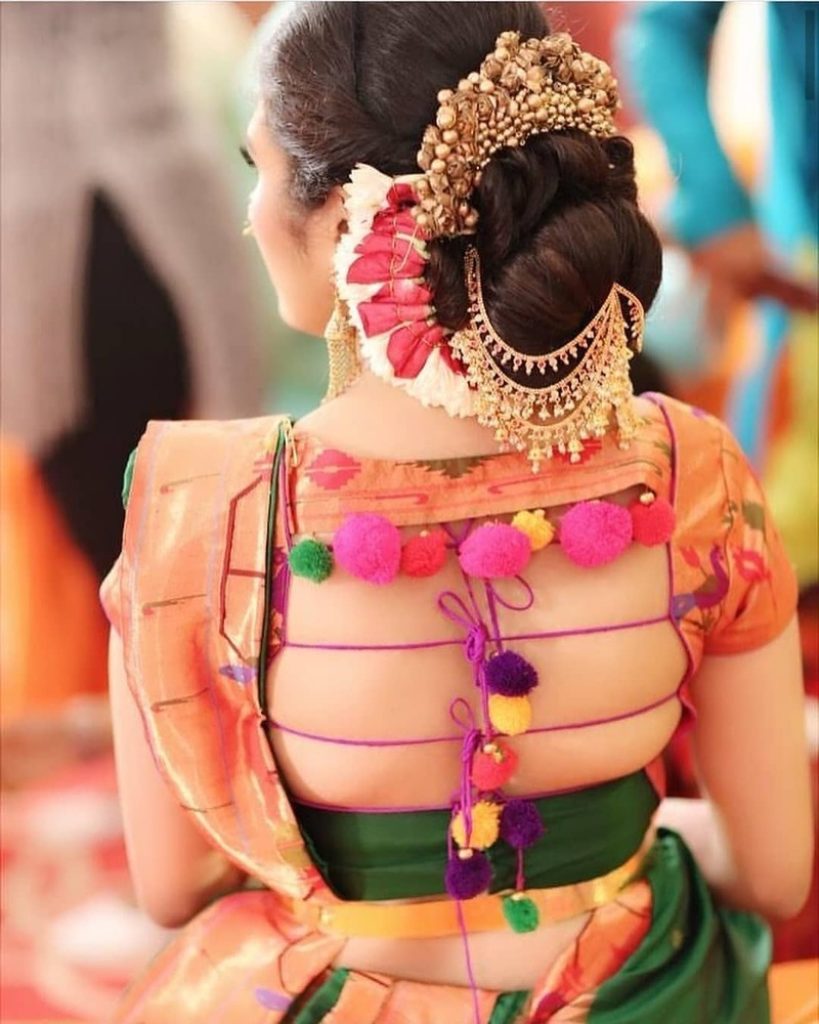 There is always a way to improve the look of your blouse's back-neck design! And wouldn't you all agree that nothing works better for that than Doris and pom poms?
22. Pearl embellished blouse neck Design
If your saree or lehenga is already heavy and embellished, nothing looks better than a simple round blouse back neck design with statement latkan!
23. Maggam work blouse back neck design
Brides are all the rage this year for maggam work blouse-back designs! These modern blouse neck designs feature intricate maggam work, which makes them incredibly beautiful and festive.
24. Backless Blouse Neck Design
When worn with a designer lehenga or saree at any of your pre-wedding events, this stunning blouse back neck is designed. Do not Preach is sure to draw attention!
25. Lattice pattern blouse back neck design
A lattice cutout blouse back neck design is an option if you want to wear a closed-back neck blouse but also want it to look a little fancy.
26. Keyhole cutout button embellished back neck design
Wear this straightforward yet stylish keyhole cutout button embellished blouse back design with a chiffon, cotton, or organza saree!
27. Racerback blouse back neck design
You should try wearing this racerback blouse back design with a tribal back with a plain georgette saree to look badass!
28. Lotus cutout blouse neck design
Who said blouse back neck designs must only feature geometric cut-out patterns? Try out silk fabrics with floral cutouts like lotus or petals for a hatke look!
29. Chain-Detailed Blouse Neck Design
Even a plain saree that you choose to wear to a friend's wedding can be enhanced by this most recent blouse back neck design with the chain detailing in the shape of a ladder and Gota Patti borders. Choose the most recent blouse back neck design to draw attention as you pass by, whether you are wearing a floral lehenga or a plain silk saree.
30. Inverted-V blouse back neck design
This inverted V-shape blouse back is a winner if you want to experiment with a new blouse back without going overboard or extravagantly!
31. Back neck design with multi-color tribal embroidery
This bandhani saree looks stunning with the blouse neck pattern with mirror work and multicolor tribal embroidery. Don't you just adore how the contrast between the yellow of the saree and the variety of shades on the blouse?
32. Chinese Collar Blouse Neck Design
Another of the most popular classic blouse styles that you've probably seen on shelves is the Chinese collar. The Chinese collar hugs the neck much closer than many other types of blouses, and it's so distinctive that you'll recognize it the moment you see it. It has been popular for several years, and for much more than just expressing a love for Chinese culture.
33. Square Neck Blouse Neck Design
Unlike the round blouse, which would have a curve, the square neck blouse has a square, straight line. It can be said that every woman should have at least one square-neck blouse in her wardrobe because it is one of the most popular blouse styles that will never go out of style.
34. Off-Shoulder Blouse Neck Design
An off-shoulder blouse can have a variety of different necklines, but what makes it distinctive is that it has a cut that hangs "off the shoulder" on one side, giving the appearance of a partially exposed shoulder. You can expect this to be great fashion at any time of the year and it fits almost any occasion.
35. Full Hand Blouse Design
The Saree blouse embodies the distinctive Indian fashion, so if you want to bring that distinctiveness into your sense of style to any event you choose, go with the Saree blouse.
36. Princess Cut Blouse Neck Design
A blouse with a princess cut is made to look royal; as a result, it is typically worn to more formal events and functions. The princess-cut blouse can occasionally be combined with other methods to produce a blouse with a princess cut.
37. Spaghetti Strap Blouse Neck Design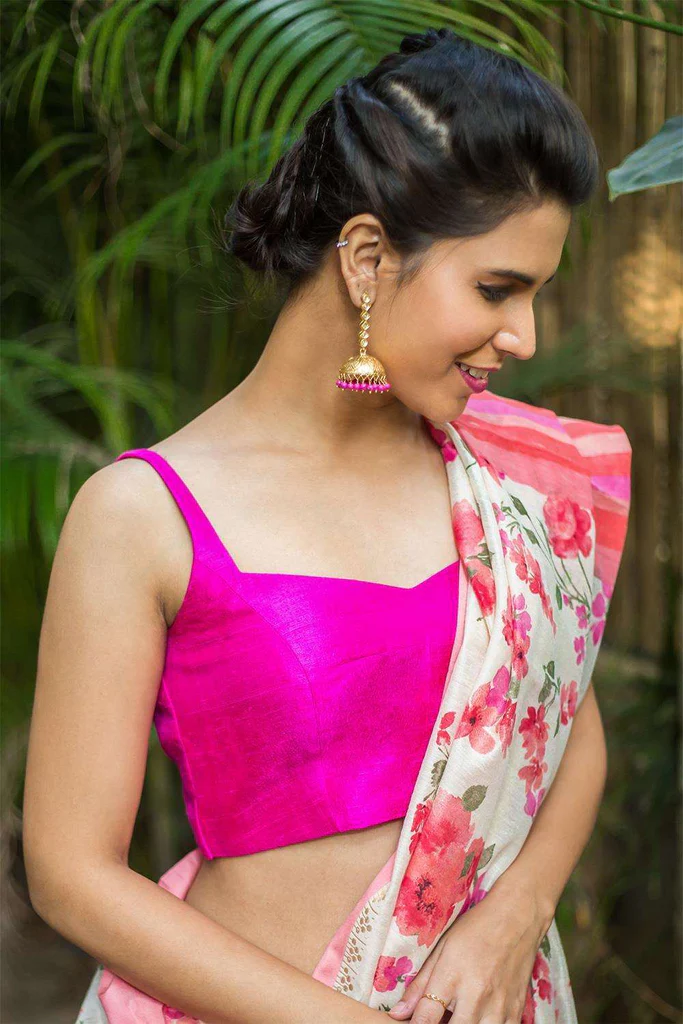 The spaghetti strap blouse is a straightforward style that typically has straps that cross over the shoulders and are referred to as "spaghetti straps" because of how thin they are in comparison to the rest of the blouse.
38. Tube Style Blouse Neck Design
When the spaghetti strap is taken off, tube-style tops, also known as "boob tubes," resemble blouses or tops with spaghetti straps. The tube-style top is so named because it fits around the body and the waist without typically requiring anything to be strapped up or down.
40. Buttoned Back Blouse Neck Design
Choose a blouse with a buttoned-back design if you feel that open-backed blouse designs are a little too daring for your tastes.
41. Bikini Shaped Blouse Neck Design
The bikini-shaped blouse is also known as the bra blouse because it looks like one but is not. See, a bikini-shaped blouse is still considered a blouse on all levels, except that it uses the traditional bikini as a base – sometimes the blouse consists of only the bikini top, while other times it may extend further down and cover the middle.
42. Jacket Blouse Design
If you have not guessed, the jacket blouse is a hybrid of a classic-style blouse and a jacket – and it is ideal for events where you need to look completely casual or slightly chic-casual. It is one of the few on this list that can be adapted to corporate wear – and will not require any strange accessories to work, just the right jacket and blouse in the right style.
43. Corset Blouse Neck Design
When selecting a corset blouse, keep in mind that comfort is the goal. When it comes to your blouse, you should avoid anything that could be considered restrictive. Many corsets are adjustable until you find the right level of "tightness" for you.
44. Laced Blouse Neck Design
Laced blouses are back in style for those truly special occasions – and while authentic lace can often cost significantly more than mass-produced varieties, it's worth every penny and can last you for decades more if you're able to take care of the blouse for the long haul: Remember that delicate lace necessitates delicate washing!
45. Pot Neck Blouse Neck Design
The pot neck design is one of the most well-known. If you are tired of the same old blouse designs, try this one and maybe add a knot at the back.
46. Asymmetric Blouse Neck Design
The asymmetric back neck design is for those who want a different and one-of-a-kind look for each blouse they own. There are dozens of creative designs in the neck back design catalog of asymmetric back neck designs.
47. Rocket Cut Blouse Neck Design
This rocket cut blouse design is very elegant and a bold choice in which the back clothing is folded to give the appearance of those beautiful creases.
48. Back butterfly bustier design
Experiment with your blouse by selecting this design and referring to the images below.
49. Pointed back neck design
This design is for those with unique fashion tastes. To improve the look, you can add different border designs or buy a saree with this type of embroidery at the back.
50. Cape Sleeve Blouse Neck Design
This new cape sleeve blouse is the most popular blouse design and is ideal for grand celebrations, festivals, and parties.
51. Cutwork Blouse Design
If you have heard of cutwork embroidery, you will recognize these Cutwork Blouses right away. On blouses, this type of embroidery looks very classy and unique.
52. Cropped Sleeve Blouse Design
This contemporary blouse design has a full back and a stylish neckline.
53. Zipper Blouse Design
This raw silk blouse has a chic open-back neck design, a zipper, and beautiful embroidery.
54. Triangular Blouse Neck Design
One of the best features of this modern high-collared blouse is the triangle back design.
55. Bejeweled Blouse Back Neck Design
A gorgeous maharani-style blouse with a back neck design decorated with crystals and exquisite embroidery in brilliant silver thread, as well as a rich off-white color for the blouse itself, adds to the garment's regal appearance.
A saree blouse has the incredible power to make or break your entire look. If you do not choose the right fabric and design, or if it does not fit your body perfectly, it can be a huge faux pas. As a result, deciding on the best blouse takes a significant amount of time and effort.