Mehndi is a temporary decorative tattoo that is applied on women's hands and feet for special occasions and festivals. There are no Indian celebrations that are complete without the application of mehndi! Mehndi patterns have gained an artistic edge throughout the years, which only adds to our admiration for them. It holds a unique place in the hearts of Indian women, who never miss an opportunity to display their Mehndi skills, whether during weddings or religious holidays. Mehndi design trends are always evolving to meet the demands of both young and old, traditional and fashionable people.
While we always focus on palm Mehndi, finger mehndi patterns are frequently overlooked. Finger Mehndi can add to the appeal of your overall design, whether it's bridal mehndi design, kids mehndi design, or mehndi design for wedding guests.
Finger mehndi patterns can be simple or ornate, depending on your preferences. We have a plethora of designs for you to pick from, and we are confident that you will enjoy them all. You must see these minimalistic mehndi designs, which are a visual treat due to their quirky and distinctive designs. These mehndi patterns and their elegance are simply stunning and cannot be ignored. Whether front or back, these are truly the best and must be admired.
Continue scrolling and saving your favorites as you go.
[Click Here] Buy Organic Home Grown Fresh / Dry Henna (Mehndi) Leaves
1. RING STYLE FINGER MEHNDI DESIGN
This ring style in finger mehndi design as a basic element works best with hands with long fingers but would look good on any type. This design is a hybrid of Arabic and Western royal finger mehndi.
2. JEWELRY-INSPIRED FINGER MEHNDI DESIGN
Traditional mehndi designs frequently draw influence from jewelry patterns to create a one-of-a-kind pattern to adorn your hands. A lovely finger mehndi pattern like this is a visual pleasure.
3. JAAL PATTERN FINGER MEHNDI DESIGN
Jaal pattern mehndi is very beautiful and appealing. Their allure may work anyplace, whether it's done on the hands or as a finger mehndi pattern. The best part is that you don't even need to work hard to bring the remainder of the design to life; simply painting with your fingers will be enough.
4. FLORAL FINGER MEHNDI DESIGN
The beauty of finger mehndi designs is unrivaled and cannot be overlooked. The best aspect about such unique henna patterns is that they can be done anywhere, whether on the front or back of your hand.
5. LEAFY PATTERN FINGER MEHNDI DESIGN
This one is simple and elegant, done using classic mehndi features like leaf patterns. Again, simply the finger mehndi would be perfect as your complete back henna.
6. COMPLETELY FILLED FINGER MEHNDI DESIGN
This filled finger mehndi design is popular for a variety of reasons. Isn't it fantastic for all those brides looking for unique and trendsetting designs? This simple finger mehndi design looks stunning on the bridesmaids. At the pre-wedding festivities, you might attempt this new basic finger mehndi design.
7. FINGER TIP MEHNDI DESIGN
This mehndi pattern is ideal for women who are constantly on the go. It won't take long to make because it's made using simple yet attractive leaf patterns. To enhance the appearance, create a basic mandala.
8. WHITE FINGER MEHNDI DESIGN
The white finger mehndi pattern will steal your breath away! Yes, these white mehndi patterns or white finger henna designs will complement your romantic wedding theme nicely.
9. JAAL PATTERN WITH INITIALS FINGER MEHNDI DESIGN
Do you have a four-letter surname? Then have the artist apply this super cool mehndi design to your hands. The adorable personalization makes it one of our faves on the list. It is also ideal for a bridal mehndi.
10. CASCADING FLOWERS FINGER MEHNDI DESIGN
The above one-finger mehndi patterns are sleek, chic, and classy. These are ideal for bridesmaids who believe that their airy demeanor can cast a spell. These new finger mehndi designs are popular due to their exquisite patterns. As a result, you should bookmark it right away.
11. ONE FINGER MEHNDI DESIGN
The intricate line design, followed by an adorable flower motif with stokes, is a one-of-a-kind pattern for our daring brides. A simple layer of red glossy nail polish added to the modish atmosphere.
Read also Latest 50+ Stylish Back Hand Mehndi Designs
12. RING FINGER MEHNDI DESIGN
A basic ring finger mehndi design that precisely combines lines and dots will not only be simple to replicate but will also appear sophisticated and edgy.
13. LINES AND DOTSS FINGER MEHNDI DESIGN
Geometric mehndi designs have an appealing aesthetic. The matching finger designs draw attention immediately and look great in photos.
14. HAATHPHOOL FINGER MEHNDI DESIGN
The mehndi pattern would look lovely on everyone, whether you're getting married or attending a loved one's wedding. Make use of this stunning Haath Phool mehndi pattern as inspiration.
15. DIAMOND SHAPE FINGER MEHNDI DESIGN
Sometimes a lovely but simple design is all we need! This one is suitable for any occasion and may be easily paired with an Arabic mehndi design. Make a note of it right away.
16. BHARWA FINGER MEHNDI DESIGN
If you like to go all out with your mehndi, this intricate finger mehndi pattern will catch your eye. To complete the design, you can add an Arabic bel. You don't need any other accessories to rock the party.
17. RING ALIKE FINGER MENDI DESIGN
We are often drawn to this finger mehndi pattern. This design replaces the original ring with its ring-like design. It is a basic and professional finger mehndi design. This will go well with both traditional and western clothing.
18. LEAFY TRAIL FINGER MEHNDI DESIGN
This henna pattern, which is only on the side of the fingers, has me in amazement. Isn't it distinctive and eye-catching? I love how each finger is coordinated and detailed.
19. SPIRAL LEAFY TRAIL FINGER MEHNDI DESIGN
Leafy trails are the epitome of inventiveness! Mehndi artisans never fail to lift the bar with each design they produce, and this one has taken the bar to a whole new level.
20. THUMB FINGER MEHNDI DESIGN
Another one-finger henna design is neither too much nor too little. It looks stylish and can be completed quickly due to the line patterns. This Gorgeous design will be the eventual outcome!
21. PINJARAS FINGER MEHNDI DESIGN
Pinjaras is the most recent addition to the henna components. It has discovered some incredible designs that incorporate them. The following inventive patterns, which reach the fingertips, are very stunning!
22. QUARTER FINGER MEHNDI DESIGN
These quarter-finger mehndi patterns paired with a unique mandala are adorable in every way. It is appropriate for brides, bridesmaids, and wedding guests, and it complements any dress. Add glitter nail paint to enhance its beauty.
23. HEART SHAPE FINGER MEHNDI DESIGN
Our hearts have been stolen by the hearts in the finger mehndi design. The leafy swirly designs on one finger, Jaal, and concentric patterns on the other fingers are distinctive but complementary. Also, we generally urge brides to think carefully about their rear hand henna design because it would be shown more than the front one.
24. ABSTRACT FINGERTIP MEHNDI DESIGN
If you don't like repetition, consider an abstract finger henna pattern! It gives your bridal mehndi personality and distinguishes it from the various patterns available on the internet. Simply said, start a trend!
25. FINGER AND WRIST MEHNDI DESIGN
Many females will not try the finger and wrist-only backhand henna design since they prefer henna on the entire backhand. If you want to try gorgeous mehndi designs on your rear hand, place the design only on your wrist and fingers, leaving the center of your hand empty.
26. MANDALA FINGER MEHNDI DESIGN
Mandalas are the most popular mehndi design. Combine it with an elaborate finger mehndi design to create a one-of-a-kind effect.
27. MINIMAL RING BACK HAND MEHNDI DESIGN
Ring Mehndi patterns are lovely mehndi designs that are simple and uncomplicated.
18. ARABIC FINGER MEHNDI DESIGN
Arabic mehndi designs have long been popular among Indian ladies. This design has it all: florals, paisleys that cover the palm and curving trails, and line designs that cover fingers. Amazing ideas for any occasion.
29. SWIRL PATTERN FINGER MEHNDI DESIGN
We're obsessed with these perfectly executed swirly patterns as finger mehndi designs. Lovely and fascinating!
30. MESH PATTERN FINGER MEHNDI DESIGN
When done correctly, mesh mehndi design always appears grand. The designer has paid such close attention to detail, and her efforts are truly admirable.
31. LIGHT AND DARK FINGER MEHNDI DESIGN
The patterns on this henna design are mind-blowing and absolutely out of the ordinary. It clearly stands on its own and does not require any additional work. In fact, we believe that any addition would detract from its charm. Allow this one to stand on its own!
32. HALF FINGER MEHNDI DESIGN
Finger mehndi doesn't get any easier or more beautiful than this. Just make sure the bold and thin strokes match the ones shown in the image, and the pattern will be as attractive as shown.
33. SINGLE FINGER MEHNDI DESIGN
If you want some henna done on your hands, with one finger embellished with such gorgeous henna patterns like florals, trails, and swirls making it stand out!
34. BOLD STROKES FINGER MEHNDI DESIGN
This is one of our faves out of the bunch. We appreciate the powerful strokes in the ring design with lotus motifs, as well as the well-delineated swirls and lines. The most recent finger mehndi has us spellbound.
35. TWO FINGERS MEHNDI DESIGN
You might choose an ornate index finger mehndi design that matches the simplistic pattern on your middle finger.
36. BOLD FINGER TIP MEHNDI DESIGN
If you need a quick henna pattern for a significant event, simply create an artistic and beautiful tip henna pattern like this one. When done with broad strokes, even someone who has never used Mehndi before can produce this pattern. So, if you're not sure about your design talents, try this finger mehndi design for a stunning look.
37. GEOMETRIC FINGER MEHNDI DESIGN
This complementary Mehndi design with basic geometrical features is unique and distinctive. It is not always necessary to use creative features to make your henna design stand out. Even the most basic things, when imaginatively organized, can work wonders. This design provides evidence of the same.
Read also Latest 50+ Stylish Back Hand Mehndi Designs
38. PAISLEY FINGER MEHNDI DESIGN
This Mehndi design features stunning paisley designs that look fantastic. Paisley patterns decorate the fingers delightfully. This is an excellent choice for weddings or receptions.
Read also Trending Arabic Mehndi Designs
39. JEWELRY EXTENSION FINGER MEHNDI DESIGN
This design deviates from the norm in that it begins on the ring finger, yet it is still modest. The pattern is symmetrical and delicate, exuding dainty and stylish vibes. If you look attentively, you will notice that it appears to be an extension of hand jewelry.
40. INDEX FINGER MEHNDI DESIGN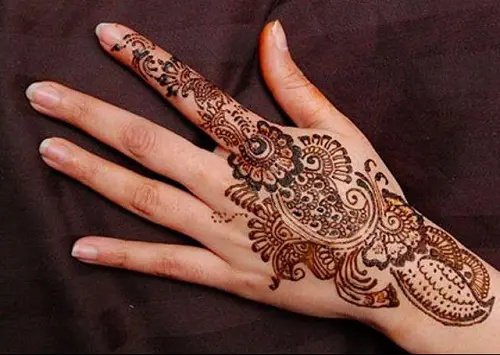 This mehndi design has a linear pattern with many patterns and designs. The back of the hand is highlighted with a flower design that is employed evenly. These Mehndi designs for fingers enhance the appearance of the hand.
41. BOLD FLOWER FINGER MEHNDI DESIGN
Flowers are a perennial Mehndi favorite among females. What better way to express your passion for flowers than with this stunning finger design? It has basic flowers connected by leaves and twirls that are vividly defined in the dark. The attractive flowers with lovely leaves are done correctly and neatly.
42. CRISS CROSS FINGER MEHNDI DESIGN
Fingers are fully made of crisscross lines with dots at the end. Furthermore, the design includes a full Mehndi cover with five leaves on each finger to give the treatment a finished effect. Except for the nails, the finger caps are completely covered in henna.
43. FINGER BAND MEHNDI DESIGN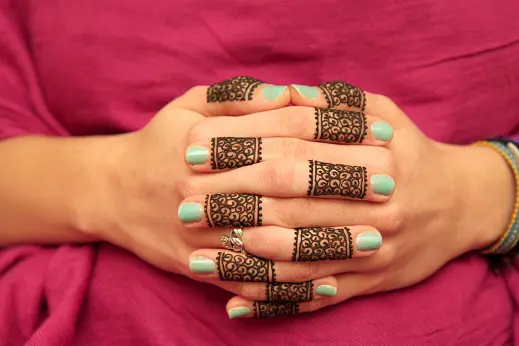 Small detailed swirls are caught in two lines, one on top and one on the bottom, in this pattern. It only covers a little piece of the fingers, leaving the rest of the skin exposed. The bands are highlighted with beautiful lines covered in little dots.
44. SEMI-CIRCULAR FINGER MEHNDI DESIGN
To complete the design, the little semi-circular pattern incorporates small loops on the edges. Small dots are also placed on the loops to enhance grace. In addition to the semi-circular loops, one can be creative by adding miniature flower designs or leaf patterns, stars, dots, linear patterns, and so on.
45. PEACOCK FEATHER FINGER MEHNDI DESIGN
This finger Mehndi pattern is inspired by a peacock feather; the main focal point is the peacock feather and the designs that surround it. On the back of the hand, there is a wonderfully adorned peacock feather shape; lines and dots finish it, and the feather is joined by a chain of dots.
46. KHAFIF FINGER MEHNDI DESIGN
If you like designs that focus on the palm, this khafif mehndi pattern is perfect for you. The fingers are the focal point of this design, stealing the show with needle-like precision utilized to apply mesh patterns and a mix of florals and paisleys.
47. ROSE MOTIF FINGER MEHNDI DESIGN
Mehndi design, but also inspired by several Pakistani Mehndi styles. The Mehndi normally covers the fingers from the bottom to the notch with Rose blossoms and foliage.
48. DARK FINGER MEHNDI DESIGN
This henna color is as dark as any spooky home, which is why it has a certain allure to it. It is a combination of both strong and detailed patterns that is highly beautiful when combined. A design like this would undoubtedly set you out from the crowd.
49. GEMSTONE EMBELLISHED FINGER MEHNDI DESIGN
Using different elements, you can make any henna pattern stand out. You can add jewels or gemstones to your design to add a touch of glitz. There are numerous methods for improving your designs.
50. LOTUS MOTIF FINGER MEHNDI DESIGN
Lotus motifs are unquestionably one of the most stunning mehndi designs for fingers and are ideal for bridesmaids.
51. INTRICATE FINGER MEHNDI DESIGN
The fingers and wrists have a mix of bold and complex motifs. The patterns are a blend of floral and leafy vines. You will also observe two birds perched on the dotted trail. This design does an excellent job of capturing the scenery.
Read also Front Hand Simple Mehndi Designs
52. SPIRALLING FINGER MEHNDI DESIGN
All expert mehndi artists who specialize in making exquisite finger mehndi designs, such as this one, prefer free-flowing swirl patterns.
53. FLORAL VINE FINGER MEHNDI DESIGN
Consider a beautiful floral vine for your finger mehndi designs. It's not the easiest design to learn, but it's perfect for your best friend's wedding.
54. LINEAR FINGER MEHNDI DESIGN
This beautiful mehndi design is solely for the fingers, enclosing and defining them with lines, dots, circles, and diamond patterns that merge traditional and modern procedures. To take this basic linear design to the next level, one can add according to one's creative creativity.
55. TRIANGULAR FINGER MEHNDI DESIGN
This design stands out by brilliantly capturing the inverted V or triangle pattern on the finger caps. The two triangles are combined to form a full design for each finger on the back of the hand. The pattern is connected by lines, but it looks lovely on the hands.
56. LEAFY TRIAL FINGER TIP MEHNDI DESIGN
This basic mehndi pattern is unique and stylish. The pattern's powerful strokes and meticulously done leaves emanate absolute beauty and offer a one-of-a-kind touch. The intertwining straight lines and incredible symmetry in all of the fingertips set this design out from the pack.
57. BARE FINGER BANDS MEHNDI DESIGN
Concentrating design details on fingers while leaving the rest of the hand empty is a highly modern approach in henna patterns that is preferred by the younger generation who is obsessed with all things basic and subtle. This exquisite mehndi design is distinguished by the absence of finger bands on all fingers. Traditional flower designs with leaves and a hint of jaal on both sides of the bare bands. This mehndi pattern is perfect for situations such as dinner parties, but avoid wearing any finger jewelry to allow the design to shine on its own.
I hope our collection of the most unique patterns has inspired you for the next finger mehndi design you want to flaunt! Also, I am sure you have bookmarked your favorite design; if you haven't done so yet, bookmark it immediately.