Although fashion trends are always changing, Indian ladies continue to favor saree for all kinds of occasions. Today, ladies may choose from a wide variety of blouse styles and patterns. However, it is important to match the blouse to the event. For sarees worn for work, deep cuts are not recommended, and higher necklines are a no-no in the summer. Boat neck blouse designs are the solution if you're looking for a balanced in-between blouse style.
Whether worn with a lehenga or a saree, boat neck blouse patterns are universally attractive and provide an image of effortless glamour and sophistication. Boat neck blouses possess an unmatched understated elegance! Additionally, they are incredibly adaptable and may look stunning in virtually any fabric.
Designs for boat neck blouses are becoming more popular since they have a contemporary and beautiful feel. Traditional Indian clothing for women must have a saree blouse. We now have boat neck blouses to shake up the monotony of these basic, stereotypical blouse designs. The boat shape neck blouse appears incredibly simple and lovely, and it can upgrade your appearance. Any saree blouse pattern can be matched. The adaptable and straightforward boat neck blouses go well with designer, silk, conventional cotton, and even lehenga blouses. You must look at these 50 chic boat neck blouse designs that we have put together. You would undoubtedly be drawn in by the styles of boat neck blouses
1. Tassel Detailed Boat Neck Blouse Design
Tassels are the newest fashion craze, and the lovely blouse pattern shown above is a fantastic way to add a tassel to your boat neck for a chic saree style. This style of blouse gives sarees a more modern feel and goes well with silk and designer sarees alike.
2. Kalamkari Boat Neck Blouse Design
A garment made in kalamkari cannot possibly look this lovely. It has a back entrance with potli buttons. One of the most exquisite printed and Kalamkari blouse patterns we have seen features prints on both the front and back sides on printed fabric in contrasting colors.
3. Sleeveless Boat Neck Blouse Design
This design's neck edge's gold thread embroidery is stunning. This sleeveless blouse goes great with lehengas and standard silk sarees. Such a refined and sophisticated boat neck saree blouse is ideal for any event where you want to dress softly.
4. Princess Cut Boat Neck Blouse Design
Timeless beauty is the princess-cut boat neck sleeveless style. It can be worn with simple saris with coordinating borders. If you wore this to a party, it would turn heads. It looks great with a stylish skirt as well. The most recent boat neck blouses for plain sarees are these.
5. Wide Boat Neck Blouse Design
Although a boat neckline often falls just below the collarbone, you can alter it somewhat if you prefer a deeper neckline. The lehenga ensemble looks feminine and fashionable thanks to the wide boat neck blouse's deep neckline and waist corset!
6. Velvet Boat Neck Blouse Design
Given so much zari and embroidered work on velvet, a blouse seems regal because velvet is a luxury fabric. It has full sleeves. The neck of the blouse has mirror work.
7. Peplum Pattern with Boat Neck Blouse Design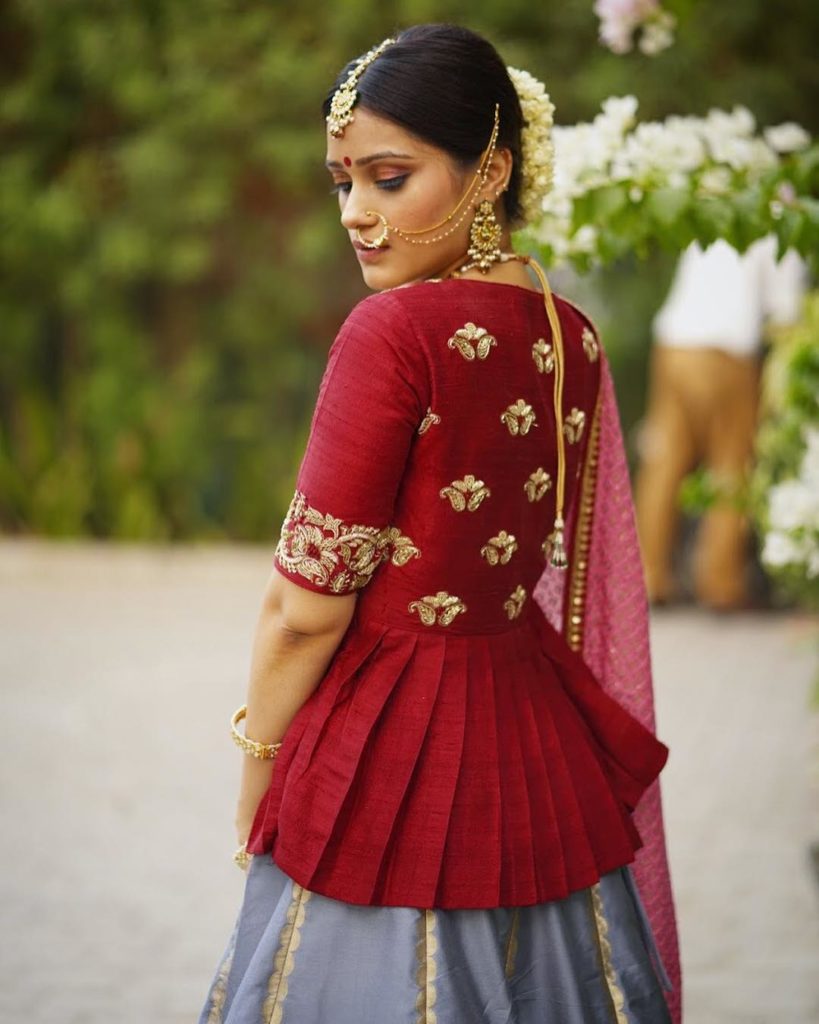 The typical blouses used with sarees or lehengas are monotonous; a peplum blouse changes that. The three-quarter sleeves and lovely style of the blouse are alluring. Your attire has an Indo-Western vibe because of it. It can be worn with sarees of the same hue or one that contrasts with it, as well as with pattu sarees. The gorgeous embroidery on the sides and sleeves adds to the design's elegance.
8. Printed Boat Neck Blouse Design
Short sleeves are included with the printed boat neck princess cut blouse pattern. You would seem quite lovely if you choose to wear your cotton sarees with the print because it has a very royal appearance.
9. Heavy Maggam Worked Boat Neck Blouse Design
Boat-necked work blouses made of heavy maggam are trendy. If you look closely, you will see that the stone chains are shaped like zari and are elegant and appealing. The golden thread is used to create elaborate pattern works on the elbow-length sleeves. This blouse item displays aari craftsmanship.
10. Laced Boat Neck Blouse Design
With laces encasing the blouse, it appears incredibly elegant and fashionable. The blouse is more appropriate for wedding receptions or family gatherings because of the beads on it. It might also be used as a blouse under a stunning, thick dupatta.
11. Side Slit Boat Neck Blouse Design
You can choose a side shoulder slit with embroidered accents for a more stylish take on the boat neck style. This particular designer long-sleeve blouse is inspired by celebrities and gives off a flattering appearance ideal for any festive day.
12. White Embroidered Boat Neck Blouse Design
Preston white embroidered blouse looks elegant and regal. The upper portion is made out of embroidered net fabric, while the neckline has a simple, unadorned design. The primary attractiveness of this design is the white floral embroidery on a white background.
13. Scallop-edged Off-shoulder Style Boat Neck Blouse Design
The scallop border on the neckline of this blouse, which is wide but not deep like a boat neck, makes it particularly distinctive. This will undoubtedly be a favorite among the younger crowd because it almost has the appearance of an off-the-shoulder top. Arrive at any party wearing a fashionable blouse like this to draw all eyes to yourself.
14. Collared Boat Neck Blouse Design
Who says collars are only found on shirts and tops? On the front boat neck side of this blouse, there is a Peter Pan collar. It has a lovely patchwork and princess cut design with three-quarter sleeves. It may be easily put on because of the back neck buttons. Better would be if they were worn with matching border sarees or even a plain saree.
15. Puff Sleeves with Boat Neck Blouse Design
You'll undoubtedly receive compliments on your fashion sense. With only a few pleats on the shoulders, the pattern is straightforward. These patterns look best when used with pricey or simple sarees.
16. Quatar Sleeves with Boat Neck Blouse Design
Quarter-sleeved plain printed sarees on women are simple yet elegant. She can show her simplicity in any situation by wearing a blouse and saree. The blouse with quarter sleeves has a half-plane design without any significant embroidery.
17. Sheer Boat Neck Blouse Design
A silk saree's substantial appearance is countered and elegantly complemented by a sheer boat neck blouse. This boat neck blouse style, which has threadwork decoration on the sleeves and sheer fabric at the top, is one that we truly adore.
18. Full Sleeves Boat Neck Blouse Design
If you want to wear net sarees in a sophisticated manner, the combination of a boat neckline and long sleeves is great. A blouse with a more modest cut would help to bring the sheerness and exposing factor of net sarees into harmony.
19. Floral Pattern Boat Neck Blouse Design
Floral patterns look incredibly cool during the summer and give you life. It can be worn with cotton sarees to suggest wearing sarees.
20. Mirror Worked Boat Neck Blouse Design
We assure you that the mirror and boat neck style will make you appear chic and beautiful. It goes well with whatever kind of saree or skirt you own. The rear neck pattern, which has exposed hooks in the back and a pot-like form, is what makes it beautiful. The sleeves and collar are adorned with this stone and mirrorwork.
21. Short Border Boat Neck Blouse Design
If going entirely sleeveless isn't something you favor, you can also think about wearing incredibly short border-length sleeves, like the ones on the boat neck blouse in the image above. Because of its incredible versatility, this type of basic blouse should be a staple in every desi saree lover's wardrobe.
22. Kutch Worked Boat Neck Blouse Design
A well-known designer art form known for its use in clothing and outfit decoration is kutch work. It looks fantastic and alluring because of the vibrant thread work. Such boat neck blouses go well with plain sarees of any color. It's stunning, isn't it?
23. Half Sleeves Boat Neck Blouse Design
You can wear different forms of bottom clothing with a Louise with half sleeves and a boat neck. On the top and neckline, thread embroidery is seen. The blouse is simple to wear because of the back hooks.
24. Overlapping Boat Neck Blouse Design
This unique blouse idea with overlapping detail boat neck and exceptional embroidery is the best choice for you if you want to keep to the traditional saree with modern fashion. If you believed that a saree would conceal that stunning, artistic blouse, then pay close attention to how the pleated pallu is draped from beneath the blouse layer to make the blouse the focal point.
25. Embroidered Boat Neck Blouse Design
This embroidered boat neck blouse has a seductive appeal that makes it ideal for attending parties and wedding-related occasions. If you want to draw attention to the exquisite threadwork art, use the extended canvas as a backdrop, and for balance, choose a big back cutout. These days, lower back Doris is in, and you should attempt one with a front boat-neck blouse.
26. Cold Shoulder Boat Neck Blouse Design
Even in conventional blouses, the trend for cold shoulders is evident. The silk fabric has a straightforward pattern with a boat neck and cut-out shoulder detail.
27. Wide Sequiened Boat Neck Blouse Design
Wide boat necks are ideal for wearing with sequin sarees since they give off-the-shoulder looks. We give this designer boat neck blouse design a big thumbs up since it is understated yet attractive.
28. Bridal Boat Neck Blouse Design
Wedding clothing also frequently features a boat neck. This blouse has a fashionable appearance. It is appropriate for receptions and other bridal celebrations because it is decorated with flower embroidery, zari, and stonework.
29. Plain Boat Neck Blouse Design
The following blouse design is quite simple to stitch and is a favorite of celebrities. With the right styling adjustments, a plain blouse with a boat neck looks lovely with the charm of pattu sarees and can be worn to parties or even weddings.
30. Ruffle Sleeves with Boat Neck Blouse Design
Additionally, boat neck blouse styles look fantastic with these kinds of dramatic sleeves! This shirt with ruffled sleeves is quite eye-catching and will look fantastic with a lehenga.
31. Stone Embellished Boat Neck Blouse Design
You can wear this sequin and stone-studded blouse to a formal occasion if stones can see you. With a transparent net in the upper part, it has a highly contemporary appearance. The entire blouse is embellished with sequins and rhinestones, including the jewel-encrusted neckline.
32. Netted Neckline Boat Neck Blouse Design
Blouses with lace accents look fantastic at parties. You can choose from options like sheer sleeves, laced necklines, or a neckline and sleeves made of lace, which will appear quite alluring. When worn with a plain saree in a solid color, this blouse design is sure to make you stand out on any occasion.
33. Heart Cutout Boat Neck Blouse Design
A charming hatke touch can be added to your basic blouses by using the increasingly fashionable unique side cuts. Try a boat neck blouse with a heart-shaped side cut if you don't like maggam work or deep-back cuts on your saree blouses. For added effect, add some embroidery, sequins, or beads around the heart cut.
34. Brocade Boat Neck Blouse Design
The brocade blouses look very majestic. The boat neck on this brocade blouse with short sleeves is employed on the hem and sleeve borders rather than the neckline, giving it a distinctive design that makes it stand out nicely. If you adore the boat neck style, go try these variations.
35. Sequiens and Pearl Detailed Boat Neck Blouse Design
A boat neck design blouse with delicate pearl or sequin embellishment will look gorgeous and is perfect for an evening outfit. Try elbow-length sleeves and sarees with Kundan or mirror work in contrasting colors. If you know a little about sequin work, you could perform this straightforward blouse work yourself. Alternatively, you could just use fabric adhesive to attach pearls, and then you might be ready to party!
36. Frill Detailed Boat Neck Blouse Design
If you thought frill-detailed necklines looked excessively frilly and playful, try the newest fashion. The front frill-detailed boat neckline is complemented by a cold shoulder, making it a top pick for cotton or patterned sarees.
37. Back Cutout Boat Neck Blouse Designs
Cutout-back designs seem especially seductive when they're featured on boat neck blouses. This blouse's style is certain to turn heads!
38. Back Tie Up with Boat Neck Blouse Designs
The scoop-back tie-up accent on this boat neck blouse distinguishes it from other designs. If you want to display your sexy back, this design is great!
39. Cape with Boat Neck Blouse Design
Both the cape and the main body have identical embroidery motifs. The blouse would still appear basic yet attractive even without those motifs. The attractive boat neck blouse will draw attention to broad-shouldered women.
40. Golden Embroidered Boat Neck Blouse Design
The blouse of these items always complements the contrast of any background in addition to having a weighty appearance. The fabric of the blouse and the main body are highly embroidered with pearls and golden linings.
41. Thread Worked Boat Neck Blouse Design
This blouse's contrast-colored thread embroidery is quite well-done and elegantly done. Black thread embroidery is present across the entire color net blouse. This shirt's cut-back neckline further distinguishes it as a wonderful example of a designer blouse design.
42. Keyhole Pattern with Boat Neck Blouse Design
Try this keyhole cut-out style and you'll be sure to change your opinion if you think high neck blouse patterns give off a stuffy, mature vibe. The standing collar neckline's keyhole cut creates a breathing space, balances the look, and exudes a youthful, playful spirit.
43. Boat Neck Cum T-shirt Blouse Design
A stitched blouse in the style of a shirt can have a boat neck. That has more in common with a shirt. A half-sleeve pattern that hangs loosely from the chest creates a distinctive pattern. A saree with a striking plain border and dotted blouse in the same color would steal the show.
44. Side Keyhole Cut Boat Neck Blouse Design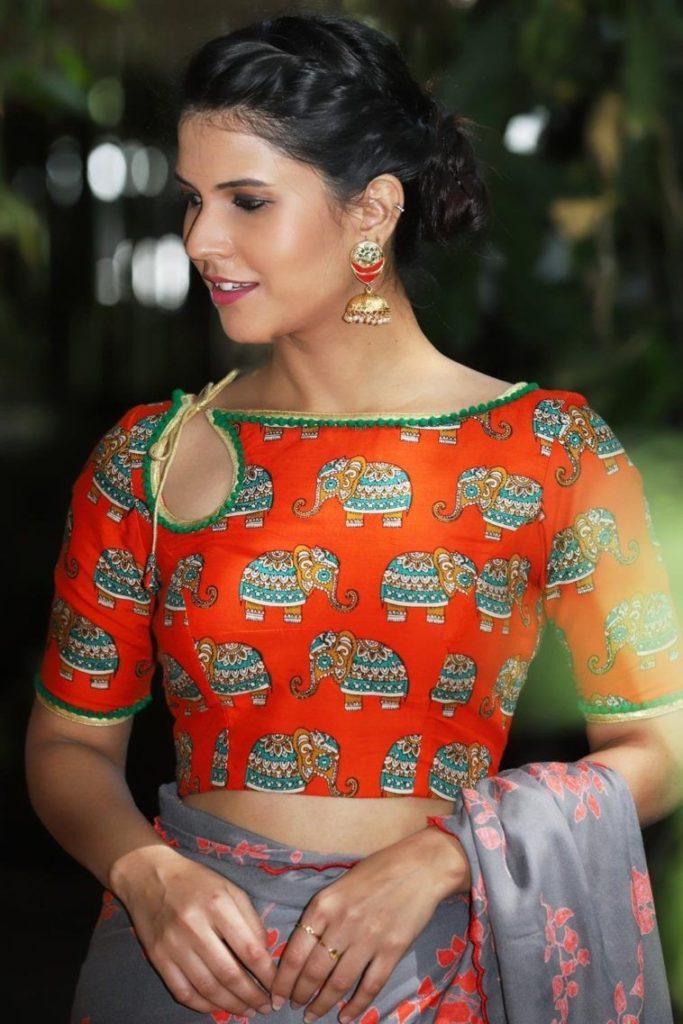 A patterned boat neckline blouse with a side keyhole cut and Doris, like the one in the above image, will help you improve your casual saree style game. For a romantic meal, sarees with kalamkari patterns in bright colors are a wonderful choice.
45. Oval Back Cut Boat Neck Blouse Design
This blouse's style emphasizes comfort and class with contrast piping accents and a boat neck on the front for a breezy, carefree appearance. With an oval shape and potli buttons, the back is given a slightly sophisticated appearance while being basic enough to be worn with sarees for formal wear or even informally.
46. Lotus Pattern Boat Neck Blouse Design
It has a lovely lotus pattern in the hand sleeves, the front, and the back of the neck.
47. Tie-up Sleeves with Boat Neck Blouse Designs
The colorful, feminine, and beautiful design of this raw silk boat neck shirt with tie-up sleeves pairs wonderfully with silk sarees.
48. Front Open Boat Neck Blouse Design
The conventional front-open blouse has a contemporary vibe. This embroidered blouse has an elephant and floral motif and is sleeveless. It looks incredibly elegant with the stone and thread work that is present. Potli buttons on the front open button give it an ethnic appearance.
49. Padded Boat Neck Blouse Design
When you want to wear prints with straightforward sarees, they are in and are likely to attract your eye. It features designs all over and a keyhole pattern on one of the shoulders. The waistline's Zari border adds further elegance.
50. Flat Collor Boat Neck Blouse Design
Once more, this blouse is stunning with a boat neckline and collar. When worn with lehengas, silk, net, and tissue sarees, it has a princess-cut pattern and looks incredibly lovely.
The best boat neck saree blouse might not be as easy to choose as you might believe. You must take into account several factors, including the sort of occasion, color schemes, and the front and back boat neck blouse designs.
Women go through a variety of blouse design catalogs in their choosing efforts but are unhappy. The boat neck blouses, which were influenced by the sailor's neck shirt pattern, quickly rose to the top of Indian women's fashion preferences.
Regardless matter how they seem, these blouses manage to impress women. Additionally, the originality and ease of customization lead to the impression that was created. Pick anyone from the selection of boat neck blouse designs.