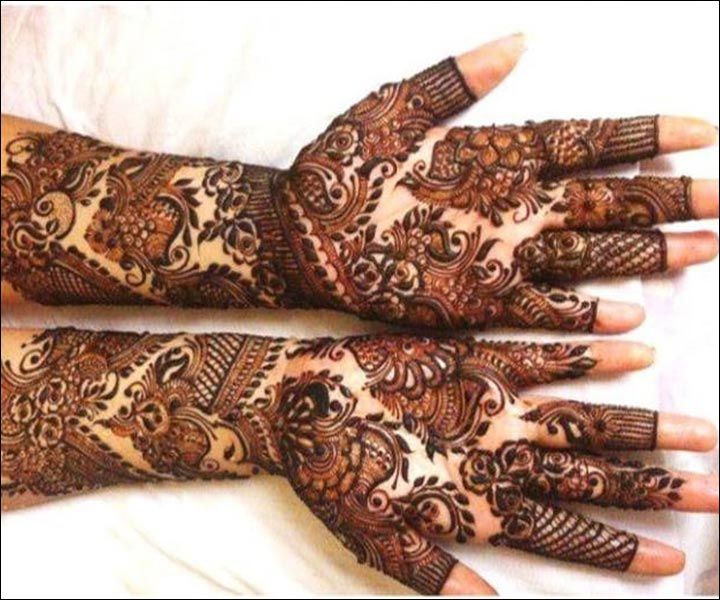 Arabic Mehndi is well recognized for its lovely flowery and leafy path that extends from the index finger to the wrist and beyond. It is possible to perform it on both the front and rear sides of the hand. Needless to say, it is one of the most popular designs, beloved by both children and adults. Arabic Mehndi started in Arabic-speaking nations, as its name suggests, and it gradually expanded to Asian nations like India and Pakistan. Even brides now value it because of its popularity. The patterns work for a wide range of occasions. In addition to getting an Arabic Mehndi design on your hands, you might also get one on your feet.
For those who do not want an overwhelming design to occupy their hands, simple Arabic Mehndi designs are an excellent choice. Instead, Arabic Mehndi motifs appear quite exquisite given the available space. You don't need to look any further than this list for either the front or the backhand. For everyone who needs decent design, the list of 55 beautiful Arabic Mehndi patterns we have compiled is sure to clear things up.
[Click Here] Buy Organic Home Grown Fresh / Dry Henna (Mehndi) Leaves
1. JAAL ARABIC MEHNDI DESIGN
While everyone has seen the typical jaal patterns, this one seems more natural. It doesn't involve any other complementing designs, which focuses all emphasis on the exquisite jaal details. The appearance of the hand being encrusted with delicate jewels is created by jaal designs, which are henna designs inspired by Arabic art.
2. BOLD FLORAL MOTIFS ARABIC MEHNDI DESIGN
Nothing says floral like large, bold floral designs. The free-flowing nature of the flowers and accompanying leaves adds to the uniqueness of this new mehndi pattern.
3. PALM CUFF ARABIC MEHNDI DESIGN
Back a few years ago, palm cuffs were all the rage! We chose to include a mehndi pattern that resembles that jewelry piece as the craze has faded now. We adore how this one so elegantly displays motifs like flowers & leaves. Don't forget that this Arabic henna design will free up your fingers so that you can freely move it without meshing out!
4. SYMMETRIC ARABIC MEHNDI DESIGN
Another feature that distinguishes Arabian mehndi designs is their symmetry. And here's an illustration: This lovely Arabic mehndi pattern is both simple and eye-catching. What else could you want?
5. GEOMETRIC ARABIC MEHNDI DESIGN
It's a stunning Arabic mehndi design for the hands with geometric patterns resembling tribal tattoos. It is more attractive when designed with black mehndi. aesthetically pleasing This Arabian mehndi pattern is one to bookmark because the patterns give a unique look.
6. FLOWING SWIRLS ARABIC MEHNDI DESIGN
The majority of Arabic mehndi designs make use of free-flowing swirls, with the rest of the patterns and motifs occupying the space around this swirl. This Arabic mehndi pattern is unique for another reason: the use of negative space, which makes it even more appealing.
7. BUTTERFLY ARABIC MEHNDI DESIGN
One of the best Arabic mehndi designs, this pattern gives the hands a beautiful appeal. The traditional mehndi design will have a captivating and distinctive outline of a butterfly in a flower.
8. SIDE TO SIDE ARABIC MEHNDI DESIGN
Arabian mehndi designs flow diagonally from one side to the other. However, this particular design fills only one side of the diagonal. And it looks fantastic.
9. LOTUS MOTIFS ARABIC MEHNDI DESIGN
These patterns are certainly appealing due to the swirls and twirls produced while adding the lotus pattern. Because they're so unique and lovely, don't be shocked if you later see these flowery Arabic mehndi designs trending extensively online.
10. ROSE MOTIFS ARABIC MEHNDI DESIGN
Flowers don't just have to be used as wedding decor; using them as motifs in your Arabic mehndi design will also no doubt earn you compliments. Any of them is a great option for you if your wedding is small and you don't want to go overboard with the mehndi design.
11. FLORAL TRAIL ARABIC MEHNDI DESIGN
Country roads lead you home, and floral paths provide wonderful beauty. Here's an Arabic mehndi design that runs from the palm to the wrist. And it's fantastic. It's stunning.
12. JEWELRY-INSPIRED ARABIC MEHNDI DESIGN
Now, not many brides believe in getting their hands completely covered with mehndi, thus they may prefer this simple Arabic mehndi design. Although this one is rather straightforward, it would look stunning at nuptial rituals like Roka, engagement, and more! a lot of detail on the fingers and not much on the palm. Rich appearance, yes!
13. PAISLEY ARABIC MEHNDI DESIGN
This is a modern take on a traditional Arabic mehndi design. Typically, Arabian mehndi designs flow from one finger to the end of the palm and then disappear. The remainder of the palm remains unfilled. However, this design puts similar designs on the remaining fingers to create a wider look.
Read also Latest 50+ Stylish Back Hand Mehndi Designs
14. MANDALA ARABIC MEHNDI DESIGN
Here, the pattern is artistically created with plenty of beads! The mandala lends the design a mystical feel, and the combination of the two makes it one of our favorites. The traditional mehndi design pattern, which was only circles drawn in the palm and back of the hand, has become very popular among contemporary brides.
15. FLORAL BAND ARABIC MEHNDI DESIGN
This design features a delicately crafted flower ring on both the back of your palm and wrist. The floral band is complemented by a bold floral design giving this pattern a hefty appearance.
16. ONE FINGER ARABIC MEHNDI DESIGN
When lovely plant trails are painted for your backhand, the strong and dramatic designs of Arabic mehndi design appear really fantastic.
17. PERSONALISED ARABIC MEHNDI DESIGN
The most popular coming-of-age mehndi design right now is personalized mehndi! While it appears beautiful in a typical mehndi design, Arabic mehndi makes it stand out and look neater. The ones mentioned above are cutting-edge and have a contemporary feel.
18. MINIMAL RING ARABIC MEHNDI DESIGN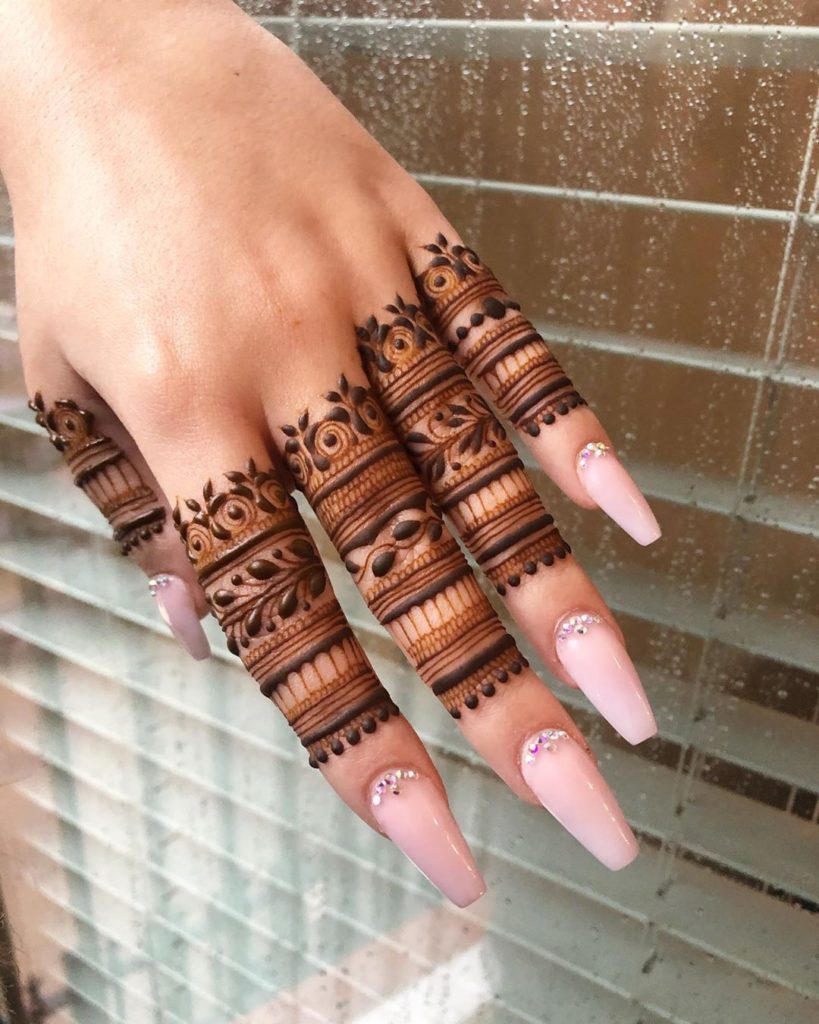 Ring Mehndi patterns are lovely and simple mehndi designs that are undoubtedly stunning despite their simplicity.
19. CRESCENT MOON ARABIC MEHNDI DESIGN
This design is one-of-a-kind because it combines floral, lace, and coil design elements. It has a thick and thin stroke design that adds to the attractiveness of this mehndi. So, what are you holding out for? Now is the time to get this mehndi design!
20. PEACOCK MOTIFS ARABIC MEHNDI DESIGN
A peacock pattern was added to an Arabic mehndi design to further enhance its beauty. We think everyone benefits. A peacock motif and Arabic mehndi art go together! These designs are excellent illustrations of the same. An amateur may create a peacock pattern just as simply.
21. CONTRASTING ARABIC MEHNDI DESIGN
A never-before-seen Arabic mehndi design featuring two diametrically opposed designs. The simplicity of this design is what makes it so popular among modern women! Do they not complement each other beautifully?
22. MESH FINGER ARABIC MEHNDI DESIGN
These minimalistic finger mehndi patterns with jaal/mesh are just stunning! If you want your bridal mehndi to be the focus of attention, you should definitely save these.
23. COILED ARABIC MEHNDI DESIGN
This beautiful chain and the spiral henna pattern are stunning. This design is pleasing to the eyes because it is so simple. The climber-type foliage covering the fingers is realistic, and the pattern below it with flowers and coils is simply stunning.
24. ABSTRACT FINGER ARABIC MEHNDI DESIGN
If monotony isn't your thing, try an abstract finger mehndi design! It adds character to your Arabic bridal mehndi and makes it stand out from the many patterns accessible on the internet. In a nutshell, start a trend!
25. DARK AND LIGHT ARABIC MEHNDI DESIGN
Circles are applied first, followed by a mixture of light and dark mehndi. We bet you won't be able to ignore the uniqueness of this design. Nothing we've seen before comes close to this. The circles that stretch from the palms to the fingers provide a lovely imprint.
26. THICK LEAFY ARABIC MEHNDI DESIGN
Unusually, a design with thick strokes attracts our attention when it comes to Arabic Mehndi Design, and this is one of those designs.
27. FINGER AND WRIST ARABIC MEHNDI DESIGN
Many females will not try the finger and wrist-only backhand henna design since they would prefer to have henna on the central backhand part. If you want to try stunning mehndi designs on your backhand, try putting the design simply on your wrist and fingers, leaving the back of the hand center vacant.
28. DUAL TRIAL ARABIC MEHNDI DESIGN
The inclusion of two distinct trails, each made with remarkable perfection, increases the design's attractiveness.
29. CANVAS INSPIRED ARABIC MEHNDI DESIGN
This style appears to be straight out of your dreams. It is bizarre! The flowers and shading effect, which are the fundamental components of any Arabic Mehndi design, are visible here. Here, the level of artistic ability is fairly obvious. It would be accurate to claim that this piece of work is an artistic creation rather than merely a Mehndi design.
30. CHECKERED PATTERN ARABIC MEHNDI DESIGN
This mehndi design is heavily influenced by a symmetric lattice pattern that takes inspiration from the architectural accents created by mosque windows! However, we adore how the floral trails are combined with the geometric checks since it gives this mehndi design so much more punch.
31. CIRCULAR PATTERN ARABIC MEHNDI DESIGN
This Arabian mehndi trail, which is dominated by circular designs on the hand, is captivating! And how adorable is the little trim around the thumbnail?
32. DISTANT ARABIC MEHNDI DESIGN
Choose a unique, modern mehndi pattern like this one that isn't a trail or all about paisleys. It features stunning Arabian tattoos inscribed on a discernible distance that give it the appearance of being a maze. Oh, and the gorgeous patterns on the fingers are so irresistible.
33. HAND ORNAMENT ARABIC MEHNDI DESIGN
Does the lovely mehndi design on the backhand look like a hand ornament? We truly like how straightforward this design is.
34. HALF CIRCULAR ARABIC MEHNDI DESIGN
Circular strokes are used in this Arabic hand mehndi design, and the fingers have a very double ring pattern.
35. CURLED ARABIC MEHNDI DESIGN
One of the simplest Arabic mehndi patterns is this one. Create simple curled-up lines, then add swirly or circular patterns to give them some structure.
36. MULTIPLE ELEMENT ARABIC MEHNDI DESIGN
Clearly, the peacock serves as the primary component in these Mehndi designs. Due to its reputation as a sacred and regal bird, the peacock is widely featured in Arabic Mehndi designs. There are numerous mehndi design elements, such as paisleys, flowers, dots, meshwork, elephants, and domes, that are appropriate for any young bride.
37. LACE PATTERN ARABIC MEHNDI DESIGN
This Arabic mehndi is elegantly embellished such that it appears to be made of net lace.
Read also Latest 50+ Stylish Back Hand Mehndi Designs
38. ARCHITECTURAL ARABIC MEHNDI DESIGN
This remarkable design appears to have been influenced by mosque or monument architectural details. And there's no denying that it looks fantastic! Each finger's patterns are cleverly connected to the monument-like structures by tiny dots. Also, don't forget to wear your checkered wristband.
39. ANKLE INSPIRED ARABIC MEHNDI DESIGN
Brides select exquisite leg mehndi designs for Indian weddings that are intricately laid with gorgeous patterns and motifs. Why not break with tradition and have stunning Arabic mehndi anklets for your feet? All of your wedding guests will find it stunning and attention-grabbing.
40. HAATH POOL ARABIC MEHNDI DESIGN
The Arabic mehndi pattern will look stunning on anyone, whether it's your wedding day or you're a guest at a loved one's big day. Use this exquisite Haath Phool mehndi pattern as inspiration; it is very gorgeous.
41. LEAFY WAVE ARABIC MEHNDI DESIGN
Do you desire an Arabic mehndi design that stands out and is lovely on its own? For you, we have the ideal choice. Their foliage pattern's fluid design is reminiscent of the waves in the ocean.
42. BRACELET TYPE ARABIC MEHNDI DESIGN
This Arabic mehndi design is a lovely option for your wedding festivities to the distinct floral patterns, free curls, and intertwined leafy designs, as well as the inclusion of a detailed bracelet for your wrist.
43. BEL PATTERN ARABIC MEHNDI DESIGN
Looking for an exquisite Arabic mehndi design to adorn your foot with a vine pattern? We have a fantastic option for you. The attention of everyone will undoubtedly be drawn to these beautiful simple mehndi designs for the foot.
44. HALF HAND ARABIC MEHNDI DESIGN
Even if a portion of the henna design is accentuated, it can still look lovely, as in the case of this striking and distinctive Arabic Mehndi design.
45. PENDENT SHAPED ARABIC MEHNDI DESIGN
This mandala-shaped mehndi pattern will give your feet an exquisite appearance. It is designed like a pendant or an anklet with a pendant.
46. DOME-SHAPED ARABIC MEHNDI DESIGN
What happens when a more organic, flowing, and undulating self combines with the distinct, defined, structured, architectural lines? Henna magic results from the union of these two unique sets of patterns. Believe us as you debate whether or not to show your mehndi artist this Arabic design. A simple and gorgeous mehndi design is this dome-shaped front hand pattern. The thick color on your palm will remain after the quick-drying, bold strokes with voids in between.
47. MIRRORED ARABIC MEHNDI DESIGN
It gets challenging to paint the same henna design on both hands because there may occasionally be slight variations. But with Arabic mehndi designs, you can receive the identical pattern on both of your hands, kind of like a mirror reflection, by the bold and full patterns.
48. SIMPLE TIKKI ARABIC MEHNDI DESIGN
Simple Tikki designs may appear classic, but they are distinctive and well-known among women.
49. FULL HAND ARABIC MEHNDI DESIGN
We were fascinated by these full-hand henna designs for the love of conventional mehndi patterns. The gorgeous mor designs undoubtedly enhance the bridal mehndi appearance. Brides will undoubtedly like these designs, we're certain of it.
50. SHADING EFFECT ARABIC MEHNDI DESIGN
Compared to the designs listed before it, this one makes better use of shading. A very prevalent and well-liked component of any Arabi Mehndi design is shading. The complex patterns show that a certain level of professionalism is required to handle this kind of design.
51. CHANDELIER ARABIC MEHNDI DESIGN
This style has a gothic feel to it. The entire design is based on a regal-looking chandelier. This design's components are all arranged symmetrically, giving it an incredibly immaculate appearance.
Read also Front Hand Simple Mehndi Designs
52. ARCH-SHAPED ARABIC MEHNDI DESIGN
The domes and architecture of the Mughal era appear to have served as an inspiration for this design. I adore how regal the dome design appears to be. The Arabic Mehndi Patterns are known for their distinctive dome-shaped designs. It is frequently observed. The dome pattern can also be employed in Indian Mehndi designs in addition to Arabic Mehndi designs. These kinds of patterns are ideal for brides.
53. HEART SHAPED ARABIC MEHNDI DESIGN
It's not your typical mehndi pattern. The true beauty of these gorgeous heart-shaped mehndi designs, which are from Pakistan, is shown when you henna both of your hands together. Because of this, it creates an incredibly attractive Dulhan mehndi design.
54. VINE-INSPIRED ARABIC MEHNDI DESIGN
You can create a single trail pattern on the back of your hand in the same way that one is formed on the front hand, as demonstrated above. Drawing vines is simple, and they are quite fashionable. The addition of the middle finger to the design distinguishes this from other rings.
55. GOTHIC ARABIC MEHNDI DESIGN
This henna shade is as ominous as any haunted mansion, which is precisely why it appeals to some people. It is made up of a mixture of striking and detailed patterns, and the two work well together. A design like this would undoubtedly set you apart from the competition.
Aren't they some incredible Arabic mehndi designs? It's impossible not to fall in love! If you're a bridesmaid with a mehndi ceremony to attend, you have a wealth of stylish alternatives to select from. If you're a bride-to-be, why not throw an Arabic mehndi ceremony? Try this Arabic mehndi design for your ceremony to bring an attractive and colorful look.