The season of weddings has here. Putting together your outfit is important whether you are attending your own wedding or another one. Blouses not only complement your saree but also give your appearance more oomph. The distinctive place for Maggam work design hasn't changed despite the various shifting fashions. The designs for the maggam work blouses are quite traditional and go great with silk sarees in so many ways!
Women all around India like maggam work, a pricey and enticing kind of art design. These elaborate handmade blouses look fantastic at social gatherings like weddings, parties, festivals, and even cultural events.
It might be challenging to choose just one final design for the various maggam work blouses that are now on the market.
However, we forewarn you that all of these designs are quite beautiful, so it could be difficult for you to choose just one. Simply scroll down to admire the gorgeous patterns for Maggam worked blouse back designs that will have you in awe.
1. U CUT BACK NECK MAGGAM WORK BLOUSE DESIGN
The classic U-Cut back neck blouse design is the one that complements maggam work the best because of how well the plain cut serves as a backdrop for the gorgeous stone and beading. You may use any color blouse with this design and add contrasting stone embellishments. To finish off this blouse design, add Doris and a few modest latkan touches.
2. OVAL CUT BACK NECK MAGGAM WORK BLOUSE DESIGN
An interesting design is the bridal maggam work blouse with an oval cut-back neck. The corner portion of this blouse is worked, while the other portion is kept simple. The nicest feature of this design is how narrow and basic the designs are. And that it appears to be so original and catchy.
3. CIRCLE WINDOW BACK NECK MAGGAM WORK BLOUSE DESIGN
This circle window back neck blouse design is the ideal combination of elegance and modernity. It has embroidered edging on the cut and the sleeves. You are mistaken if you believed that maggam work blouses are only worn by more mature women. Young people could choose patterns like these for a breezy silk saree style that gives off an all-around elegant and alluring mood.
4. MANGO DETAILED WITH MAGGAM WORK BLOUSE BACK DESIGN
Mango patterns in two different sizes are used as design elements on this lovely maggam blouse. Small embroidered mango motifs line one of the back necklines, while larger patterns line the opposite side, giving the blouse a semi-scallop edge. For a wedding-ready appearance, you may have this pattern made on silk or brocade fabric and wear it with a matching Silk saree.
5. ROUND WINDOW WITH MAGGAM WORK BLOUSE BACK DESIGN
This blouse has flowery threadwork and a nearly round window cut. Consider this design if you want your blouses to have more embroidered than stonework since it strikes a great balance between the two. This blouse goes well with silk sarees, but if you're crafty and employ the right styling tricks, you can also combine it with a variety of other designer saree styles.
6. HEAVY MAGGAM WORK WITH STONES BLOUSE BACK DESIGN
The thick maggam design on this blouse makes it ideal for brides to wear with silk sarees for weddings or receptions. The stonework on this entire blouse makes it stand out and look really stunning. This is an intriguing feature that gives this blouse design suitable for queens more personality.
7. POT CUT BACK NECK MAGGAM WORK BLOUSE DESIGN
Why not choose this maggam work blouse with pot neck are the most popular and comfy blouse patterns? These blouses have a back neck embellishment, and half sleeves, and are kept together with beautiful latkans and Dori strings. Combining this outfit with a matching silk saree will allow you to show off your ethnic identity in all its forms.
8. FLOWER CUT BACK NECK MAGGAM WORK BLOUSE DESIGN
A magnificent single, large floral design with cutwork on the back of the neck that is embellished with sparkling stone work. Both older and younger ladies may wear this blouse style, which gives off a really elegant feel. Even curvaceous and large busted ladies might consider this kind of maggam blouse because the back isn't open and skin exposure is limited.
9. HEART CUT BACK NECK MAGGAM WORK BLOUSE DESIGN
This cut gives a simple and attractive look to the blouse. The heart cut is covered with a laced outline and also in the neckline and sleeves. And a small pendant is attached to the heart shape and also part of the sleeves. This design is suitable for brides who want a simple and modern look.
10. TRIANGULARLAR CUT BACK NECK MAGGAM WORK BLOUSE DESIGN
Try a geometric back neck design, like the triangle cut for your Maggam work blouse, as an alternative to the traditional round, U, and pot necks. Then, you may have the sleeves, neckline, and cutaway border of your blouse embroidered with a maggam design of your choice. This type of blouse has a very contemporary appearance and may be used again by mixing it with simple lehengas or even half sarees in the future.
11. MULTICOLOR STONE MAGGAM WORK BLOUSE DESIGN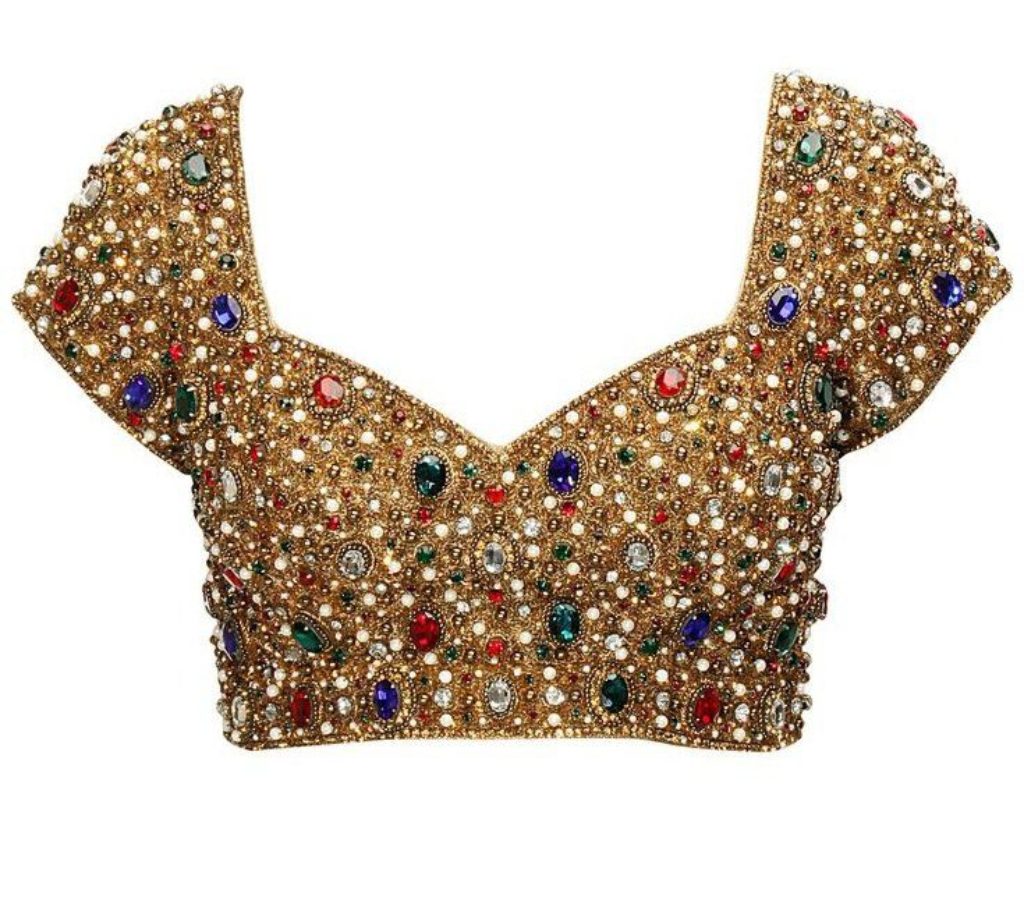 Particularly younger women in their twenties, who are less likely to like a bulky maggam work blouse. This blouse design with multicolored stonework is a great choice if you're looking for something simple yet attractive. The blouse is featured with embroidery on the neck and sleeve borders.
12. FLORAL DETAILED MAGGAM WORK BLOUSE BACK DESIGN
Here is a unique maggam blouse style with floral embroidery on the back. It makes sense to leave the front of the blouse basic because the maggam pattern on the back is so strong and striking. For an elegant appearance without much work, you may choose a sleeve area or add some flowery maggam motifs there. At weddings, engagement parties, or sangeet celebrations, this blouse style may be worn with reshmi saris or kanjivaram sarees.
13. ELEPHANT MOTIF WITH MAGGAM WORK BLOUSE BACK DESIGN
Elephants are a common traditional motif found in clothing as well as gold jewelry. Try getting an elephant motif adorned on the blouse back, which may make a statement on its own. You can never go wrong with this theme. Another lavish and elaborate blouse design, this one demands to be shown at a truly momentous event like your own wedding.
14. CLOSED NECK MAGGAM BLOUSE BACK DESIGN
Women used to choose deep-neck blouses for silk sarees, but fashion is quickly changing, and closed-neck blouses are becoming quite trendy right now. Brocade blouses with closed round necklines are the most popular, but you might try something different like a high neck blouse with maggam work.
15. BOAT NECK MAGGAM BLOUSE BACK DESIGN
16. STEP CUT MAGGAM BLOUSE BACK DESIGN
An excellent partywear blouse pattern has a back step style cutout window blouse with threadwork and golden stone decorations. Additionally, this blouse is also decorated with beaded embellishments inside the cutouts and sleeve borders, which contribute to its elegance.
17. LEAF CUT MAGGAM BLOUSE BACK DESIGN
You may wear a silk saree and this leaf cutout blouse with beautifully done maggam work to create the ideal ethnic style. For their special day, brides might pick this style to draw attention to them.
18. DIAMOND CUT MAGGAM BLOUSE BACK DESIGN
Not everyone like blouses with a lot of detail. Try this blouse with a back cutout in the shape of a diamond. This blouse has decorated sleeves as well.
19. QUIRKY CUT MAGGAM WORK BLOUSE BACK DESIGN
These days, blouses with embroidery around the neckline's border are all the rage. This maggam blouse plays with the style and spices it up by including a cutout window and heart motifs. If you enjoy experimenting with sleeve styles, this blouse's sleeves include scalloped edges rather than the more conventional straight ones.
20. GEOMETRIC CUTWORK MAGGAM BLOUSE BACK DESIGN
The blouse is slightly different from the other sari blouses seen here in that it contains highly distinctive maggam embroidery. Instead of the typical scallop edges, the blouse neckline features geometric cutwork, and colorful threadwork combined with zari work weaves a beautiful, complicated pattern. This is a fantastic concept to think about if you want to try something new without leaving your comfort zone.
21. SPIRAL HEAVY WORKED MAGGAM BLOUSE BACK DESIGN
The most recent fashion is for high back neck blouses, which look great on bigger women with large busts. So choose a back neck covering with spiral embroidery to steal the show at the next wedding you attend.
22. BOW BACK MAGGAM WORK BLOUSE DESIGN
This blouse has short sleeves and a window cutout, and the edges are decorated with elaborate decorations. The contrast bow feature on the lower back of the blouse adds urbane style. Young people should attempt this look at weddings. Lehengas worn with this blouse will look lovely at a mehndi ceremony.
23. PEACOCK MOTIF WITH MAGGAM WORK BLOUSE BACK DESIGN
Although peacock designs on blouses are a regular and well-liked fashion, this blouse elevates the style by placing a peacock on the blouse back. To further enhance the aesthetic appeal, the sleeves also include decorations and a single figurine of a peacock. In order to let the back neck take center stage without hair getting in the way, wear these types of blouses with kanjivaram silk sarees when attending weddings.
24. ZARI LEAF WORK MAGGAM BLOUSE DESIGN
Do you like to wear traditional red on your wedding day? Then you should most definitely choose a blouse similar to this one with alluring gold zari maggam embroidery. The striking highlights of this blouse are the Dori latkans, which are embroidered all over and have a geometric triangular shape to be on-trend.
25. TEMPLE MOTIF MAGGAM WORK BLOUSE BACK DESIGN
Temple work is the only thing that can be found on a South Indian blouse. The back of the blouse has intricate Temple work that depicts the complete Temple along with depictions of Gods and Goddesses. In this design, the genuine metal jhumkas have been incorporated. It has elbow-length sleeves and a round front neckline with a boat-shaped back. Goddesses are also shown on the sleeves.
26. MAGGAM EMBROIDERY BLOUSE BACK DESIGN
This blouse receives unique embroidered work. It is suitable for events like weddings and celebrations. This artwork is made more beautiful by the parallel lines and the pattern. These blouses look their finest when worn with lehengas or sarees. The entire piece appears to be a replica of a full hand mehndi design or pattern.
27. SWIRL WORK MAGGAM BLOUSE BACK DESIGN
If you don't like intricate, heavy maggam work patterns, choose something simple and enticing like this branching creeper pattern. The entire blouse is covered in this multicolored masonry design, and the sleeve has a border that matches the saree. Although this blouse is embellished generally, it is not overly distracting to the eyes, making it a favorite with younger people.
28. CROSS STRINGED MAGGAM WORK BLOUSE BACK DESIGN
For ladies who have worked on their bodies and want to show them off, the totally strung-back blouse is perfect. Purchase a blouse like this with elaborate zardozi embroidery on the back and sleeves, which gives the sensual blouse design a regal touch.
29. FULL STONE WORK MAGGAM WORK BLOUSE BACK DESIGN
It is clear that new-age women adore blouses with rich stone designs. For your bulky sarees, the stonework maggam blouse is appropriate. You may undoubtedly rebuild and renew your appearance to bring freshness. The style is appropriate for younger women. This design has an intriguing feature thanks to the cut work at the back. This blouse may be worn with other items on significant occasions like anniversaries or engagements. It features a beautiful stonework pattern that is ideal for the wedding you would be attending.
30. PEARL AND STONE WORK MAGGAM BLOUSE BACK DESIGN
Pearls and stones encrusted blouse designs provide a contemporary and fresh air. These designs won't require any bulky accessories but will undoubtedly give your outfit a bit of glitz. It has a traditional vibe to it, therefore it goes well with sarees of that style. This Puff blouse has u cut back.
31. CHECKERED MAGGAM WORK BLOUSE BACK DESIGN
Checks are a common design for south Indian sarees. You may have your blouse embroidered in a checkered pattern with two-tone or one-toned and blank cut sleeves and neck. These days, themes are often added inside the checkerboard squares, making checks more beautiful. For a more glam take on reshmi sarees and blouses, add ornamental checks.
32. NETTED BACK MAGGAM BLOUSE DESIGN
The finest blouses to wear if you don't like showing too much skin but yet want to seem stylish and young are netted blouses. The guests at south Indian weddings adore and favor this blouse pattern. With a blouse like this, you may experiment with many various maggam work techniques for an incredibly traditional appearance. The ideal option is to have a maggam sleeve and neckline borders with minimal work over the netted section. You may also add a large motif to the netted panel to make it stand out.
33. JHUMKA DETAILED MAGGAM WORK BLOUSE BACK DESIGN
Try this straightforward yet novel linear work if you are tired of the flowery embroidery on all of your blouses. Here, rows of beads and stones of various sizes are artfully combined to create a distinctive blouse design. Instead of tie-ups, a strip holds the back and neck together, but the jhumka decoration tassels on the back and sleeve end steal the show.
34. COIN WORKED MAGGAM BLOUSE DESIGN
For a trendy touch, coin decorations can also be applied to maggam work. This will have a striking and lovely appearance. If you are a newlywed, use a design like this in vivid color. However, to seem more mature, you should experiment with colors and use comparable designs.
35. PALKI BACK CUT MAGGAM BLOUSE DESIGN
On the back of a blouse like this, display the significant wedding ceremonies using the amazing maggam work art. Here, a baraat procession is stitched, ornamented, and decorated with jhumka elements to create an alluring bridal blouse pattern that will be spoken about for months after the occasion.
36. MAGGAM ZARI WORK BLOUSE BACK DESIGN
This style will make you appear gorgeous because of the simple pattern on the back and sleeves. On the neckline and the sleeves, Zari embroidery is seen. Such blouses go well with standard silk sarees, and it is also possible to perform highly expensive maggam work on net blouses.
37. ZARDOSI MAGGAM WORK BLOUSE BACK DESIGN
Maggam stonework is on a fashionable blouse. The unique artistry adds exclusivity and opulence to this design. On a silk blouse, a fancy maggam work neck design is created. Your lehenga and saree outfits can be prepared for its gem neckline. The blouse is a festive piece that goes well with various outfits.
38. MIRROR AND MAGGAM WORK BLOUSE BACK DESIGN
With pearls and stones, the fashionable blouse pattern with mirror work is perfectly designed. The forms that are covered with mirrors and stones are created using golden thread. The back of the blouse has a pot cut. On a velvet blouse, the same mirror maggam work pattern may also be found.
39. THREAD WORK MAGGAM BLOUSE BACK DESIGN
Simple thread maggam work is used to create ethnic flower patterns. Sequins are used in the flower design's exquisite thread work. Such blouses look great on ladies of various skin tones and ages. The ethnic blouse is ideal for wearing with sarees and as a wedding gown. Try recreating this with a cold-shoulder business blouse with a maggam.
40. KHATLI WORK MAGGAM BLOUSE BACK DESIGN
This blouse has a heart-shaped back neckline and is adorned with an American diamond chain. In fact, the entire blouse has unique American diamond craftsmanship. It looks really impressive and eye-catching with the addition of stones and zari. Lehengas and sarees in the lehenga style look great with this pattern. It's interesting to note that the design features blue, green, and gold as its main colors.
41. CHANBALI STYLE MAGGAM WORK BLOUSE BACK DESIGN
Here, the Blouse back has a lovely Chand Bali and jewelry-inspired motif. Due to its richness and pattern, the design is highly well-liked in Southern India and other regions of India. It is a bridal blouse with maggam embroidery that was inspired by Bahubali and it certainly looks quite lovely.
42. TORAN STYLE MAGGAM WORK BLOUSE BACK DESIGN
This blouse design looks beautiful because of the pattern on the neckline of the Toran style maggam work blouse. The blouse's large round neckline and buttons at the back are adorned with the wavy bail pattern. It contains accessories made of gold beads. The sleeves have cut work on them. For any light or heavy saree, the blouse's silk fabric has a chic and elegant appearance. It also features one of the best-looking flower designs for a maggam silk saree blouse.
43. LOTUS MOTIF MAGGAM WORK BLOUSE BACK DESIGN
This classic maggam work blouse design has an intricately styled lotus motif. Lotus blossoms are sewn onto the transparent fabric used at the back neck. The front and back of the blouse's sleeves have a flowery pattern. Brides adore wearing these elegant maggam work blouses with the proper clothing for their reception and other bridal celebrations.
44. PUFF SLEEVE MAGGAM WORK BLOUSE BACK DESIGN
This puff sleeve blouse design looks different. It has a simple outline on the sleeves and also on the neckline. It can also be decorated by adding stones and embroidery work to the back of the blouse. You should select this design for the marriage if you want to go for a simple as well as a royal look.
45. SHORT SLEEVE MAGGAM WORK BLOUSE BACK DESIGN
Short sleeves and intricate kasula maggam work are featured in this design, which is created from purple velvet fabric. This is perfect for your pricey sarees because of the tightly coiled and handcrafted stone pattern. It appears to be a really complicated and intriguing pattern that most young people who prefer heavy blouses would enjoy. The floral pattern of this design is energizing, and this blouse piece with a maggam stone style is perfect for events like weddings and celebrations.
46. CUT SLEEVE MAGGAM WORK BLOUSE BACK DESIGN
Cut sleeves on maggam work look fantastic since they contrast strikingly with the exposed flesh that shows through an adorned blouse. The cold shoulder cut may be adorned with embellished chain and jhumka accents to make it seem more bridal and extravagant. This design is a must-see for brides who wish to give their south Indian saree ensembles a modern twist.
47. BUTTERFLYSTYLE MAGGAM WORK BLOUSE BACK DESIGN
This design features a butterfly necklace with straps and exquisite, complex maggam work. This newest blouse has a really sensual, elegant appearance. With a large stone in the back, the cut work at the center-back region is obvious. This blouse has sequin embroidery along its full edges. Such a blouse is ideal for contemporary Indian ladies, who may wear it with either light or heavy sarees depending on the occasion. The best part is that you won't feel warm or uncomfortable even if you're wearing a thick saree.
48. JAALI MAGGAM WORK BLOUSE BACK DESIGN
This blouse has intricate jaali work all over it, giving it a totally glitzy appearance. Additionally, the blouse has mirror embroidery on the front necklines. Additionally, the gorgeous blouse's back has jaali work with embroidery making the blouse stunning.
49. JEWELRY MOTIF MAGGAM WORK BLOUSE BACK DESIGN
These days, blouses with jewelry-inspired patterns are popular. Although jhumka brocade blouses are quite popular, you may go a little fancier by choosing a design with jewelry embellishment. The younger generation who prefers maggam art in lighter, more sparse shapes dispersed evenly throughout the blouse will love how eye-catching and entertaining this design is.
50. PAISLEY MAGGAM WORK BLOUSE BACK DESIGN
The blouse is popular because of the Paisley pattern on the back. The blouse is made of silk and has a border with stones that are shaped like balls and have been latkans fastened to the shoulder strings. It is embellished with high-end craftsmanship like stone, embroidery, and zari. The blouse pattern is appropriate for intimate gatherings and weddings of distant relatives.
51. DEER MOTIF MAGGAM WORK BLOUSE BACK DESIGN
If boat neck blouses are your style, choose one like this one with exquisite neckline embroidery and deer figurines set inside a semi-circular frame on the back. This blouse has a very aesthetic appeal and has to be created by a highly competent artisan.
52. LATKAN TASSEL DETAILED MAGGAM WORK BLOUSE BACK DESIGN
Maggam work surrounds the slit's edge on this blouse design with a U-Cut. The chilly shoulder sheer slit element, which is also framed by thread work, adds intrigue to the design. Give this blouse design a try if you have traditional taste, and don't forget to add eye-catching tassels to highlight the delicate cutout region.
53. ASYMMETRICAL MAGGAM WORK BLOUSE BACK DESIGN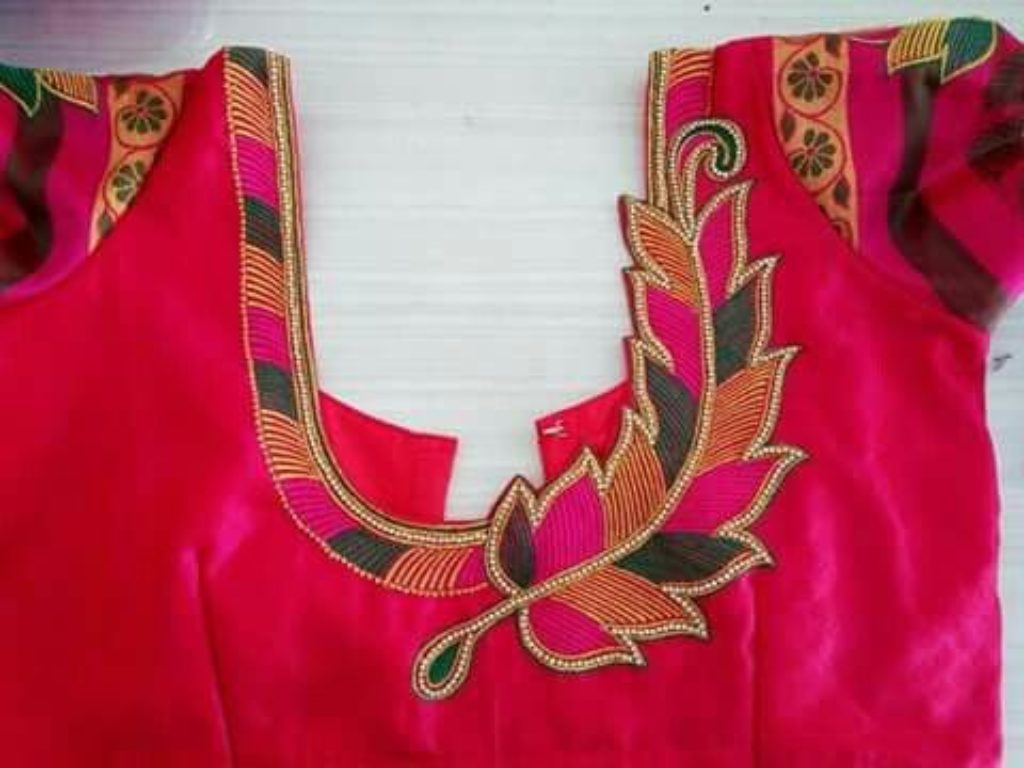 This unique back-cut blouse with broad tie-ups is a fascinating design element. Branched maggam work borders the slit region to enhance its appeal. Only the younger crowd with a well-toned back should wear this blouse.
54. 3/4 SLEEVE MAGGAM WORK BLOUSE BACK DESIGN
This 3/4 sleeve blouse with all-over maggam embroidery oozes awe-inspiring regality. Most blouses with 3/4 sleeves have deeper necklines that enhance their appeal. This blouse may be worn with confidence by any woman, regardless of age or size, but if you find the pattern a little stuffy or overly covered, choose transparent sleeves with maggam work instead.
55. MINIMALISTIC MAGGAM WORK BLOUSE BACK DESIGN
Any event will make you appear good wearing a traditional deep neck blouse with sleeves and little mesh style maggam work. For occasions other than weddings, you should think about wearing this top because heavy blouses might seem excessive and out of place at gatherings like birthday parties, family meals, and cultural events. This blouse is ideal for all low-key occasions, including a date with your special one.
Each maggam blouse style seen above is distinct and rich. These designs were created with simplicity and portability in mind. These are all distinct and in line with customer demand for future events. Here is the variety that you may try on before deciding on your ultimate outfit for the big celebration.