Henna, also known as mehndi, is a traditional art form that has its roots in India. It includes painting designs on the hands or feet using a powder that has been combined with water and natural color. Mehndi patterns may be produced to match any attire and can be made to be basic or intricate. Here are some of the most popular Mehndi styles you may attempt, whether you're wanting to add a bit of refinement to your appearance or just want to dress up for a particular event.
Making your skin appear lovely and amazing is the main goal of mehndi designs. These elaborate patterns, which range from abstract patterns to simple floral motifs, will bring a touch of creativity to your skin. It is believed that India is where the traditional art of mehndi, which uses henna to decorate the body, first appeared.
Anyone may apply mehndi designs, regardless of their degree of competence, and they can be made in several methods. Try mehndi patterns if you're seeking an intriguing and distinctive method to bring a little beauty into your life.
Every bride who wants to go all out has a fantasy of having a whole hand mehndi design because, if you've lived your life under the motto "go big or go home," you'd naturally want that philosophy to apply to your full hand mehndi design as well! You may significantly improve your mehndi game with a great whole-hand mehndi design. It could be straightforward, extravagant, genuine, or specially made.
It adds more than simply visual appeal to the wedding dress for the hands to be completely coated in fragrant henna. It is a lovely ritual that has endured for years and just becomes better and more impressive.
Mehndi is considered good luck, which represents the marriage link and shared devotion between the bride and groom's families. Additionally, the bride's complete hand mehndi design serves as a depiction of her as some aspects of her personality come through. One might be able to discern if the bride is a flamboyant extrovert or a mysterious recluse, or whether she like the large and bold style or is a minimalist soul!
The takeaway is that if you're an Indian bride, there's not much space to back away from the maximalist look. Browse through this blog to know more about the collection of 55 full-hand mehndi patterns to see if you can find the full-hand mehndi design for you.
[Click Here] Buy Home Grown Fresh / Dry Henna (Mehndi) Leaves
1. FLORAL MAGIC MEHNDI DESIGN
The floral design combined with grids is one of the greatest pairings that has ever been made popular. Because of this, we made sure to pick a design that incorporates this wonderfully stunning combination into every aspect of it. We also found one. When both palms are joined, the pattern is complete. This gorgeous whole-hand mehndi pattern is appropriate for all formal situations and looks beautiful.
2. AESTHETIC STYLE MEHNDI DESIGN
Full-hand mehndi designs are captivating and may draw inspiration from a variety of sources. This one draws inspiration from older construction. Take a hint from the minarets and the dome that rests on the wrist if the intricately detailed floral design and the floral grid that resembles windows weren't evident enough.
3. PRETTY PAISLEYS MEHNDI DESIGN
Paisleys have consistently been a popular option for whole-hand mehndi patterns. Paisleys are a difficult design element to give up, and for excellent reasons, regardless of how mehndi designs change. No other design can match the charm of these adorable tiny designs. Nearly all of the designs they are drawn with may be complemented by them.
4. PEACOCK MEHNDI DESIGN
One of the most well-liked mehndi designs is the peacock. They can blend in wherever they go, with patterns ranging from basic to sophisticated whole-hand mehndi. However, we were enamored with this stunning mehndi design, which had peacocks on each hand and was surrounded by various lovely flower motifs. These peacocks appear to be resting in a lovely garden filled with flowers like roses and lotuses.
5. MOROCCAN STYLE MEHNDI DESIGN
Full-hand mehndi patterns from Morocco have become fairly popular. This is due to their willingness to let you stand out a little from the throng. These mehndi patterns provide you the opportunity to have some of the most gorgeous designs gracing your palms thanks to their distinctive geometric forms.
6. 3-D MEHNDI DESIGN
Traditional-yet-modern 3-D mehndi design looks magnificent. Henna has seen a surge in 3-D designs, which is one of the finest ways to give a conventional design a modern twist. Brides, bridesmaids, and even moms of the bride will love this one. As you can see, this henna contains no figures or challenging features. This design stands out only from the way the lines, geometry, and paisleys interact.
7. BHARWA MEHNDI DESIGN
If you're not a fan of bharwa whole hand mehndi, then you should bookmark this henna design with its wide areas and roomy lines. This design will be your savior if the elders in your family don't always want you to get simple henna. They will adore the design since it gently employs simplicity, and you will also get your way. Even if you don't want your hand to seem full, there are instances when you won't want to pass up the chance to acquire a full-hand mehndi design. If that describes you, this mehndi design is perfect for you!
8. DEITIES IMAGE MEHNDI DESIGN
The Ganesh god, who is known as the Lord of Obstacles and who must be worshipped before beginning anything new, is then followed by a Sanskrit chant, an elephant, and a statue of the lord Ganesha god can be depicted in your palm by mehndi.
9. VARAMAL DEPICTING MEHNDI DESIGN
A bridal whole hand mehndi design is now in style, and if you want to follow suit, here's some inspiration. A striking pattern shows the bride holding a varmala in one hand and the husband holding one in the other to symbolize the varmala moment, which is the first ceremony the bride and groom execute together as part of their wedding customs.
10. MANDALA MEHNDI DESIGN
The hands have a completely distinct appearance with round patterns. Due to the intricate finger detailing, these round-shaped mehndi patterns are classic and suited for both wedding mehndi events and celebrations. They are also suitable for practically all occasions. Mandalas, which are spherical designs that are frequently used in wedding mehndi designs, are characterized by their round form.
Read also Latest 50+ Stylish Back Hand Mehndi Designs
11. JAAL PATTERN MEHNDI DESIGN
Jaal pattern with a modern twist! While the insides are packed with leaves, this jaal pattern employs zig-zag diagonal lines to subtly enhance the henna design instead of the usual straight diagonal lines. The substantial flower stack on the bottom of the henna design, which will look nothing short of stunning after staining, is another noteworthy feature.
12. BANGLE STYLE MEHNDI DESIGN
Bangle mehndi design looks exceptionally good even when applied as a bridal mehndi. You can double up the mehndi design belts to make your mehndi look intricate and hand-full. You can experiment with the width of the bangle design and can fill it up with elaborate detailing or can keep it simple.
13. RAJASTANI MEHNDI DESIGN
Mehndi patterns from Rajasthan are popular for their complex features, which is why weddings suit them well. You still have the option to decide how intricate and long you want your mehndi design to be.
14. GRIDLINES MEHNDI DESIGN
For very good reason, grids have become an essential component of rear-hand mehndi patterns. Even the most basic mehndi patterns may benefit from the fresh new touch that the gridwork can add. In addition, grids are flexible and may be drawn in countless different ways to produce fresh and distinctive mehndi patterns.
15. GEOMETRIC MEHNDI DESIGN
Consider this layout, for example. The classical themes are enhanced by the geometric forms. It is a mehndi design that is wonderfully balanced, with large, striking flower patterns acting as the crown at the wrists.
16. FLORAL VINE MEHNDI DESIGN
You may select this straightforward yet attractive design to be the ideal match for your festival events. You won't be let down by this festival mehndi design throughout any holiday, including Diwali, Rakshabandhan, or Eid.
17. MUGHAL INSPIRED MEHNDI DESIGN
With this Mughal-inspired mehndi pattern, you may both appreciate art and become one with it. Take note of the design's air of refinement and royal emotions.
18. SUN AND MOON MEHNDI DESIGN
Flow with your creativity. Here is an example of a unique design that goes in a new direction while yet managing to look amazing. The sun and moon provide unusual alternatives for mehndi patterns and also create a lovely image.
19. LIGHT AND DARK MEHNDI DESIGN
Circles come first, followed by a blend of light and dark mehndi. We wager that you won't be able to overlook this design's originality. Nothing we've seen before compares to this one. A beautiful impression is produced by the circles that extend from the palms to the fingers.
20. LEAVES AND LACES MEHNDI DESIGN
In recent years, the lace or jaal motif has gained popularity. Choose this simple yet elegant front-hand mehndi design. And don't forget the lovely flower theme.
21. HALF AND HALF MEHNDI DESIGN
Get your painter to create a lovely image of a flowering garden with regal peacocks in your full hands. All it takes to create a lovely bridal mehndi design for whole hands inspired by a royal garden is to let the delicate pattern envelop your hands in the beauty of nature.
22. ROYAL MEHNDI DESIGN
This front-hand bridal mehndi design for a wedding is motivated by the ideals of a regal kingdom. In particular, notice how the artist has portrayed the maharani and the king both wearing flowery and peacock themes.
Read also Latest 50+ Stylish Back Hand Mehndi Designs
23. BRIDE AND GROOM INSPIRED MEHNDI DESIGN
Traditional mehndi designs for a bridal complete hand with elaborate patterns and a unique bride and groom art in the middle are for you if your taste is more classic. Your Mehndi artist should use your wedding attire as a model while she works her magic on your hands.
24. NARRATE YOUR STORY IN MEHNDI DESIGN
The latest mehndi design on this bride's hands tells the story of their whole journey, from the proposal date to the stunning Indonesian skyline and the photo of their four-legged child. This full-hand Mehndi pattern is more exquisitely personalized than any other! If you share our perspective, let this bride's Mehndi serve as inspiration for your own.
25. PROPOSAL LINES IN MEHNDI DESIGN
While some brides like sayings, others prefer figures in their henna. Here is a complete hand mehndi design for back hands that features the typical proposal lines "he asked" and "I said yes" for those who fall into the latter category. For your big occasion, this may potentially be the perfect henna pattern to choose. Although the design has only been stretched to the half-hand, you may extend it farther to the elbow and it will still look great.
26. GARDEN-INSPIRED MEHNDI DESIGN
This minimalist garden-inspired mehndi adds beauty to your bridal appearance with simple leaves and patterns, leaving just enough blank space for your skin to peep out between designs. Keep it simple and beautiful goals are seriously being met with this half-and-half mehndi pattern on the back of your hands!
27. CARTOON INSPIRED MEHNDI DESIGN
Take cues from your personality when selecting the perfect mehndi design. Discuss your preferences, favorite items, and characteristics that reveal a lot about your personality with your mehndi artist. With ease, this full-hand mehndi design combines a Cartoon design with other conventional mehndi motifs.
28. NAME ON PALM MEHNDI DESIGN
Here is additional evidence that mehndi designs come to life when bold strokes are used. The mandala design in the center is followed by zigzag bands of intricately patterned mehndi that extend to the wrist and fingers. The bride inscribed the name of her lover in the center of the mandala, which is also a really elegant technique for the Mehndi to write his name.
29. CRISS CROSS MEHNDI DESIGN
Here, the meshwork or crisscrossing lines are quite straightforward. Even though it just uses one line, the dome-shaped patterns that flow along with it give it a unique appearance. The mesh lines are made thicker by the dome design as well. Gain floral with some leaf work makes up the motif that runs from the wrist down the arm.
30. ARABIC MEHNDI DESIGN
This pattern is all about arches, which are nicely surrounded by little flowers. I appreciate the mesh decoration on the fingers since it acts as a fantastic filler. It is a subtle pattern that doesn't overpower the appearance as a whole. I must admit that this design has quite a bit of precision. It has a perfect symmetry.
31. LOTUS MOTIF MEHNDI DESIGN
When it comes to henna designs, flowers are present everywhere. The vast majority of individuals choose to continue with rose and lotus motifs. Why not, then? The Roses and Lotus design is quite beautiful. It gives the overall appearance a certain air of regalness.
32. INTRICATE CHADAAR MEHNDI DESIGN
With this classy and unique henna pattern, you may lay the chaadar of beauty down on your palms. These mehndi designs feature the appropriate amount of balanced negative space, hard turns, and twists to give you the ideal full-hand wedding mehndi design aesthetic.
33. INTRICATE SWIRLS MEHNDI DESIGN
A little bit of swirling is always a good idea. With absolute elegance, this half-and-half mehndi pattern captures the beauty of swirls, vines, and leaves. Make a lovely arch across the middle of your palm to give it a more traditional look.
34. PET-INSPIRED MEHNDI DESIGN
This is without a doubt among the nicest front-hand mehndi patterns that we have come across online. Let your four-pawed child's image rest on your hands. Nothing compares to the affection of a pet mother. For any event of your choosing, incorporate a memorial in your mehndi design.
35. DOUBLE TRAIL MEHNDI DESIGN
A leafy trail pattern enhances the incredibly feminine nature of this motif. An essential component of the Mehndi pattern is the trails. Three trail patterns that move next to one another make up this design, which expresses a feeling of symmetry.
36. DOME SHAPED PATTERN
Even though this mehndi appears to be quite easy to execute, perfecting the dome every time takes effort. I like how the dome divides the hand design from the wrist design, which is a meshwork made to resemble a wrist band. It does look tidy and symmetrical.
37. JEWELRY-INSPIRED MEHNDI DESIGN
Such a design is a perfect representation of jewelry's expansion. It is challenging to pass with such curves and patterns. A design like this would encourage you to forgo wearing any more jewelry, but a delicate anklet would always improve the whole appearance. Henna unquestionably contributes to the overall appeal of a style. Some people choose to keep things simple and understated, but you can opt to cover your entire foot or even your legs. They find its design to be simply ideal.
38. ROSE MOTIFS MEHNDI DESIGN
Roses are among our all-time favorites. With this gorgeous mehndi design, you can let the beauty of flowers flourish on your palms. With these lovely flower designs wrapped around your hands, you can rock the bridesmaid look.
39. SYMMETRICAL PATTERN MEHNDI DESIGN
Here is a front-hand basic Mehndi that is a minimalist's favorite. It features tiny flowers, graceful strokes with dots, paisleys, swirls, and tiny flowers. The patterns are dispersed throughout the palms in a symmetrical pattern.
40. BLOOMING FLOWER MEHNDI DESIGN
With this classy blossoming flower mehndi design, you can let the beauty of the garden blossom on your palms. If you're seeking something traditional yet innovative at the same time, add this to your mood board.
41. PEACOCK FEATHER MEHNDI DESIGN
Nothing completely captures the splendor of India's history and beauty like the peacock, which is our national bird. Create a chic Peacock Mehndi Design on your hand to enhance regal grandeur while adorning the feathers of this majestic bird.
42. TURKISH INSPIRED MEHNDI DESIGN
The ideal design to hone your mehndi abilities is a basic one that incorporates all the many kinds of patterns and themes that are fundamental to many different civilizations. It is unique because of the Turkish check patterns, Arabic motifs, and rose after the design.
43. ZIGZAG PATTERN MEHNDI DESIGN
For females who struggle to make flowers and leaves, try this simple mehndi design. In this pattern, circles are connected to provide an impression of a chain. Zigzag patterns, which are also a part of the design, are made with fingers. In the lowest part, only a few betel-nut leaves have been employed.
44. GUJARATI STYLE MEHNDI DESIGN
These are simple mehndi patterns that may be applied to any event. If placed in the center of your palm, where they may nearly completely cover it, flower petals applied in the manner we do for Rangolis can also look nice as standalone patterns. Other common basic mehndi designs include circular flowers with rounded petals.
45. CLASSIC MEHNDI DESIGN
Some things are timeless, and through time they come to be known as classics. That's exactly what has happened in this situation. But this is a fresh twist on time-honored patterns like dots, grids, florals, and paisleys. You may say that it strikes the ideal balance between modern and old.
46. CIRCLE OF PAISLEYS MEHNDI DESIGN
Traditional mehndi patterns include paisleys. They are timeless, fashionable, and refined. They will always be in style. They have been the most supportive buddies for people who hardly know how to draw. Additionally, they have enhanced the elegance of even the most intricate patterns. This mehndi design offers a special illustration of the paisley pattern's adaptability.
47. HEART-SHAPED MEHNDI DESIGN
We would naturally respect someone who manages to achieve this in their art because it's never easy to make anything new utilizing only one sort of element. Here, the artist primarily employs the geometric pattern of stacked heart and semi-circle to create a henna design. She covered the majority of the hands' palms and a sizeable portion of the wrists with it. It certainly is a visual pleasure. a full-hand mehndi design intended for everyone attending the wedding, not just the brides.
48. CONCENTRIC CIRCULAR PATTERN MEHNDI DESIGN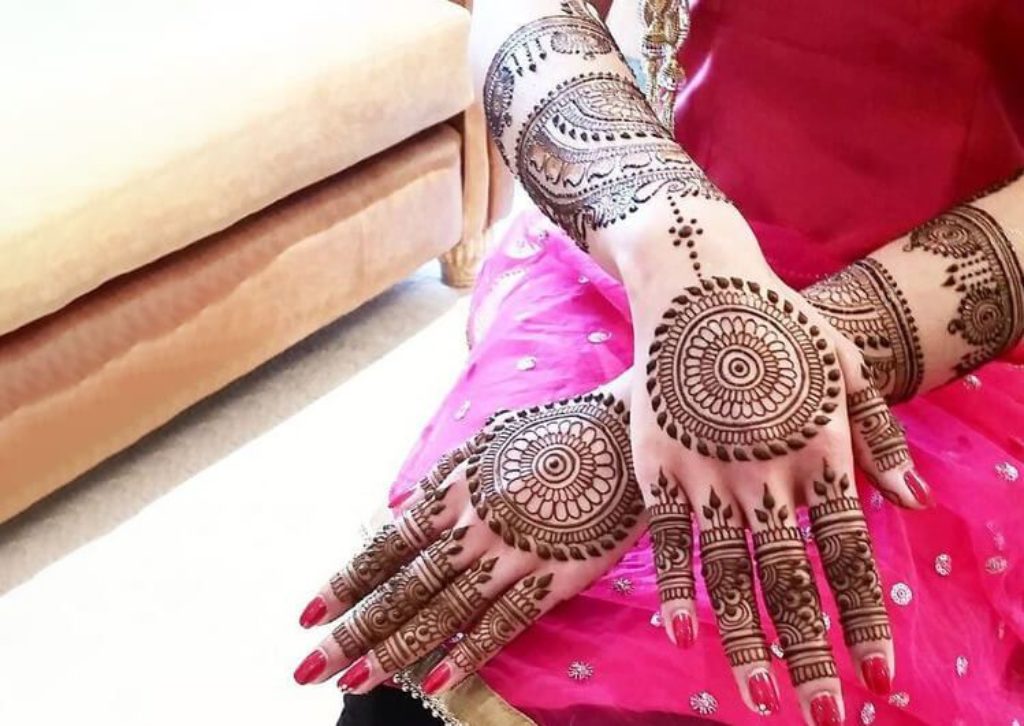 Brides who choose a minimalistic bridal style frequently wish to choose henna that follows in the same vein. The entire hand mehndi design shown below may undoubtedly serve the intended purpose. The wrist design in both hands begins with large concentric rings on the elbow and progresses similarly before taking a complementing turn on the palms. The bride's complete hand mehndi design was given a modern twist by the mehndi artist with the interplay of flowers and paisleys on one hand and stripes on the other.
49. CANVAS-INSPIRED MEHNDI DESIGN
This style appears to have been directly lifted from one of your fantasies. It is bizarre! The flowers and shading effect, which are the fundamental components of every Mehndi pattern, are shown here. Here, the level of artistic ability is fairly obvious. It would be accurate to claim that this piece of work is an artistic creation rather than merely a Mehndi pattern.
50. FLOWERS AND BELLS MEHNDI DESIGN
The bridesmaids' full hand mehndi patterns are equally as vital as those for the brides. So, for all the bridesmaids this wedding season here is something lovely.
51. SEMI CIRCLE PATTERN MEHNDI DESIGN
The semicircle concentric circles serve as the filler, but one henna artist took a different approach and made them the centerpiece of the Mehndi pattern. The lower portion of the wrist contains elephants and lotuses to give some contemporary aspects to an otherwise conventional design, while the palms are covered in them. As a whole, we believe it to be the ideal choice for brides or wedding guests on their big day.
52. STELLER CIRCULAR MEHNDI DESIGN
In comparison to other Islamic nations like Pakistan, the steller circular Mehndi design is more common than in India. Even though these Mehndi designs can certainly grab the attention. It appears to be completely packed with amazing details with impossible tightly created circular patterns.
53. MULTIPLE ELEMENT MEHNDI DESIGN
You can see that the peacock is the primary motif in these Mehndi designs. Because it is a revered and royal bird, the peacock is frequently utilized in Mehndi designs. Numerous more elements in the henna design, such as paisleys, flowers, dots, meshwork, elephants, and domes are quite appropriate for any young bride.
54. QUIRKY PATTERN MEHNDI DESIGN
The newest mehndi designs, full of inventiveness and making you stand out from the crowd, are quirky patterns. These patterns look fantastic on your wrist and palm. The designs are beautiful, with flowing paths and lovely design features.
55. KING AND QUEEN MEHNDI DESIGN
This one is for everyone who enjoys playing a nice game of poker. And it even fits weddings perfectly. What role do cards have in weddings then? Well, it is simple. The mehndi design will be in keeping with the fact that this day is all about the queen and her king.
We'll cap up our selection of whole-hand mehndi patterns with this simple design that anyone who is even a little competent at mehndi may create. For a lovely curated pattern, you can finish the pattern with a simple finger mehndi design.