Gold has long been a representation of riches and success. Some of the most prominent emblems of married women in Indian culture are jewelry like the mangal sutra, bangles, necklaces, and earrings. Gold jewelry is ultimately simply gold jewelry, regardless of how many other kinds of fake jewelry are available on the market. It has a certain allure. Women and gold have a very long and strong association, but why should we continue to wear the same old styles of gold jewelry today?
Earrings are a need for any woman's wardrobe, whether they are delicate and modern, sleek and detailed, embellished with pearls or diamonds, or designed with simple, bright designs. Women today require just as many selections when selecting their earring models as they do when selecting their clothing. For this woman, jewelry is a way to express her preferences and personality while still going about her daily activities with ease. Discover unique beautiful earrings for ladies to complement both formal and informal attire.
Why save your most priceless earrings for special occasions when you can wear them every day? To make your gold purchasing even simpler, let's take a look at some of the latest styles of gold earrings.
1. FRONT BACK GOLD EARRINGS
These are at the top of our list right now because they combine antique craftsmanship with contemporary style. They are stylish, trendy, and comfortable to wear with both Indian and Western clothing.
2. DOME-SHAPED GOLD EARRINGS
Not sure if it was the bride's grin or those jhumkas in the dome form that complemented the bride's outfit so well. You should choose to wear these striking gold dome earrings to your pre-wedding rituals
3. CHAAND BAALI GOLD EARRINGS
It is as dazzling as ever. We are unable to look away from the bride who was this earring, whose pastel wedding jewelry truly stole the event. Can't stop drooling over these bride's earrings, whose chaand baali style is ideal for the ceremony.
4. FLOWER DESIGN GOLD EARRINGS
The flower's petals in this design are composed of gold. These earrings' attractiveness is further enhanced by the jewels utilized as the flower's center. These flowers stand for power, hope, and love.
5. HEART-SHAPED MESH WORKED GOLD EARRINGS
The earrings' flawless finish is provided by the solitary golden orb that dangles. The heart-shaped mesh pattern evokes the imperial Mughal lattice art.
6. GODDESS LAKSHMI DESIGNED GOLD EARRINGS
Goddess Lakshmi in an open cage is the ideal way to illustrate the idea that divinity can only be experienced. It has a regal appearance because of its alternating ruby-emerald outline and little orb details. The top is a skinny, twisted peacock, which adds to the beauty.
7. PEACOCK DESIGNED GOLD EARRINGS
These gold earrings in the shape of a peacock, which are set with priceless diamonds, look great with ethnic and festive clothing. Additionally ideal for weddings and religious events. The peacock represents innocence, joy, and integrity.
8. KNITTED TO LOVE GOLD EARRINGS
These gold earrings look like a heart-shaped stud with a knitted pattern in them. It looks fabulous. Women should add this earring to their heart design connection.
9. KUNDAN DROPPING GOLD EARRINGS
These semicircular-shaped Kundan dropping earrings are even more stunning since they are set with stones. These Kundan dropping earrings go perfectly with designer sarees.
10. TWIST & TRIMS GOLD EARRINGS
It is a highly polished gold dangler with many inward curving that appear like fringes hanging down from the motif. You can wear this for fancy dresses.
11. CELESTIC DESIGN GOLD EARRINGS
You'll be the center of attention at every event with these stunning, circular earrings set with tiny, brilliant diamonds!
12. WHEEL & WRINKLE GOLD EARRINGS
These earrings have a wheel-shaped pattern with frill motifs connected to appear like danglers. Those who want to go for long earrings can try this design.
13. SOUTH INDIAN DESIGN GOLD EARRINGS
These golden earrings will always make you seem fashionable when paired with a traditional Kanjeevaram saree. Every woman's heart is touched by South Indian patterns.
14. FLAIR GOLD EARRINGS
These flair gold earrings have a vertical triangular-shaped attachment to another gold piece. Giving a beautiful modern look. Women can add this earring to their suit collections.
15. ZIPPER GOLD EARRINGS
These drop earrings have resembles a zipper. It is a unique style. You can try this with a cool outfit.
16. TRADITIONAL FULL COVERAGE GOLD EARRINGS
The most recent fashion in golden earrings right now is completely enclosing the ear when worn. Any outfit that these earrings are worn with will appear better overall as a result. This earring looks great with any Indian costume, whether it is a saree, lehenga, or suit.
17. TWIST TALE GOLD EARRINGS
It is a long, gold earring that has a twisted rope-like appearance with a motif attachment to the hook. These designs are suited for women of young age.
18. FALL OF FRINGE GOLD EARRINGS
This style has multiple fringes with curved outward ends. It has a circular motif to which the wedge-shaped nugget is attached. This goes well with all forms of fancy outfits.
19. CLING TO CHIC GOLD EARRINGS
These earrings are designed to look like the crescent shape of the moon with attached jagged lines attached on the opposite sides to face each other. This looks stunning for party wears.
20. TULIP DESIGN GOLD EARRINGS
Brighten your special moments by wearing these tulip-designed earrings. It features motifs that are inspired by blooming tulips and added beauty with embellished stones.
21. INFINITY DESIGN GOLD EARRINGS
These cute, little earrings can go with everything you wear, whether it's an outfit for a modest party or a regular outfit. This earring has a lovely appearance.
22. TONES OF ROCKS GOLD EARRINGS
It has many geometrical cuts that are interlinked together has a dangler. It gives a good finished look to your outfit.
23. MANGO DESIGN GOLD EARRINGS
The lower portion is shaped like a mango, while the upper portion resembles a wheel embellished with stones. Keep these mango-shaped earrings in mind if you are looking for the ideal earring style for special events.
24. SUN DROP GOLD EARRINGS
You can wear this earring when you are going for free hair. Let the sun plays a hide and seeks from behind your hair strands.
25. GREEK-STYLE GOLD EARRINGS
It is a Greek-inspired earring. It gives you a vintage look with line patterns. This design symbolizes eternity. It pairs best with any outfit and any occasion.
26. BUTTERFLY KNOT GOLD EARRINGS
It is a bow tail attached to the stud which appears like a butterfly. It gives a super cute appearance.
27. GOLD HOOP EARRINGS
This hoop-style earring appears in a circular or oval shape not touching the earlobe. It is minimal to wear this style every day and it best matches western outfits.
28. CONCENTRIC BEAD DROP GOLD EARRINGS
Lighten your occasion by wearing these beautiful earrings. This is best paired with traditional festive outfits.
29. PAISLEY GOLD EARRINGS
Each element of these adorable earrings exudes a sense of vintage elegance. The luxuriant fern is a representation of poise and strength amid the elaborate paisley pattern.
30. TASSEL TALE GOLD EARRINGS
Two hanging tassel designs are featured on the Tassel Tale Gold Earrings, which are high polish yellow gold studs. For a breathtaking impact, wear them with your bodycon dresses, gowns, or a lacy off-shoulder dress.
31. TRADITIONAL JHUMKA STYLE GOLD EARRINGS
A classic earring design known as a "jhumka" has an inverted dome-shaped motif connected to an ear stud. The earring style known as a jhumka is popular among ladies in the Indian subcontinent. The Kharanpool jhumka changed into a single diamond while still retaining its bell form under the Mughal Empire. You can wear this for traditional sarees.
32. LOTUS DESIGN GOLD EARRINGS
These exquisite lotus-inspired stud earrings were meticulously created, making them a memorable pair to wear. They don't have any hanging parts and just have one design unit.
33. TRIANGULAR DESIGN GOLD EARRINGS
These gold triangular earrings with circular designs look stunning. The triangular shape in the upper portion of these earrings gives them a lovely edge. All Women prefer this geometric pattern more.
34. SWASTIK DESIGN GOLD EARRINGS
These Swastik-shaped earrings are ideal for events like poojas at home or kirtans that you have to attend. These earrings go beautifully with Indian clothing.
35. BEGUILING STYLE GOLD EARRINGS
With these diamond-studded earrings in a charming floral pattern, you may adorn the beauty of live flowers. Improves the style of your casual clothing.
36. PEARL DROP GOLD EARRINGS
For a more understated appearance, pick drop earrings with a simple French hook, while pearl drop earrings with crystals or diamonds are a terrific option for a more glam appearance. Pearl earrings are most frequently used with evening attire, such as the little black dress or even a full-length gown.
37. JAALI WORKED GOLD EARRINGS
With this classy set of stud earrings, you may add up the stylish factor of your business attire. The bizarre designs will give your outfit a special touch!
38. DISNEY MICKEY MOUSE EARRINGS
With this fantastic set of Mickey Mouse earrings, you may add a fabulous finishing touch to your ensemble. These beautiful Mickey Mouse Head Earrings would be a thoughtful present for anybody who likes Disney.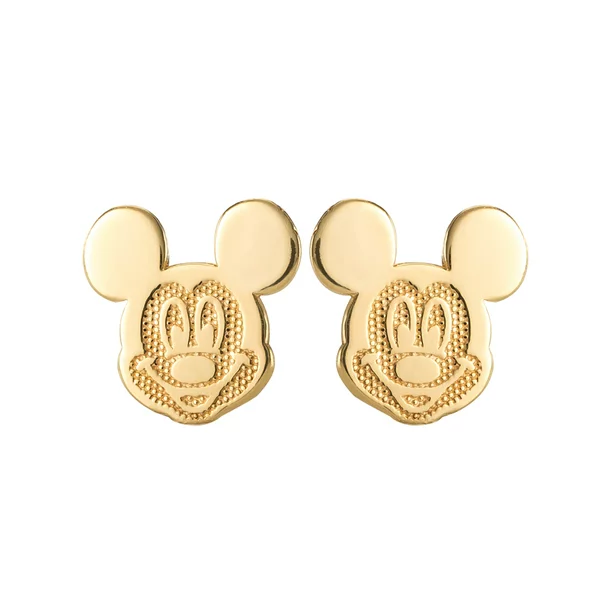 39. STRIPPED CHANDELIER EARRINGS
Put on these gold chandelier earrings with a stripped design to appear stunning during the party. Your ear beauty will be enhanced by the flowery top and the dangling jhoomar beads, which will turn you into a queen at the occasion.
40. TEARDROP PATTERN GOLD EARRINGS
Make this set of earrings your go-to item to add a bit of your spectacular brilliance to any occasion. They are delicate yet majestic.
41. RUBY GOLD DROP EARRINGS
This exquisite set of drop earrings with a lavish ruby decoration. These earrings offer a bit of floral charm to any clothing because they were made in a classic flowery silhouette. Bring your favorite ethnic clothing to the next gathering, and finish the look with these earrings.
42. SIMPLE DANGLER GOLD EARRINGS
Dangle earrings are the kind you could see moving side to side. The freestyle accessories that represent freedom, a free spirit, and something that can never be imprisoned is gold dangling earrings.
43. RAWA WORKED GOLD EARRINGS
These drop earrings include gold ghungroos as well as Kundan shine mixed with the subtle beauty of Rawa craftsmanship. This combination can only work magic.
44. VINE-INSPIRED GOLD EARRINGS
With this magnificent set of stud earrings that have a vine-inspired border decoration and a colored stone in the middle, don't be afraid to leave your mark everywhere you go.
45. LEAF PATTERN GOLD EARRINGS
Wear these elegant Gold Stud Earrings in a simple Leaf design to enhance your inherent appeal every day.
46. BUTTERFLY-SHAPED GOLD EARRINGS
With this attractive set of stud earrings, turn heads. They are a beautiful addition to your collection, the earrings.
47. MUSIC-INSPIRED GOLD EARRINGS
With this set of drop earrings in the shape of musical notes, you may add a musical touch to your outfit. This set of earrings stands out because of its funny design, which also serves to accent your outfit.
48. EAR CUFF GOLD EARRINGS
These ear cuffs' fantastical elegance is designed to fascinate spectators at all times.
49. RADIANT GOLD DROP EARRINGS
These drop earrings' brilliant luminosity will make you stand out from the crowd. This pair's simple geometric shape makes it simple to match them with clothing in any style.
50. J HOOP GOLD EARRINGS
This set of hoops earrings will instantly capture the heart of the spiritual. J-hoop earrings are already widely used in street style outfits and fashion runways. They stand for power and fashionable worldwide style.
To change up your appearance more frequently, it's a good idea to keep one pair of each type of earring in your jewelry collection. Look for gold earrings with clean, contemporary lines that will complement all of your western attire. And sure, being basic would also mean being more reasonably priced, allowing you to choose from a variety.