The overall appealing element of a beautiful saree is its latest blouse designs. A simple saree can be seen with an elegant look in perfect and contrasting blouse designs. Moreover, saree blouse design plays a significant role in giving perfection or ruining the look of the saree. One can achieve different styles of look every time by collaborating a saree with different types of blouse designs.
Here, we feature the top 50+ latest blouse design models that you can choose for your saree to look unique and gorgeous.
1. Deep V Neck Saree Blouse Design
This Deep V neck Saree blouse is an amazing piece best suits the choli and bridal wears. It shows a refined V cut in front and can be added with lace and sequins providing you a pretty look.
2. Kalamkari Blouse Design
The Kalamkari blouse design has a new space in the fashion industry. In earlier days, Kalamkari is used to depict mythological scenes and characters, etc in hand-painted or block-printed fabrics. This design adds a beautiful aesthetic look to the saree. You can experiment with this blouse with any saree.
3. Cape Saree Blouse Design
When searching for new blouse designs it tops the search. Adding a cape to the blouse gives a lavish look to the whole saree. This Cape blouse design is best worn for parties and it is the most stylish design with a decent look of exposure and coverage.
4. Lacework Saree Blouse Design
Adding lace work is trending in the market now. It best paired with fancy sarees with minimal transparency is drawn throughout the sleeves. The lace gives a super soft texture with good comfort to the skin. It will easily suit people of all age groups.
5. Mirror Work Blouse Design
This trending blouse design is designed with mirrors and suits all ages. You can wear this design, which is the best combined with plain and dark-colored sarees or net sarees or with a plain lehenga. It gives a stunning and royal look.
6. Strapless Blouse Design
This strapless saree is the latest trend with a bold gorgeous outlook. This can be worn for parties. You can wear this design with a similar shade saree or with any contrasting shade saree for a pleasant look.
7. Belted Saree Blouse Design
It is a new trend of fashion wherever you go. It gives an upgraded version to your traditional outfit by combining indo-western style to give a unique look. This blouse design is a perfect attire for occasions, parties, farewells, and other events.
8. Shirt Saree Blouse Design
Shirt-type saree blouses are mostly worn by old women at some phases in their life. Now the shirt-type model has come with a new trendsetter in the fashion industry. This blouse design looks stunning with plain cotton or linen saree.
9. Bikini Inspired Saree Blouse Design
The Bikini-inspired blouse designs paved a way for another fashion trend. Bikini tops are very great for those who want to give a bold entrance
10. Boat Neck Saree Blouse Design
This boat neck gives a neckline with a horizontal clavicle cut with a minimal curve to resemble the boat cut. It is suitable for everyone and almost pairs with all types of sarees,
11. Sweetheart Neck Saree Blouse Design
The fashionable sweetheart neck blouse design gives a heart-shaped neckline. This design is best suited for traditional or printed sarees or even in solid saree colors.
12. Peplum Saree Blouse Design
This is a jacket style blouse with sleeved and perfect jaw cut line gives a peplum kind of look. This blouse looks elegant with plain sarees.
13. Shimmer Saree Blouse Design
This blouse is covered with shimmer one to be added to the party outfits. It best goes with a solid or plain or shimmer saree for a gorgeous look.
14. Backless Saree Blouse Design
If you want to flaunt your beautiful back then you can go for this backless saree blouse design. This blouse design is held with a single strap or a single dori. It is perfectly suited for a saree and lehenga with a bold look.
15. Off-Shoulder Blouse Design
The blouses with trending details in sleeves, one among them is off-shoulder design. This blouse design best goes with satin or sheer sarees.
16. One Shoulder Saree Blouse Design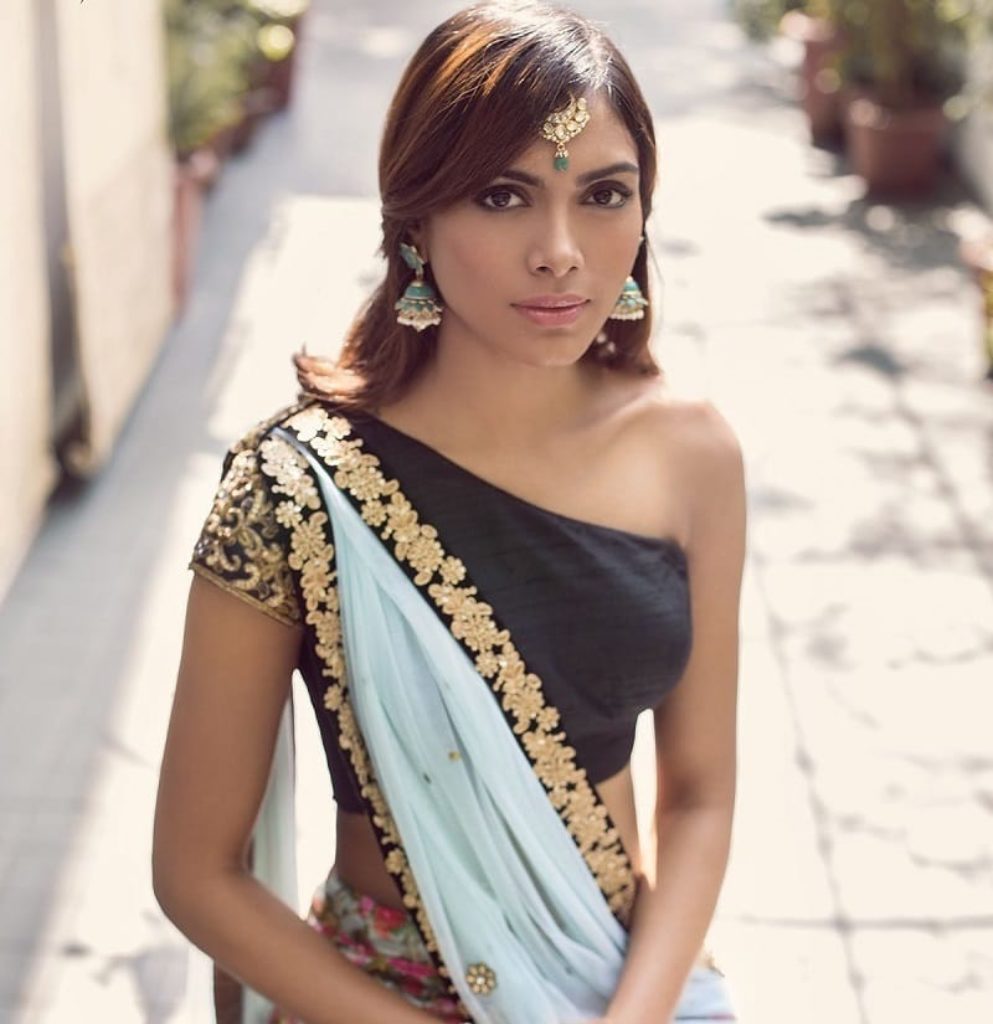 The blouse design next in the trending line is one shoulder blouse design. It leaves one side of the shoulder bare and it covers the other shoulder. This blouse in printed, solid, or embroidery works adds beauty to the saree look.
17. Bell Sleeves Saree Blouse Design
The bell sleeves design is much beloved for its flowy design and gives easy movement. The bell sleeves can be long or short and can end anywhere from the elbow to the wrist with flares at the bottom.
18. Puff Sleeves Saree Blouse Design
The puff sleeves blouse designs have a high resurgence in recent days. It gives puffed features and gives an extremely feminine look. This stylish design is a must added blouse design to your wardrobe.
19. ¾ Sleeves Saree Blouse Design
This design is an excellent wardrobe addition for every woman. This ¾ sleeve accentuates the wrist by giving a smoother and slimmer look to your wrist with an hourglass figure.
20. Butterfly sleeve Saree Blouse Design
This butterfly sleeve design is an elegantly done blouse that adds a dramatic look with the butterfly sleeves. This sleeve design flares from the shoulder and widens at the forearm. This blouse is design suit for light-flowing fabrics.
21. Brocade Blouse design
Brocade is best considered for the festive blouse design. It comes in various patterns to make the blouse look fancy and designed.
22. Mandarin Collar Saree Blouse Design
Mandarin Collar blouses are currently in trend. It is suited for women of all age groups. It gives a traditional look but sets in a new trend.
23. Fringe Blouse Design
You can add fringes to your blouse to make it look modern. Fringes are nothing but small feather-like strips of cloth that hangs at the boundary of the clothes. It gives a simple and ethnic look to the saree.
24. Bridal Blouse Design
The bridal Blouse design is a very beautiful and important design for all the women at their wedding. The bridal blouse is professionally designed with zardozi and Kundan stone designs and golden sequins can also be used for the perfect bridal look.
25. Sabyasachi Blouse Design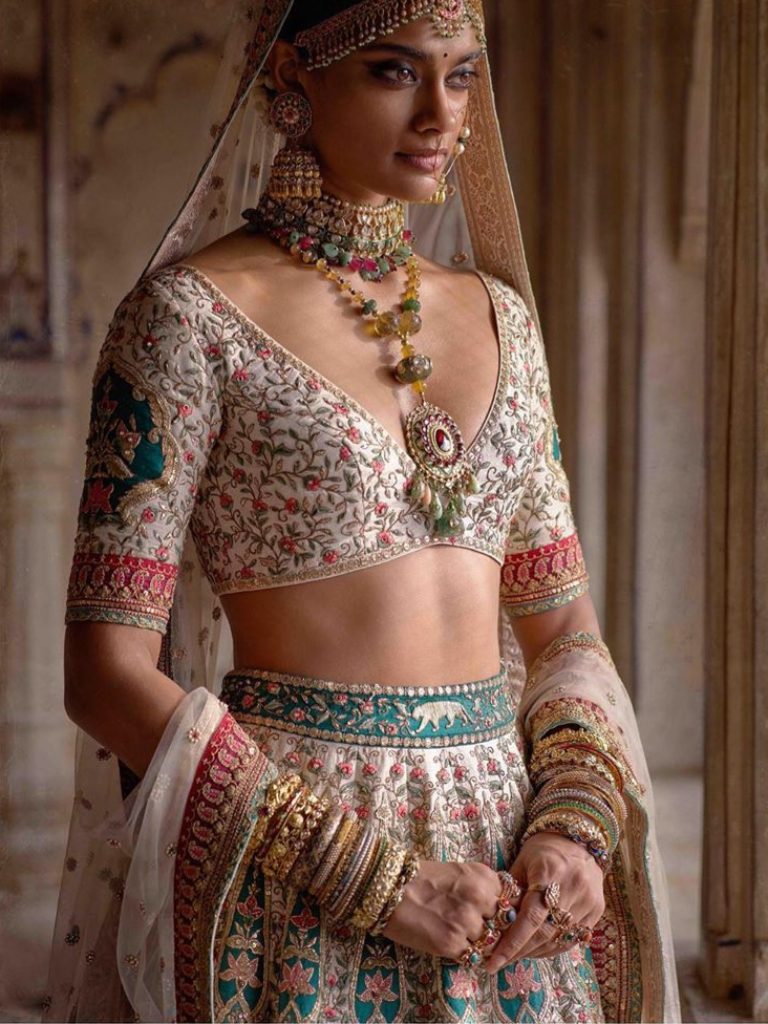 This trendy style is inspired by the Sabyasachi Mukherjee, an expert in fashion stylism. This design matches every glance, whether it is a plain saree or a traditional saree.
26. Collar Neck Blouse Design
The collar neck design gives a classy and stylish look to the overall appearance of the saree. And these days it started to be a new trendsetter.
27. Front Zip Blouse Design
This blouse design gives a simple elegant appeal. It can suit every woman. Those who can were a fully covered blouse style can experiment with this with a front zip blouse design.
28. Netted Blouse Design
Net blouse design is one of the most versatile designs on the list. The blouse with netted style adds elegance to the saree.
29. Floral Printed Blouse Design
Floral printed blouses give a stylish and attractive look. This can be worn with floral printed sarees or with solid color sarees.
30. Jacket Inspired Saree Blouse Design
Another fusion of traditional and western wear results in this jacket-inspired blouse design. You can go for it if you don't want a sleeveless one. It gives full coverage and if you wore a choker it adds beauty to it.
31. Halter Neck Blouse Design
The Halter blouse is a type of sleeveless shirt tied with a strap at the back or neck. This design is perfect for festivals and weddings
32. Corset Blouse Design
Corset style is one in light of its arrival in the trending line. This type is best suited for younger ages. It gives a modern and stylish appeal due to its sophisticated patterns.
33. Custom Saree Blouse Design
Customizing the blouse designs based on our interests is easier and gives a fabulous outfit. This becomes a new trend among the brides by painting or embroidering to match their special occasions or destination wedding.
34. Asymmetric Blouse Design
This one catches its attention with its cuts and designs. Although the asymmetrical style has been around for a while, this year it takes a novelty by being introduced in blouse designs. It suits fancy sarees.
35. Frill Neck Blouse Design
The frill blouse is a more stylish and popular blouse design. It is layered with extra pieces of cloth on comparing with a regular blouse. This style is inspired by the dressing of British kings and queens. This type is suitable for all kinds of sarees.
36. Peter Pan Style Blouse Design
The peter pan design is stylish and inspired by a famous character. This style is featured rounded corners to give a youthful look.
37. Hand-painted Floral Blouse Design
The hand-painted floral designs inspired by gardens give an ethnic appeal. It best goes with the cotton sarees with simple designs.
38. Embroidered Sleeves Saree Blouse Design
The embroidered sleeves add beauty to the blouse. It makes the blouse look grand and can be worn for wedding functions.
39. Heavy Full Sleeves Saree Blouse Design
This full sleeve blouse with added embroidery works gives new attention. This can be ideal for brides.
40. Keyhole Neck Blouse Design
The keyhole neck design gives a stunning look. It is a keyhole shape cut at the front, best added to casuals and party outfits.
41. U-Neck Saree Blouse Design
One of the everlasting designs on the list is the U-neck design. This is the basic design you should never miss.
42. Criss-cross Back Saree Blouse Design
The Criss cross blouse design is a classic one that never goes out of style. It suits simple lehengas and pre-wedding functions.
43. Knotted Back Saree Blouse Design
Adding Knots to the blouse gives a nice stylish look. The knotted back design gives perfect shapes to the blouse. This is worn for any casual meet or even a grand wedding.
44. Funky Zipper Back Saree Blouse Design
Zipper detailing in the blouse caught special attention nowadays. It gives a stylish funky look.
45. Pearl & Mesh Back Saree Blouse Design
Adding pearl detailing to the blouse with the mesh combination gives a new appeal. This can be the perfect blend for functions
46. Traditional Doli Saree Blouse Design
The doli embroidered blouse back is best to be added to the bridal collections.
47. Double Dori Saree Blouse Design
In this double dori blouse back the design has to strap or knots at the back. It can be worn by wedding guests.
48. Jhumki Detailing Saree Blouse Design
Adding Jhumkis to the blouse's back design gives a traditional feel. It is a perfect outfit for a bride.
49. One-Sided Off-Shoulder Blouse Design
This one-sided off-shoulder blouse can be paired with a satin or sheer saree. This look perfect with bare necks and high buns.
50. Jute Silk Blouse Design
Jute silk is beautifully blended with cotton, jute, and silk sarees. It gives a traditional and elegant look.
51. Velvet Blouse Design
Velvet is old-fashioned but it is back in trend. You can add this blouse design to your festive wardrobe.
52. Satin And Tulle High Neck Sleeveless Blouse Design
This can be worn in both Indian and western outfits. It gives a cool, fun, and feminine look.
53. Victorian Collar Blouse Design
This design is an inspiration from queen Victoria's dressing with a modern touch to it. This collared design suits the party costumes.
54. Plain Round Neck with attached neck piece Blouse Design
Attaching a neck piece to the simple round neck blouse to look a stunning one
55. Kundan and Sequin Embroidered Blouse Design
The beautiful Kundan with sequin embroidered blouse is best suited for party wear sarees and cholis.
This is a quite pretty long list of trending blouse designs. This may inspire you to choose better designs for your best outfits.