Having a beautiful new mehndi design etched on your hands and feet is more than just a traditional Indian custom. Mehndi's designs have played a significant role in marking every milestone from adolescence to adulthood. Every occasion, wedding, and festive ritual or offering in Indian families is marked by the usage of henna on our hands. Wearing mehndi has become a symbol of 'Solah Shringar' in Indian women over time, and it has always been crowned as an 'auspicious mark' to celebrate traditions or a new beginning.
Mehndi's ever-changing role reached new heights when it became more than just a ritual to be observed. Women can now have beautiful stories documenting their love's journey etched in their hands for their wedding day, thanks to the skilled hands of creative mehndi artists at work. Bridal mehndi has also seen the evolution of elegant Arabic mehndi design patterns, while traditional full-hand mehndi with portraits of the bride and groom remains timeless. With the increasing demand for different henna designs to now fit the bills of fashion, it can be difficult to narrow down one mehndi design that is meant for their personality.
Not to worry! We have compiled a comprehensive collection of Mehndi Designs to assist you in selecting a design that complements your style. Choose from the list in this article for your bridal mehndi event.
[Click Here] Buy Organic Home Grown Fresh / Dry Henna (Mehndi) Leaves
1. Half And Half Bridal Mehndi Design
When both hands are joined together, a half-and-half Mehndi design creates a full picture. This style is popular among women who want to represent their love story by wearing the bride's figure on one hand and the groom's figure on the other.
2. Mandala Bridal Mehndi Design
A Mandala is a circular design that is typically used as the foundation for the entire Mehndi design. For a complex appearance, it can be paired with nearly any other design.
3. Mirror Image Bridal Mehndi Design
Nothing is more picture-perfect than a Mehndi mirror image. It is designed with the same patterns replicated on both hands. Traditional or modern, you will look stunning in any ensemble you choose with this one.
4. Victorian Bridal Mehndi Design
Victorian mehndi is a traditional style that features a delicate jaal design. These are unmistakably old yet look elegant and poised.
5. Paisley Bridal Mehndi Design
Paisley is one of the oldest leaf-like designs that has always been incorporated into bridal Mehndi. One of the most beautiful Mehndi designs for hands is paisley-inspired Mehndi. These are not only simple but also appealing. To make it more decorative, combine it with teardrops, vines, and swirls.
6. Dome Bridal Mehndi Design
Domes are a type of ancient architectural architecture that has its roots in Arab culture. These designs ascend in a spire-like pattern from the wrist.
7. Arabic Fusion Bridal Mehndi Design
This wedding season is all about keeping up with the latest trends. And what better way to look contemporary and on-trend than a fusion of simple Arabic mehndi design? Combine it with peacock motifs and delicate flowers for an even more flattering look.
8. Storyteller Bridal Mehndi Design
Personalization is always a hit! You can enhance your design by using a bridal mehndi image to depict your love story. This latest mehndi design 2022 is intricate and requires a great deal of visualization to pull off.
9. Peacock Bridal Mehndi Design
Peacock is a popular Dulhan Mehndi Design and one of the most recent Bridal Mehndi Designs that represents prosperity and good fortune. If you want something cultural, an exquisite peacock pattern will serve the purpose perfectly. This is an excellent bridal mehndi design for full hands.
10. Mylanchi Bridal Mehndi Design
Most South Indian brides choose the Kerala-born Mylanchi Mehndi pattern. Mylanchi motifs are curved and quite ornamental.
11. Radha-Krishna Bridal Mehndi Design
Mesmerize your love by carving a pleasing image of Lord Krishna with the goddess Radha to symbolize your eternal love for him. When combined with blooming flowers and leaves, this image depicts nature and the beginning of a new life.
12. The Sindoor & Kanyadaan Mehndi Design
This unique whole-hand bridal mehndi design features sindoor daan in one hand and a vidaai ceremony in the other, both of which are inspired by the two most significant wedding day rituals that usher in a new chapter in the bride's life. This touching portrayal of wedding ceremonies can be a real source of inspiration for brides if you want a full front-hand mehndi tailored to your wedding details.
13. Mango Bridal Mehndi Design
During auspicious ceremonies, mango leaves represent high spirits. A typical mango design consists of leaves drawn in repetition to create a stunning appearance.
14. Epitome of Elegance Bridal Mehndi Design
This mehndi design is perfect when you want the best of elegant designs. Dainty, elegant, and classy – an apt design for millennial brides who look to ace their fashion game. You could also opt for this best mehndi design for Karwa Chauth or any other festival.
15. Diamond Bridal Mehndi Design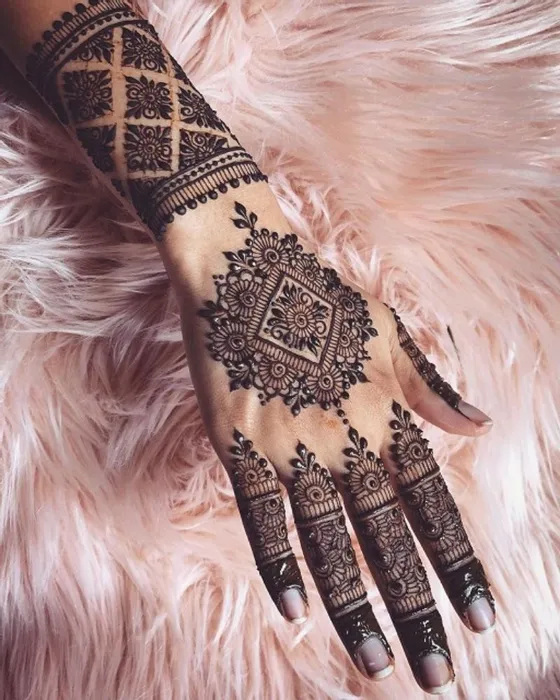 'Diamonds last forever, and so does the Mehndi that displays this everlasting beauty.' A diamond motif is the epitome of wealth and sophistication. For those who prefer a hint of vintage, this also qualifies as an ethnic modern bridal Mehndi.
16. Intricate Chaadar Bridal Mehndi Design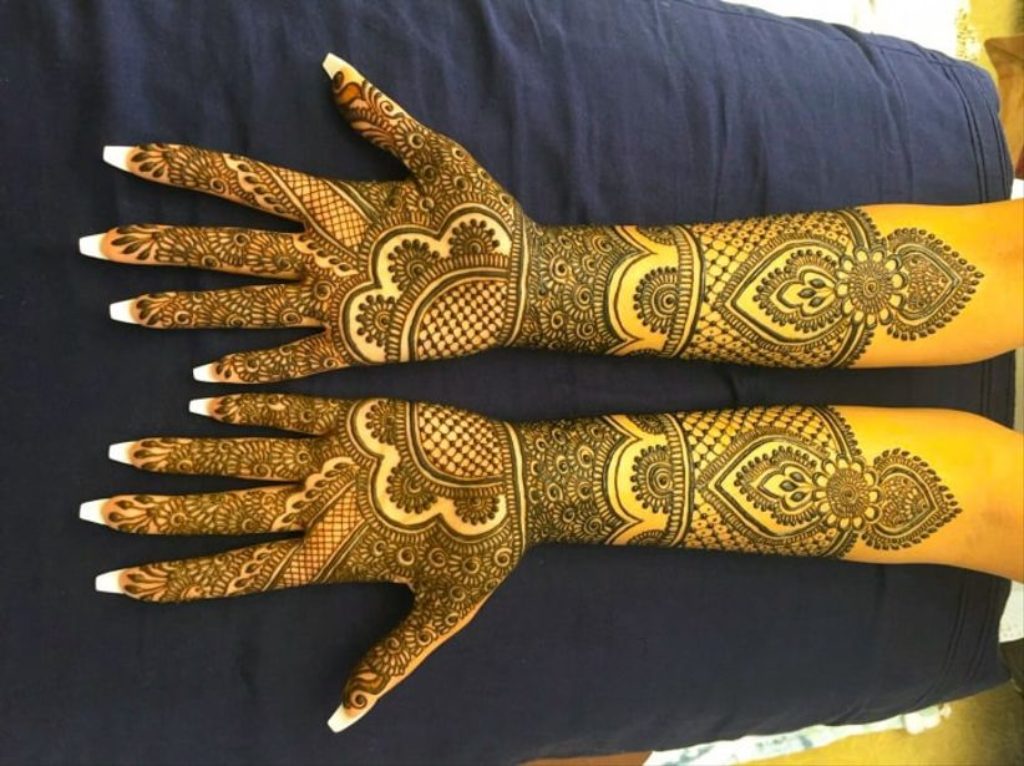 With this classy and unique henna pattern, you can lay the chaadar of beauty down on your palms. These mehndi designs feature the appropriate amount of balanced negative space, hard turns, and twists to give you the ideal full-hand wedding mehndi design aesthetic.
17. Glove Inspired Bridal Mehndi Design
Here is a pattern that was inspired by a high-end designer glove. This design departs from the conventional method of creating a mehndi design. And it is precisely this new positioning style that gives the whole design a sense of sleek mobility. This design may be a great option if you're seeking for a bridal mehndi design.
18. Portrait Bridal Mehndi Design
Portraits of you and your partner on each palm are a heart-warming touch to elevate your Mehndi design. The images are undoubtedly difficult to achieve, but they are also extremely rewarding.
19. Dulha-Dulhan Full Hand Mehndi Design
This complete hand mehndi design has a traditional wedding theme. The dulha-dulhan pattern on each hand, the doli, and Lord Ganesh in the middle are all wedding-related elements in miniature.
20. Flora and Fauna Bridal Mehndi Design
A perfect example of floral beauty, save this design in your gallery of potential mehndi patterns for your hands. Around the floral themes, a variety of jaali designs lend even more perfection to the design.
21. Layered Bridal Mehndi Design
Choose a layered design to emphasize each part of your Mehndi. Each tier of this style is separated by an empty space, giving the design a clean and crisp appearance.
22. Mughal Bridal Mehndi Design
Even a straightforward Mehndi design may be made to look visually beautiful by using intricate patterns and elaborate layouts. Most of the Mughal-inspired patterns feature king and queen portraits to give them a more majestic appearance.
23. Curvy Bridal Mehndi Design
Enhance your Mehndi rituals by selecting a curvy Mehndi design. Make this style stand out by keeping the border thickness consistent throughout.
24. Moroccan Style Bridal Mehndi Design
Full-hand mehndi patterns from Morocco have become popular. This is due to their willingness to let you stand out a little from the throng. These mehndi designs provide you the opportunity to have some of the most gorgeous designs gracing your palms due to their distinctive geometric shapes.
25. Vines & Flower Trails Bridal Mehndi Design
Nothing surpasses the beauty of floral art and lines in mehndi designs. Let the beauty of your backhands accentuate with the dark accents of this floral mehndi pattern gracefully intertwining in your fingers and backhands.
26. Aesthetic Style Bridal Mehndi Design
Mehndi designs that cover the entire hand are beautiful and can be inspired by many different things. This one is influenced by older architecture. If the exquisite floral pattern and the floral grid that resembles windows were not obvious enough, take a hint from the minarets and the dome that rests on the wrist.
27. Quirky Pattern Bridal Mehndi Design
The most innovative mehndi designs right now are unique patterns that will make you stand out from the crowd. Your wrist and palm look wonderful with these patterns. Beautiful designs with wavy lines and attractive design elements may be seen here.
28. Gujarati Style Bridal Mehndi Design
These are basic mehndi designs that may be used for any occasion. Flower petals applied in the manner we do for Rangolis can also look good as solo patterns if placed in the center of your palm, where they may nearly entirely cover it. Other typical fundamental mehndi patterns include spherical flowers with rounded petals.
29. Turkish-Inspired Bridal Mehndi Design
A simple design that encompasses all the various patterns and themes that are essential to many different civilizations is the best one to use while you polish your mehndi skills. The rose following the design and the Turkish check patterns make it distinctive.
30. Rajasthani Bridal Mehndi Design
Rajasthani mehndi designs are well-liked for their intricate details, which is why weddings are a good occasion for them. The length and complexity of your mehndi design are still entirely up to you.
31. Bail Mehndi Design
These Mehndi designs are highly popular in the Arab world. On certain occasions like weddings and Eid festivities, the girls and women like drawing Bail Mehndi Designs. Therefore, during wedding seasons, Arab country residents who work as henna painters or Mehndi designers make a solid income. To create beautiful mehndi patterns, they employ various henna colors. On Bail mehndi patterns, they primarily employ brown, dark brown, and black mehndi. These fashions are also becoming popular in South Asian nations like Pakistan and India.
32. Marwari Bridal Mehndi Design
Marwari mehndi patterns are the epitome of grace. It looks graceful because it incorporates flowers, swirls, and vines. Due to its versatility, this style is suitable for a variety of settings.
33. African Bridal Mehndi Design
Like tribal patterns, African mehndi also represents strength and pride. It incorporates delicate dots and abstract patterns. Despite being less dense than some others, this mehndi pattern exudes boldness.
34. Khafif Bridal Mehndi Design
Choose a Khafif design to modernize your Arabic mehndi. This mehndi design gives you a glossy and stylish appearance by combining unique patterns with traditional embellishments.
35. Alphanumeric Bridal Mehndi Design
Add dates and messages to your Mehndi to make it more edgy and fun. The most common idea in this category is 'save the date.'
36. Tribal Bridal Mehndi Design
Tribal mehndi patterns date back to ancient times when warriors carved them on their hands as a mark of pride and authority. Combining both circular and linear designs, this mehndi pattern is unique.
37. Verse Bridal Mehndi Design
Indian stotras preach our culture and have unique meanings for each one. Include a few of those captivating sentences in your mehndi design to give it a unique and customized look.
38. Loved Ones/Things Bridal Mehndi Design
The most popular bridal Mehndi design is one that incorporates images and motifs of things or beings dear to the bride's heart. Popular examples include a dog picture and favorite food.
39. Geometric Bridal Mehndi Design
Geometric shapes can be used in a variety of Mehndi designs, from simple to intricate. The adaptability of this allows for the creation of a plethora of styles to suit every taste.
40. Alta Bridal Mehndi Design
Alta, a red dye of Bengali origins, is used in place of henna on the hands and feet on festive occasions. You can include it in your Mehndi design to create a distinct and original aesthetic.
41. Swirls And Twirls Bridal Mehndi Design
Look stunning in this one-of-a-kind Mehndi design with curvy swirls and dotted edges. With its effortless and chic vibes, this one is sure to make you fall in love.
42. Lotus Bridal Mehndi Design
The blooming lotus represents purity and grace. This extraordinary motif is enhanced when it is crafted within a dome or a chakra (wheel).
43. Hashtag Bridal Mehndi Design
We live in the Instagram generation, and we approve of nothing but the coolest things. And what better way to be cool than to have your wedding hashtag carved into the Mehndi design?
44. Colored Bridal Mehndi Design
Choose from a wide range of colors to make your Mehndi design look dazzling and vibrant. The rainbow-like effect of different colors makes this style appealing to modern brides.
45. Cuff Bridal Mehndi Design
Cuff Mehndi's can be curated in a variety of designs, including jaali, dotted, and floral. You can select one with a checked band impression on the wrist, as well as a chakra, peacock, dots, and vines. Check out our awesome list of the best ways to darken your Mehndi to help you narrow down your options.
46. Parrot Bridal Mehndi Design
Parrots are frequently associated with being love messengers. Incorporating a parrot with leafy and floral motifs into your Mehndi design can create a soothing image of nature.
47. Elephant Bridal Mehndi Design
Reflect a sense of wisdom and loyalty by picking an elephant motif to be carved into your Mehndi design. This style looks majestic, grand, and oh-so royal.
48. Cartoon Bridal Mehndi Design
Choose a playful cartoon character to be designed on your palms to bring out your inner child. This concept is both fascinating and entertaining.
49. Glitter Bridal Mehndi Design
Gleaming glitter can transform your Mehndi into something magical and sparkly. This style can last up to 6-8 hours, making it ideal for traditional rituals and ceremonies.
50. Dotted Bridal Mehndi Design
Dots may appear to be the most basic Mehndi pattern, but they can be combined to form some of the most intricate designs. You can choose between a dotted jaal and something more open-spaced, such as a dotted buti.
51. Shaded Bridal Mehndi Design
Choose a shaded design to add structure and illusion to your Mehndi. This style is also well-known for its 3D-effect and design-enhancing capabilities.
52. Minimal Bridal Mehndi Design
Simplistic patterns and designs are the new things in town. From outfits to Mehndis, today's brides prefer low-key trends to appear understated yet sophisticated.
53. Jhumka Bridal Mehndi Design
A jhumka earring is a must-have accessory for a woman's femininity. Including jhumka motifs in your Mehndi design makes it more appealing. For a more complete look, combine it with leaves, swirls, and paisley patterns.
54. White Bridal Mehndi Design
If you are fearless, you should try a white Mehndi design. With its uniqueness, this one is sure to make you stand out.
55. Indo-Arabic Bridal Mehndi Design
The Indo-Arabic Mehndi design arose from the fusion of Arabic art's modernity and Indian art's ethnicity. This look is popular among younger brides who prefer to keep things modern and trendy.
We hope this collection of mehndi compilations for your wedding has provided you with some inspiration. Remember that because these designs draw attention to your hands, you must ensure that your talon game is on point as well, so that they can shine in the spotlight.