Raksha Bandhan is a festival that celebrates the bond between brothers and sisters, and what better way to show off your love than with mehndi designs? Mehndi, also known as henna, is a temporary art form used to decorate the body. The art of mehndi consists of making intricate patterns and designs on the skin with the paste of henna and dyeing the skin with it. On the day of Raksha Bandhan, it is customary for sisters to apply mehndi on their hands and feet as a sign of their closeness and strong relationship with their brothers. This is a great way to show your appreciation for your brother and let him know how much he means to you! Common mehndi designs for Raksha Bandhan include rakhi designs, heart designs, flowers, elephants, and other motifs that symbolize love and affection. Whether you choose to use traditional or modern mehndi designs, you can be sure to make your sibling feel special with your beautiful mehndi! Here are 55 mehndi designs for Raksha bandhan.
[Click Here] Buy Organic Home Grown Fresh / Dry Henna (Mehndi) Leaves
1. Intricate Round Mehndi Design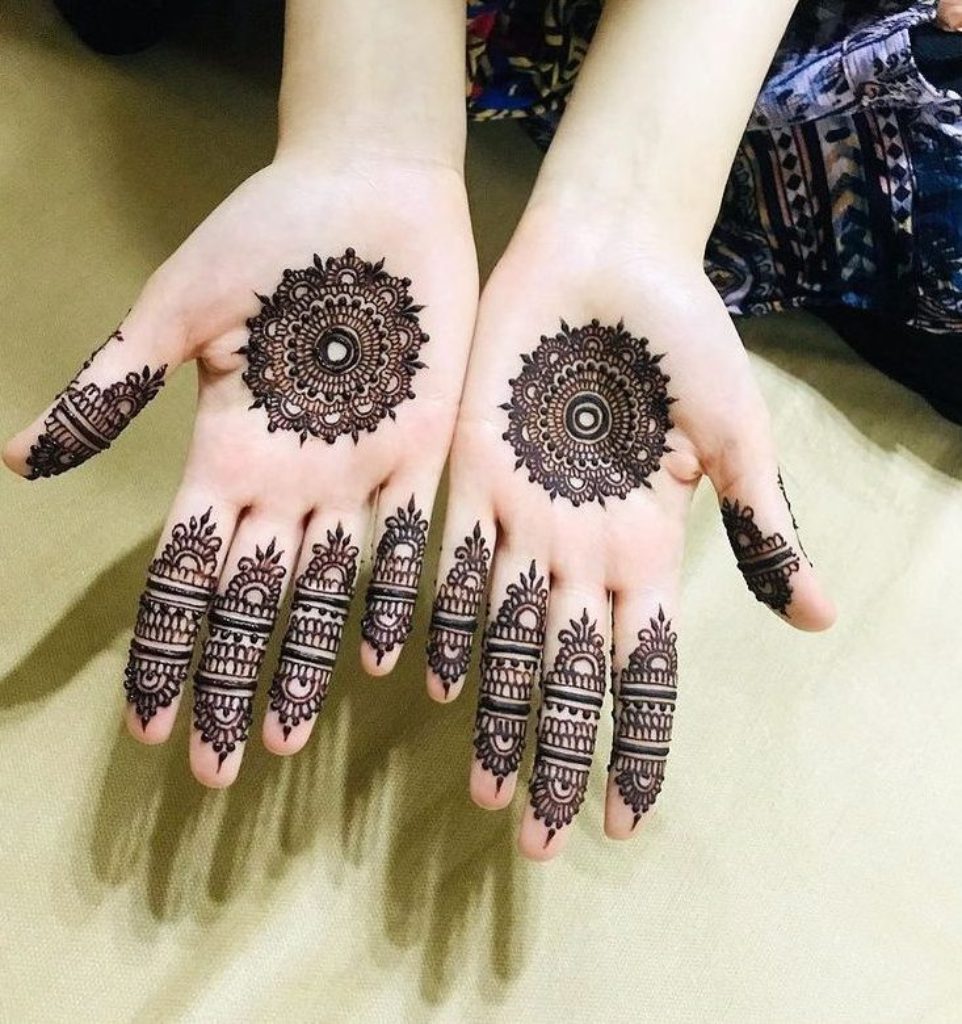 image credit k4fashion.com
This stunning mehndi design incorporates complex and detailed patterns into traditional henna. It consists of interlacing shapes, delicate swirls, intricate paisley designs, and a wide variety of simple motifs, all within an intricately designed round centerpiece. This bold and striking design is great for any special occasion and is sure to add an extra element of flair and elegance.
2. Floral Leaf Back-Hand Design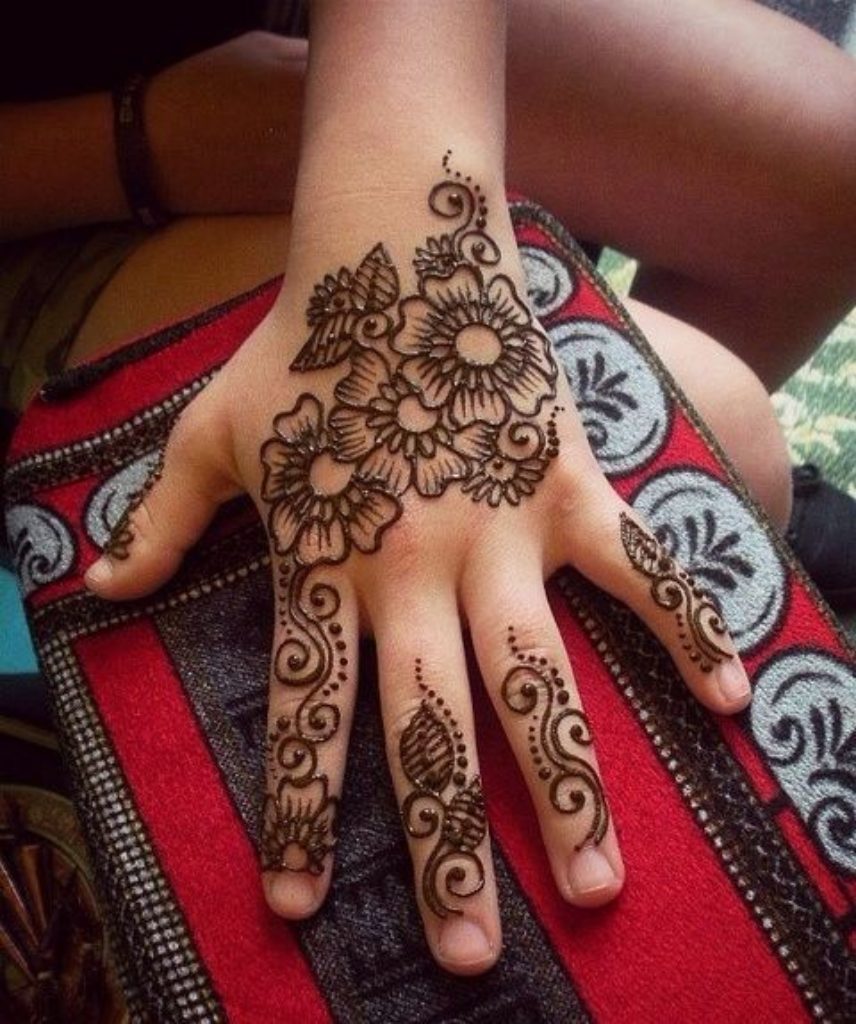 image credit wedandbeyond.com
This stylish and modern take on the traditional mehndi design incorporates a variety of floral elements and foliage designs. It features delicately drawn rose petals and leaves, graceful swirls, and intricate paisley patterns, all connected together in a stunning full-hand floral display. It is perfect for a romantic wedding or a special event, as it will add an extra touch of beauty and romance.
3. Cloudy Flower Pattern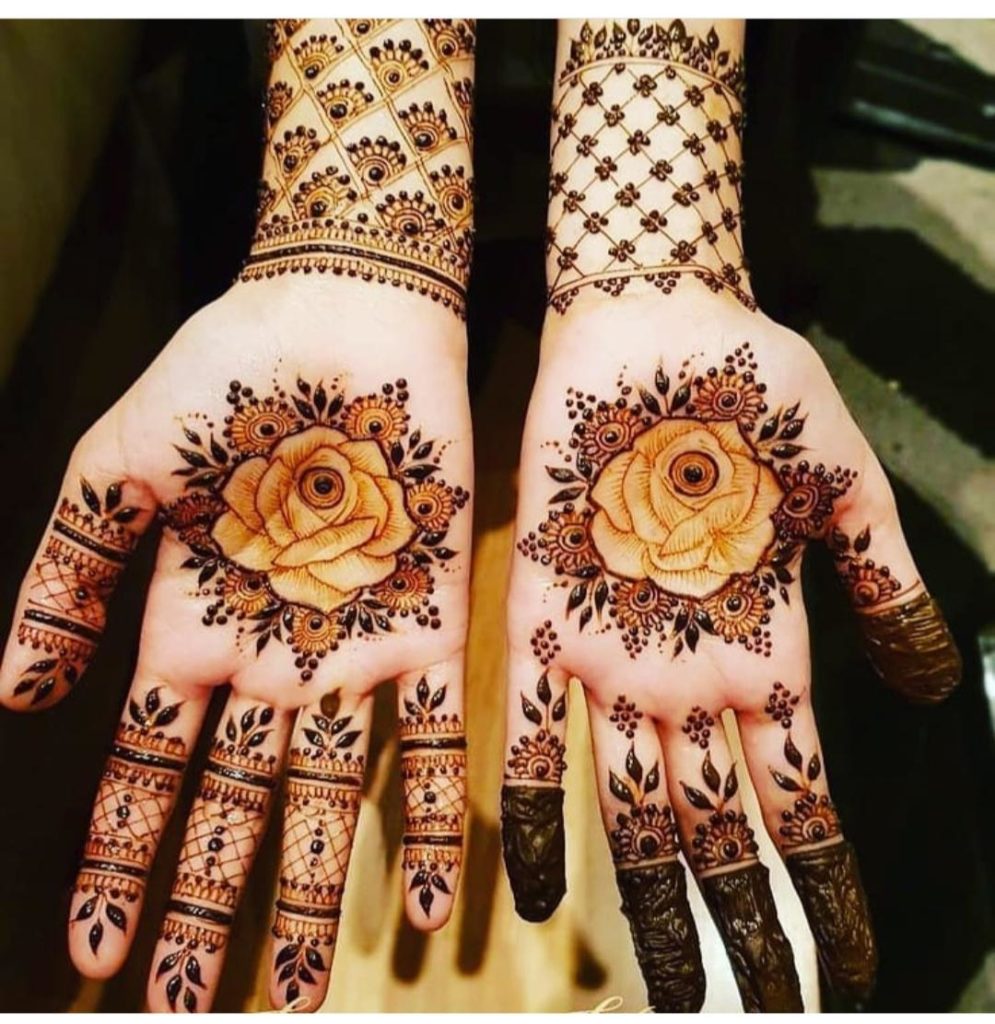 image credit weddingwire.in
This beautiful and unique mehndi design depicts stylized clouds and water droplets amidst a stunning display of flowers. It consists of soft lines, complex detailing, and gorgeous floral accents that combine to form an eye-catching design. Perfect for the modern bride looking to add an airy and whimsical touch to her mehndi, this design is sure to wow.
4. Unique Diagonal Pattern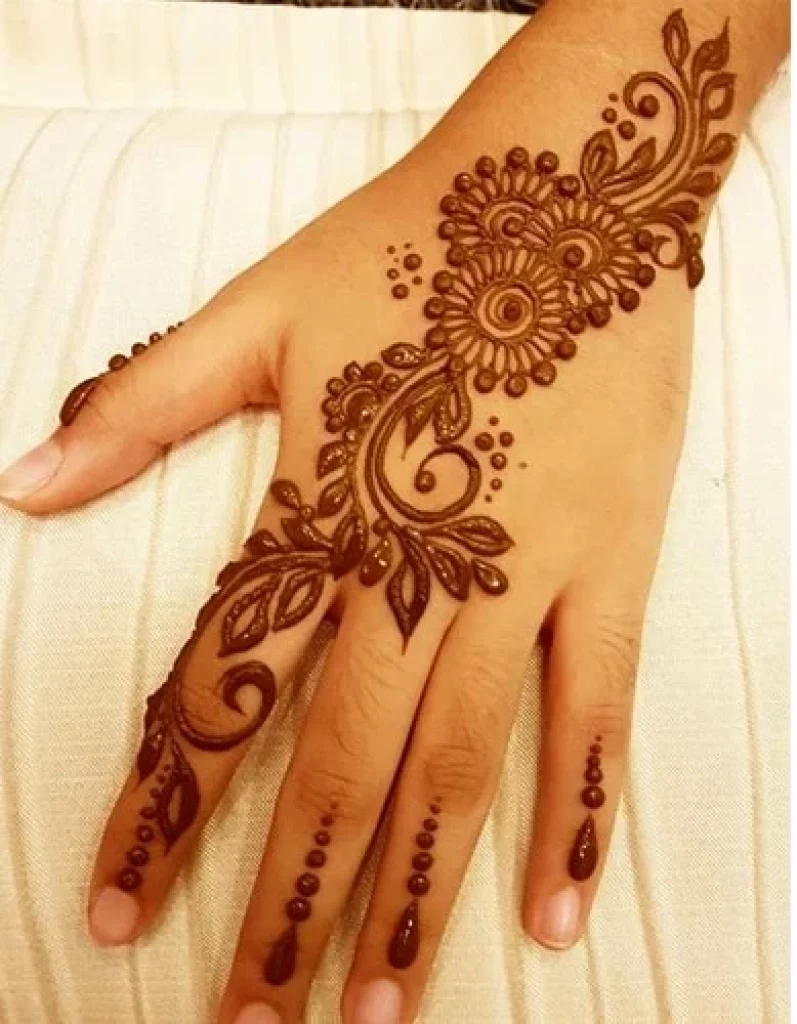 image credit fashionlady.in
This modern and intricate design features an edgy and angular look. It consists of geometric shapes, stunningly detailed paisley patterns, and delicate curls that work together to create an experimental and futuristic look. If you want something out of the norm, this unique design is the perfect choice for you.
5. Eye-Catching Butterfly Design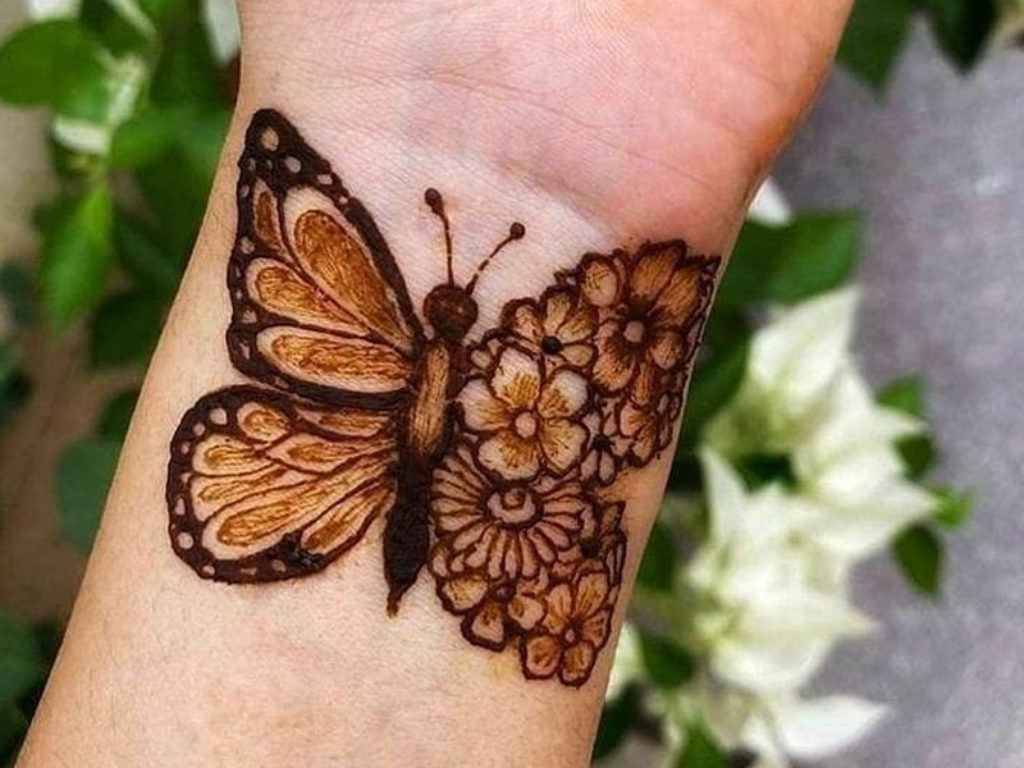 image credit stylesatlife.com
This attractive and eye-catching mehndi design features intricate silhouettes of butterflies. It consists of curved lines and delicate accents that work together to create a vivid display of these elegant creatures. This design is perfect for any party or special occasion and can be customized according to your preference.
6. Striking Peacock Design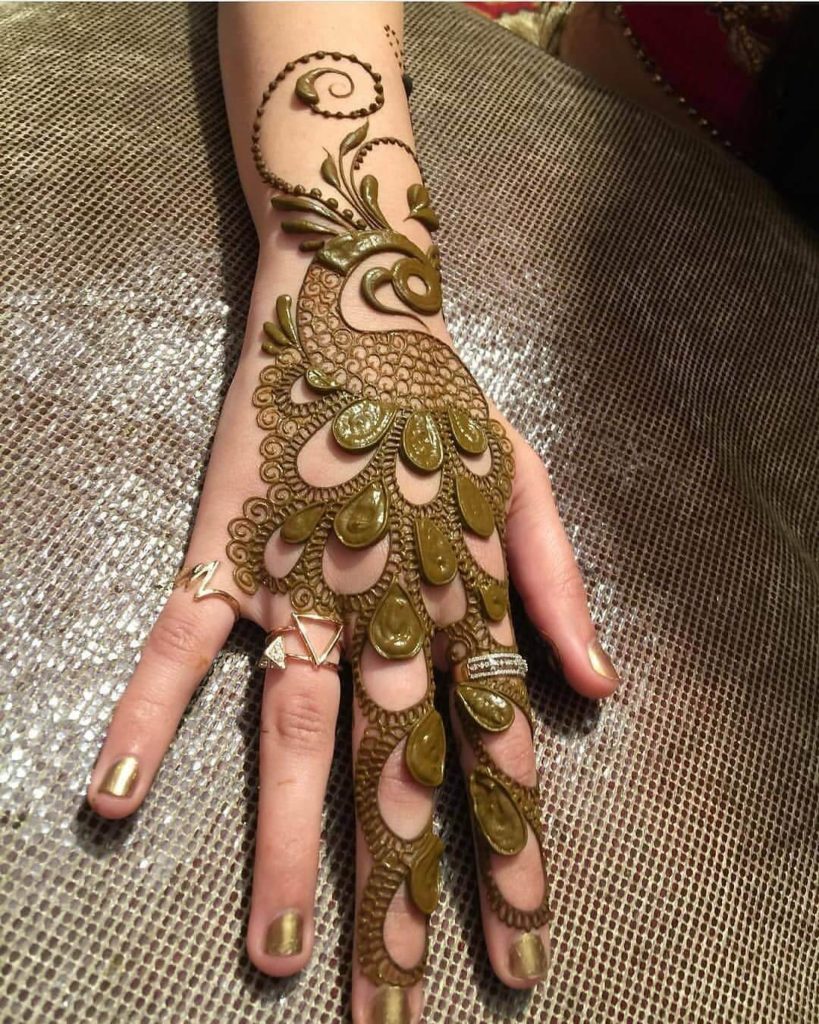 image credit k4fashion.com
This mehndi design is quite alluring and vibrant. It has a base of dark brown mehndi with intricate detailing of yellow and orange filling in. The design is of a beautiful peacock with feathers flowing all around its body in a mesmerizing manner. The feathers are artistically curled across the hand, with the bird itself perched regally at the back of the palm as the centerpiece. It is sure to grab attention with its stunning colors and detailing.
7. Pretty Flowery Pattern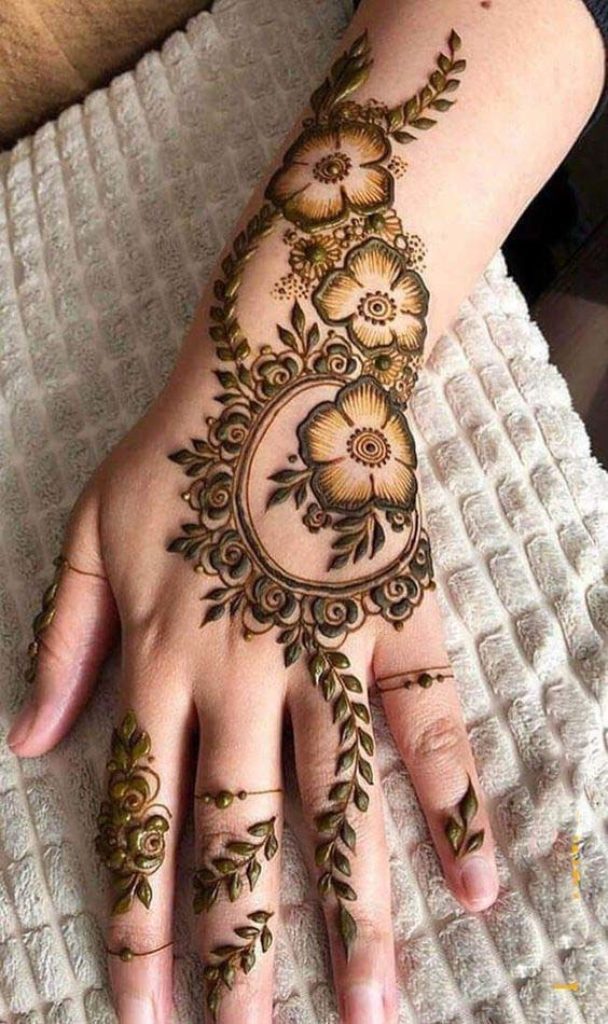 image credit thecrazytales.com
This mehndi design is quite graceful and delicate with beautiful flowers at its heart. The design starts off with a thin line pattern going around the palm, which then branches off into a multitude of intricate floral patterns. The flowers have been artistically drawn with its petals extending gracefully on all sides. The design is filled in with dark brown mehndi which highlights the beautiful details of the flowers.
8. Lotus Shape & Net Design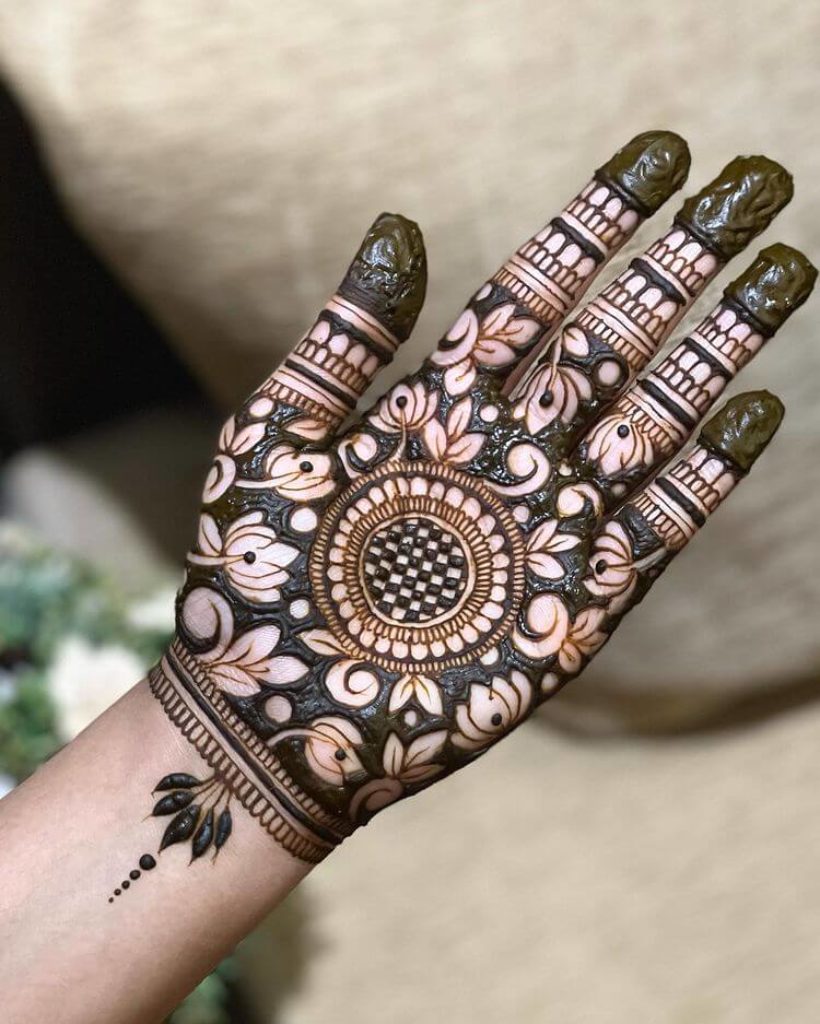 image credit k4fashion.com
This mehndi design has a regal look to it with its intricate detailing. The design is of a large lotus at the back of the palm, with a stunning net pattern surrounding and taking up most of the rest of the area. The net is composed of thin lines branching off with small floral patterns at their endings. The design is filled in with a dark hue of mehndi, adding to the grandeur of the design.
9. 3D Inspired Raksha Bandhan Design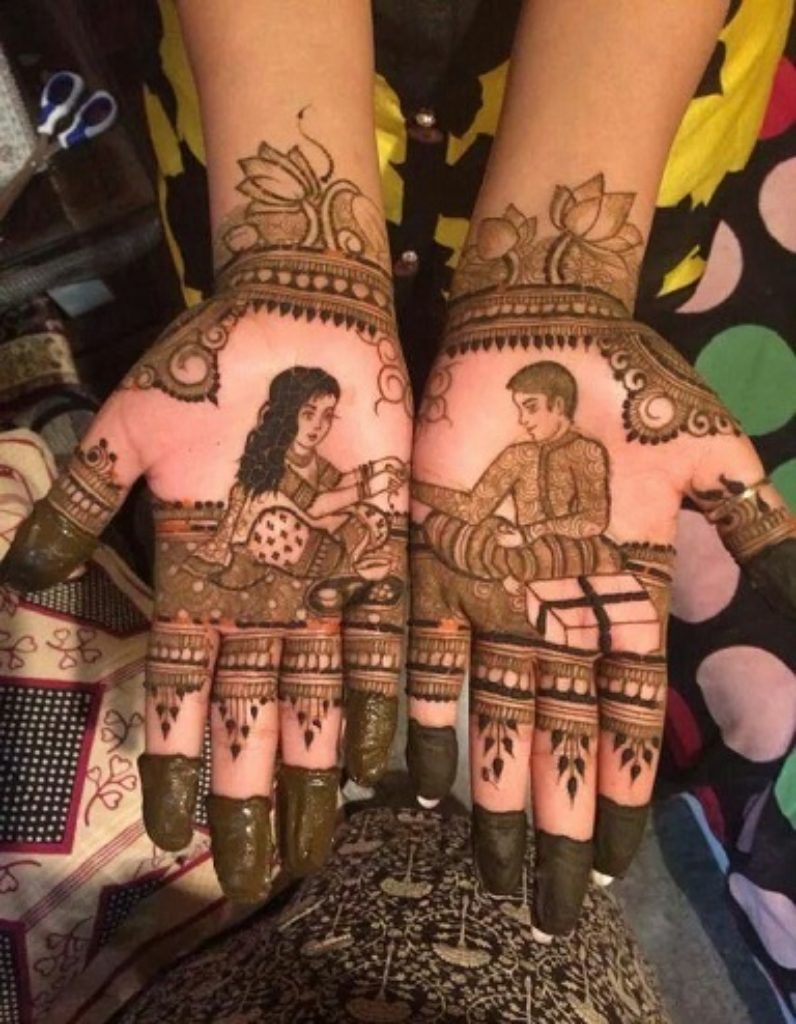 image credit stylesatlife.com
This mehndi design has a unique 3D effect to it, making it quite eye-catching. It is inspired from the festival of Raksha Bandhan with its main pattern being of a beautifully adorned rakhi. The centre of the design is tying of rakhi has a big centre design, which is embellished with an intricate pattern in the background. The entire design is filled in with brown mehndi, giving it a 3D look, which is sure to leave onlookers in awe.
10. Pooja Ki Thali Design
image credit timesnowhindi.com
This specific mehndi design is one of the most fitting depictions of the Raksha Bandhan festival. While the four sides of the palm are decorated with typical henna designs, the core depicts the event. On one hand, we see the sister seated with a dish full of items resembling a 'Pooja ki Thali' and tying a thread around her brother's wrist; on the other, we see the brother outstretching his hand with a gift box by his side.
11. Circular Floral and Paisley Design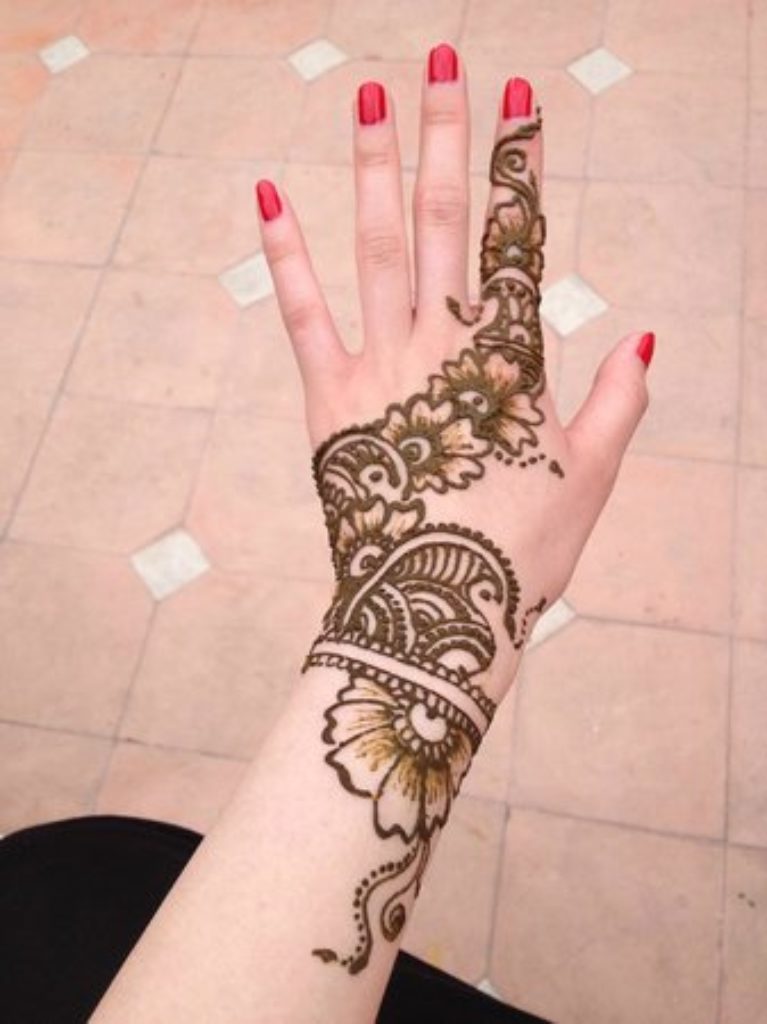 image credit tripadvisor.com
This mehndi design is a beautiful mix of floral and paisley pattern in a circular motif. A larger flower in the center has several smaller flowers outlining it, and both are framed by a set of interlaced curved and straight designs. A pattern of paisley shapes featuring intricate detailing is featured in the centre of the design and this is framed by circular designs.
12. Traditional Indian Mehndi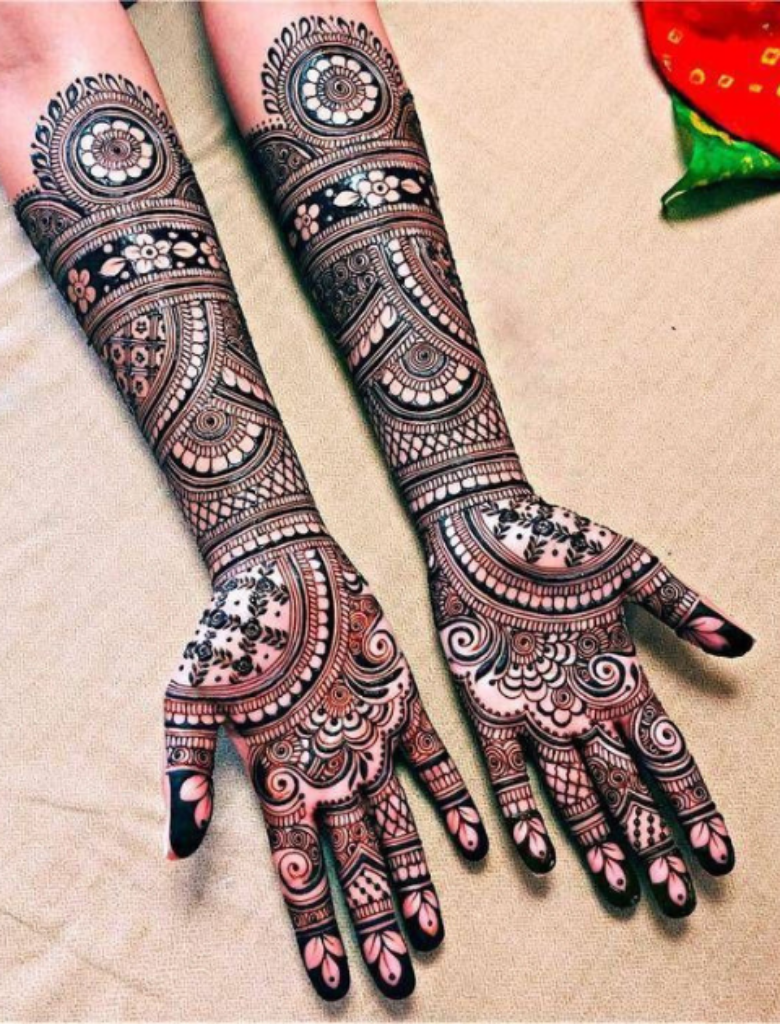 image credit bookeventz.com
This design features classic Indian motifs like paisley and flowers while taking a more contemporary approach. The intricate patterns of swirling motifs are filled with fine lines creating a stunning look. The overall effect is traditional yet modern, perfect for a classic and elegant mehndi design.
13. Intricate Net Design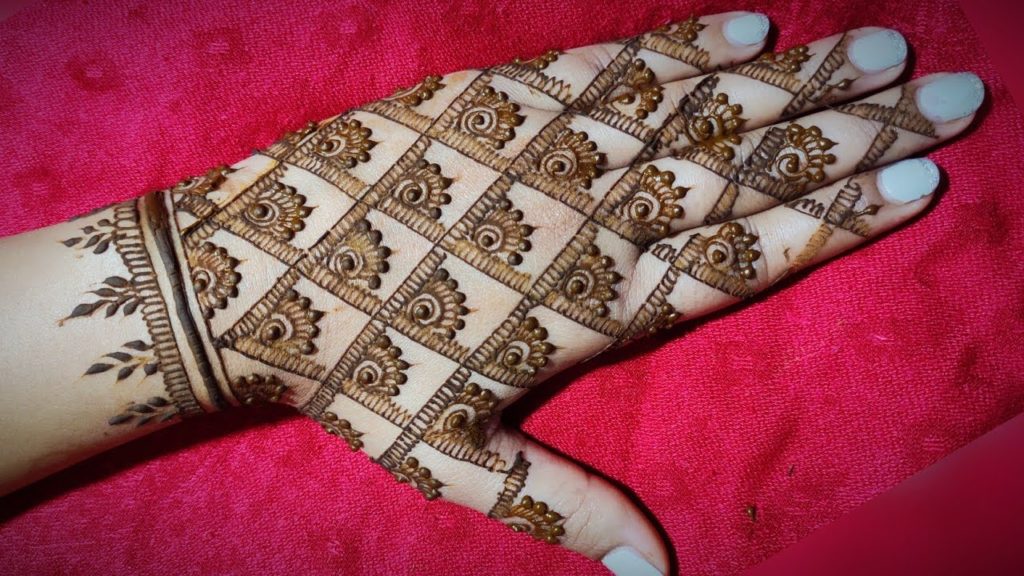 image credit youtube.com
This mehndi design takes the shape of a complicated net. The intricate pattern of thick lines connects with each other and form a net-like structure. A singular flower rests in the center of the design an outward some arc-like shapes bring an interesting twist to the pattern.
14. Interlinking Design with Bird Outline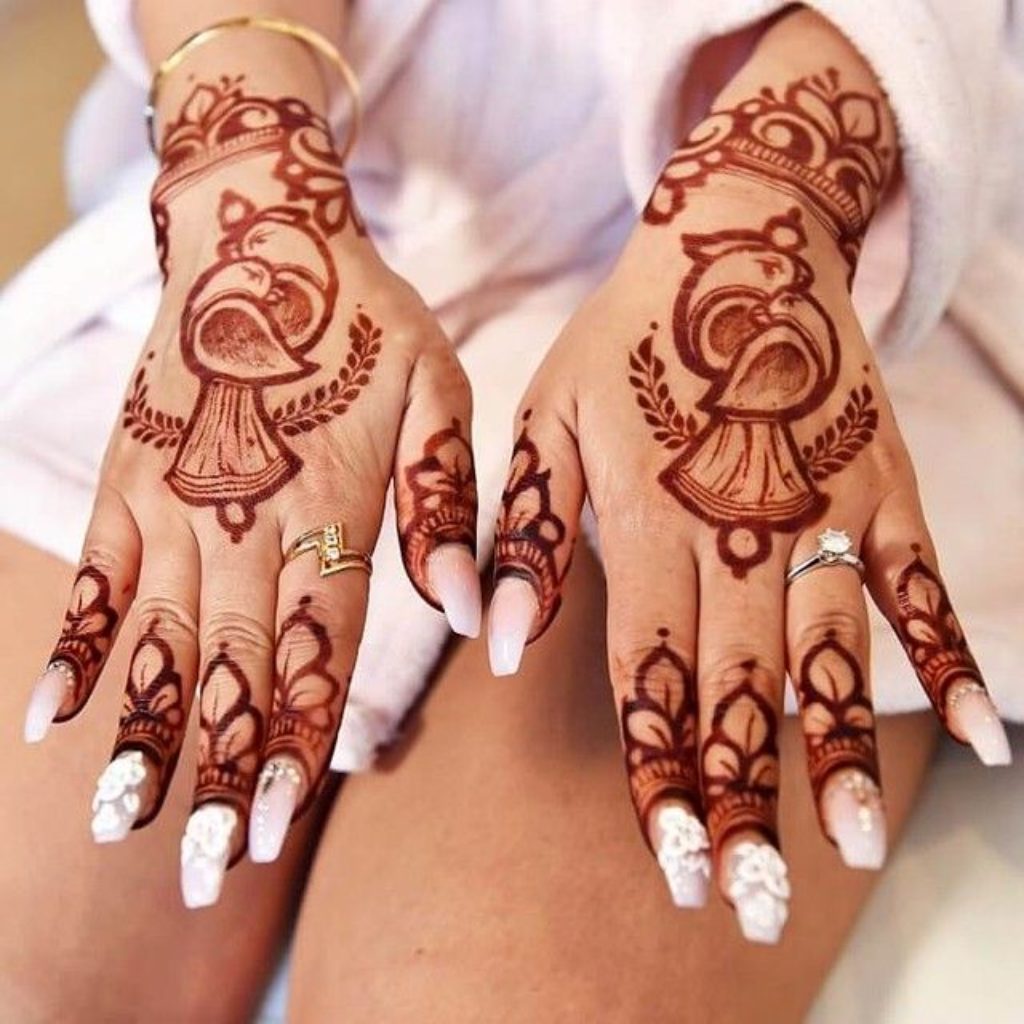 image credit pinterest.com
This mehndi design features an interlinking pattern of curved lines that gradually build up into an outline of a bird. The wings, head, and tail of the bird are all visible in the intricate design, giving it an eye pleasing look.
15. Raaki Design with intricate Design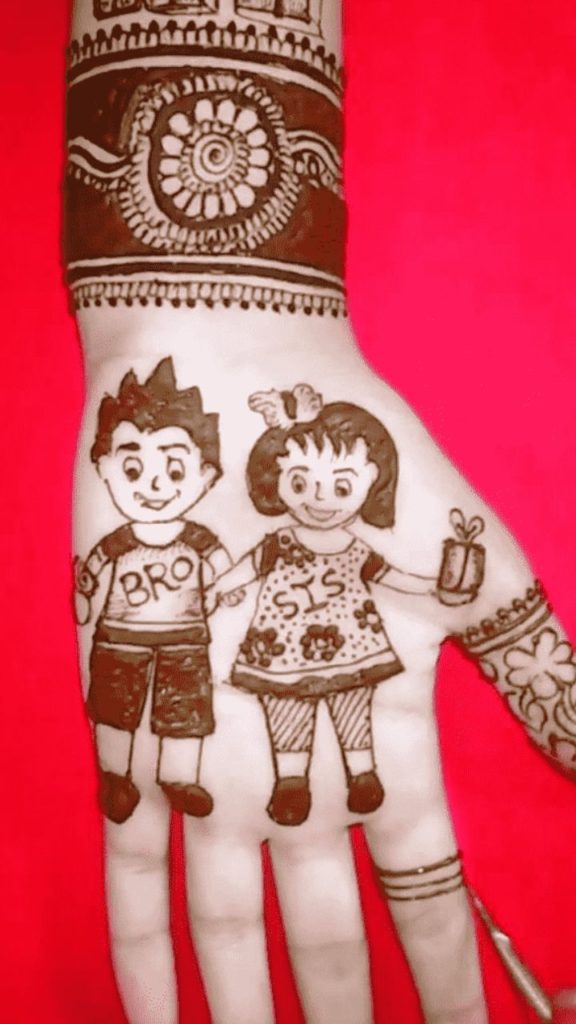 image credit bollywoodshaadis.com
Celebrate the beautiful bond of brother and sister with a unique and captivating Raaki design in mehndi. This design combines intricate patterns and elements that symbolize the love and affection between siblings. The design features delicate floral motifs, intertwining vines, and artistic detailing, creating a mesmerizing masterpiece on the hands. The brother and sister image in the design further adds a personal touch, representing the deep connection and lifelong support they share.
16. Full Hand Jaali Design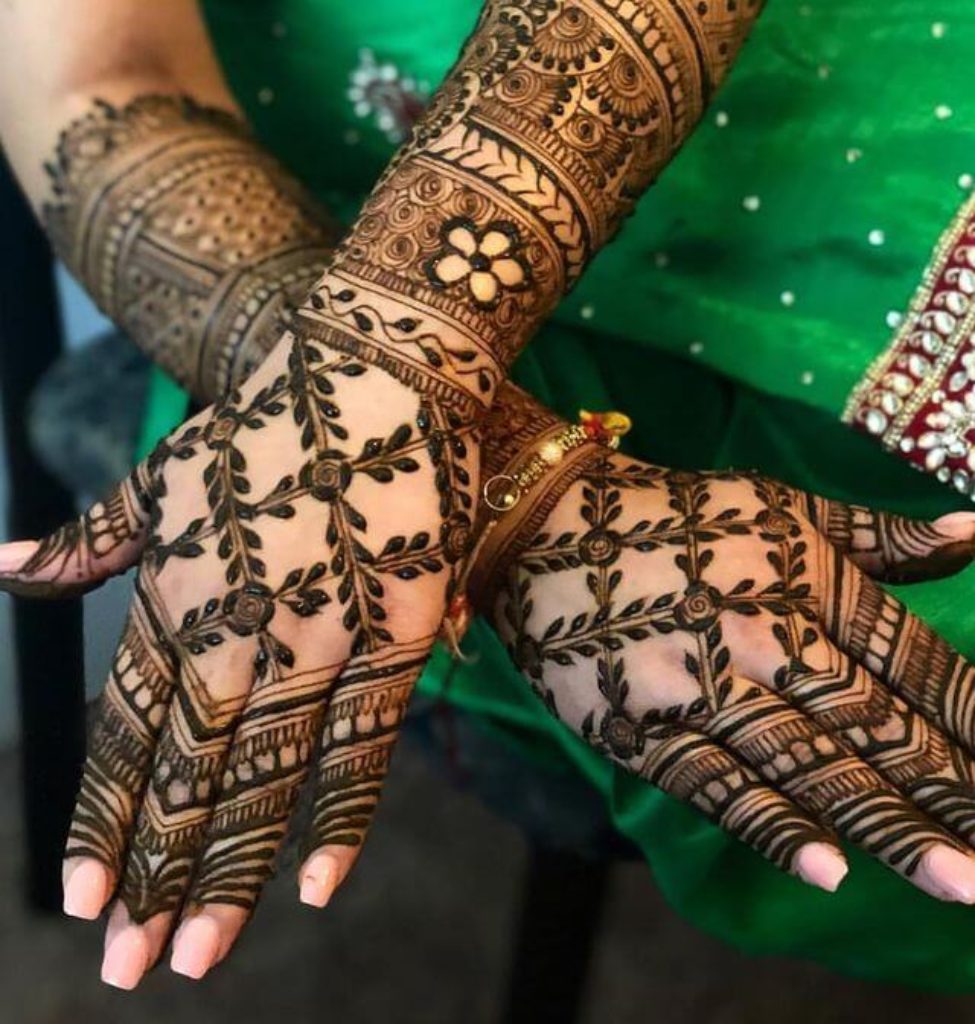 image credit shaadiwish.com
This is a traditional full hand mehndi design that features an intricate lattice pattern, or jaali. The intricate web of lines interconnects to create a detailed and beautiful design that covers the entire hand. The various lines are intended to be filled with henna dye in order to create a vibrant, colorful, and unique look. This is a very popular design amongst brides and occasions such as festivals.
17. Wrist Bands with Peacock Design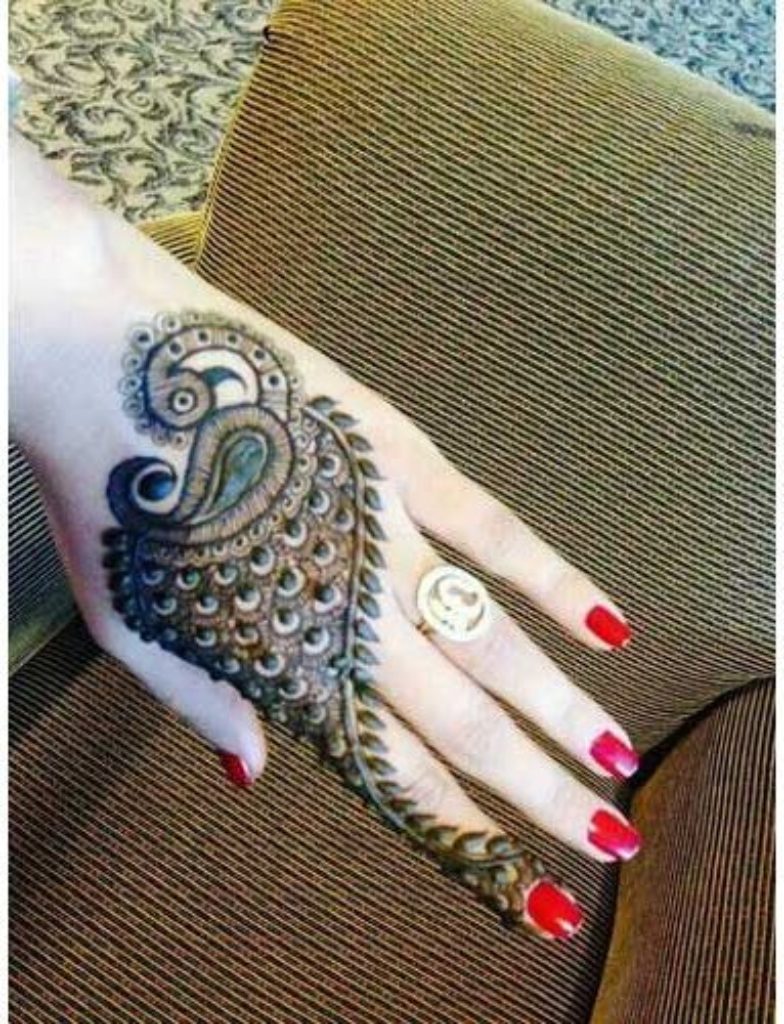 image credit pinterest.com
A traditional mehndi design featuring a pattern of wrist bands filled with intricate peacock motifs. The peacock motifs are carefully drawn on top of the wrist bands, with each motif featuring a detailed head, feathers, and beak, creating an eye-catching design that wraps around the wrist. This is a very popular design for brides, as peacocks are believed to bring good fortune and luck.
18. Intricate Floral Design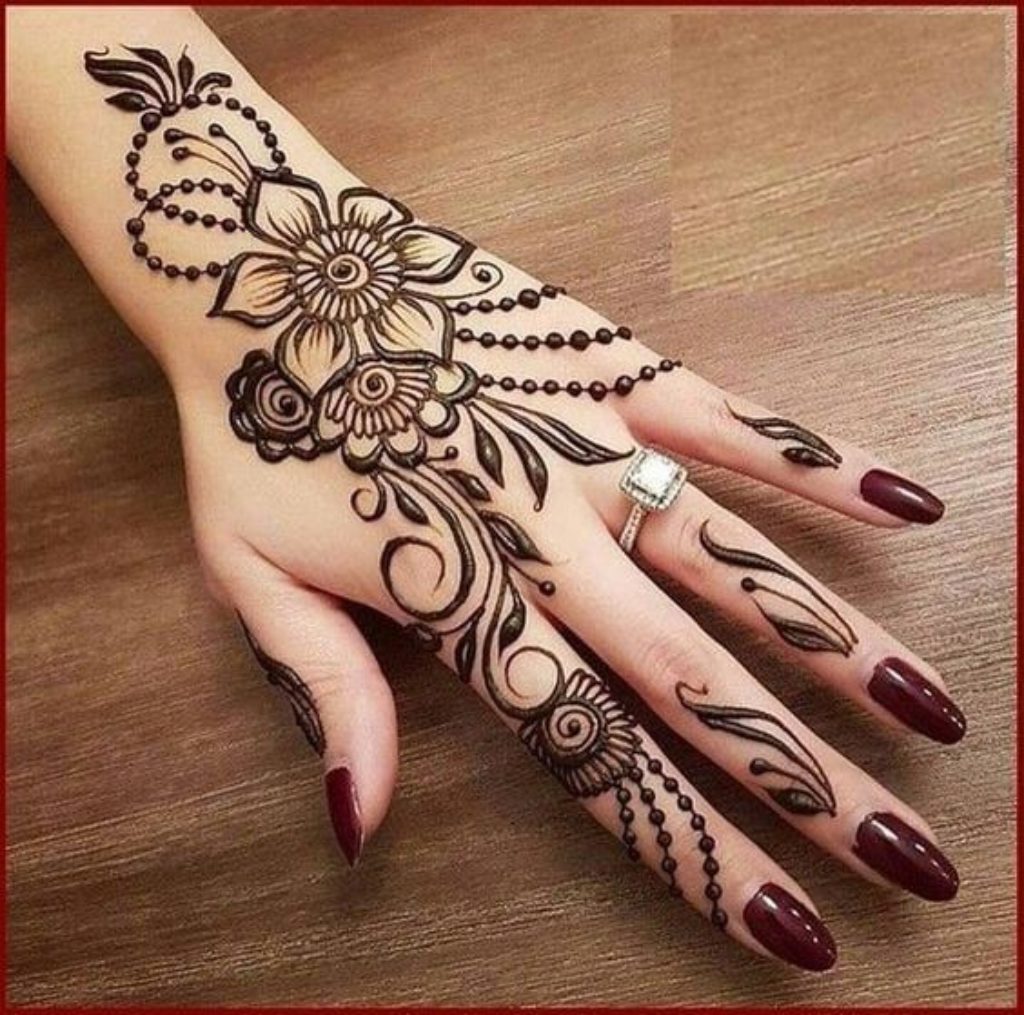 image credit mehndidesign786.com
A vibrant and intricate mehndi design that covers the full hand with intricate and intricate floral patterns. The floral patterns are filled with various shades of henna dye, creating a unique look that looks stunning when worn. The floral patterns are often intricate and detailed, ranging in size and complexity to create a stunning and unique design.
19. Swirled Pattern Mehndi Design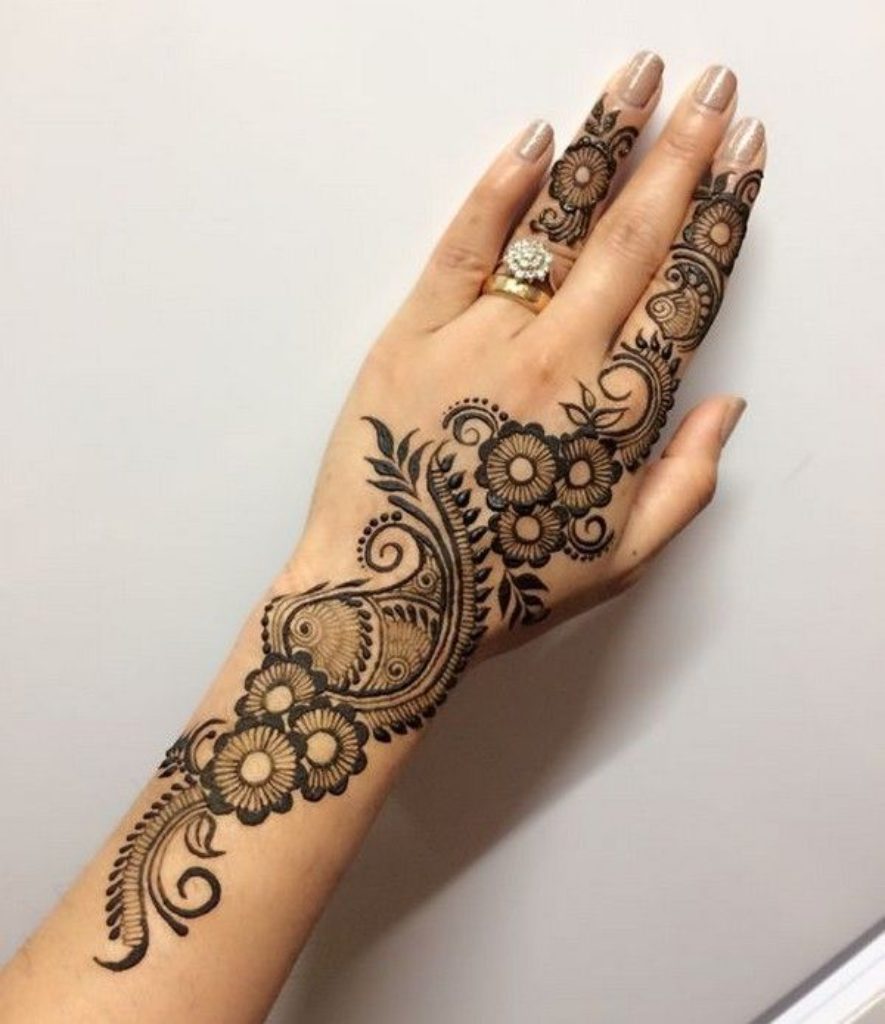 image credit pinterest.com
This mehndi design features intricately drawn swirls and curves that thickly wrap around the hands and feet. The design features mainly dark lines and shapes, with faint lines and shapes that contrast against one another in the background. The pattern begins at the wrists, extending down the arm towards the elbow, and then further down to intertwine with the design on the fingers and toes. Colorful and unique, this pattern is sure to make a bold statement.
20. Arabic Mehndi Design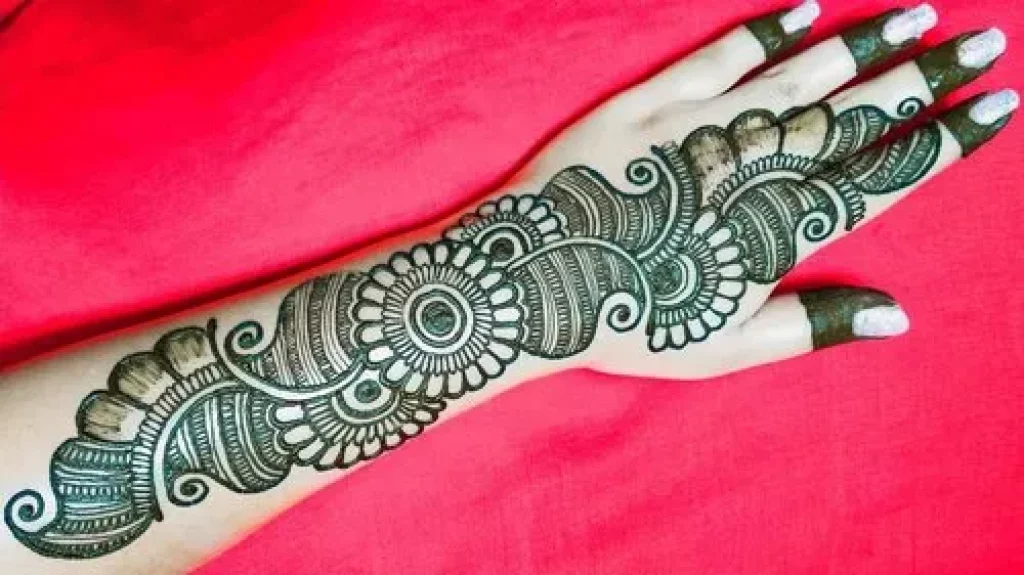 image credit indiamart.com
This mehndi design features bold lines and shapes intertwined with intricate floral and geometric motives. It begins at the wrist and extends up the forearm, with the design gradually increasing from top to bottom. Your eyes will be drawn to a mixture of curves, straight lines, and wavy patterns that flow into each other. Traditional motifs such as hearts and circles are also present to give the design an Arabic aesthetic.
21. Intricate Geometric Design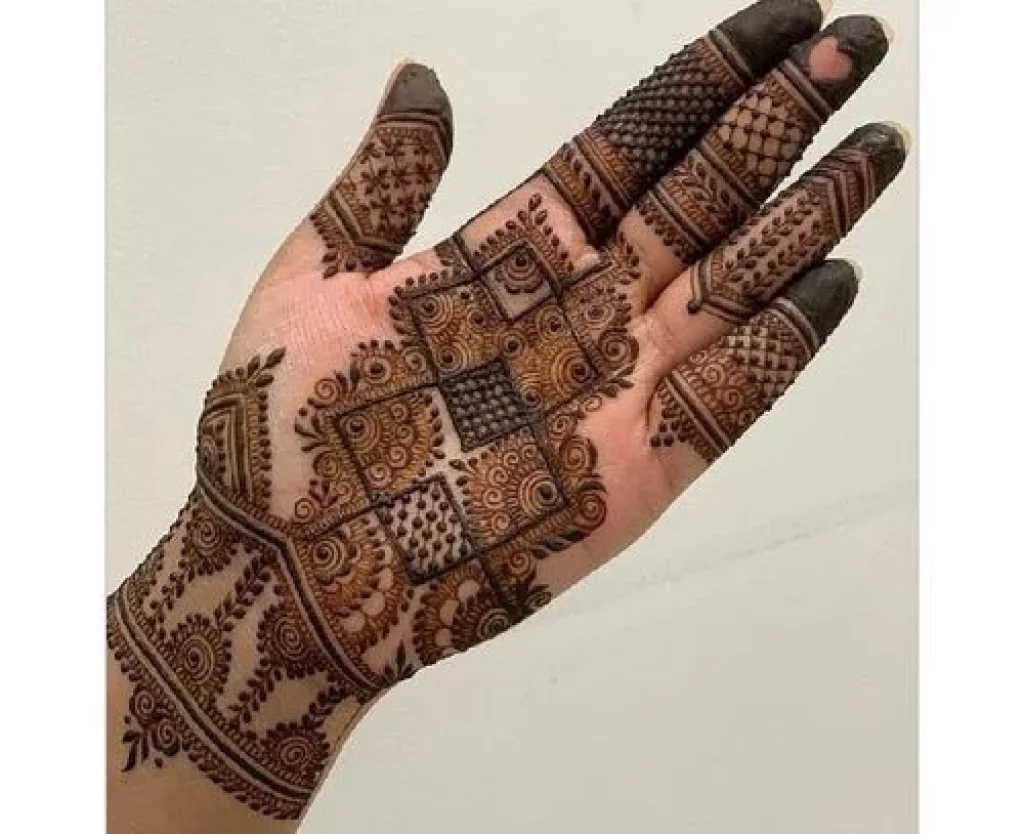 image credit fabbon.com
This mehndi design features a variety of subtle geometric shapes that are interconnected in an intricate way. You can find hexagons, triangles, and diamonds that are woven together in a zig-zag formation, while bold lines act as borders to separate the shapes. There are also a few curves added to the design to give it a unique and stylish touch.
22. Diagonal and Round Motifs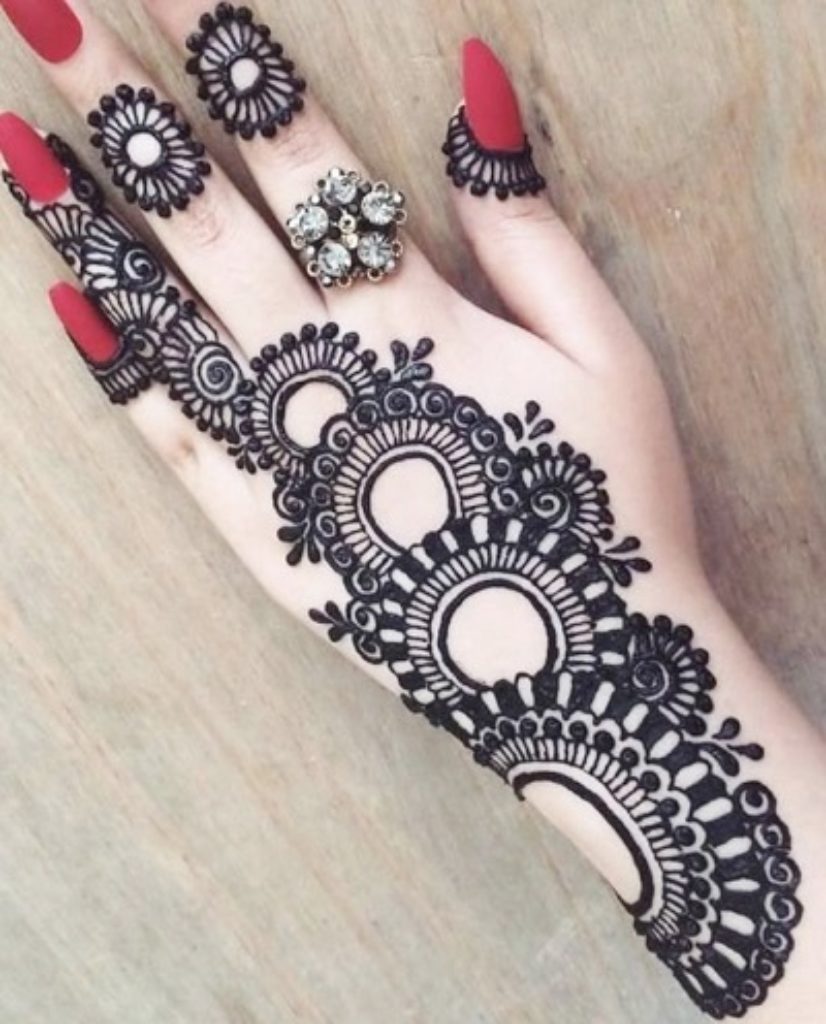 image credit tipsandbeauty.com
This mehndi design features a combination of different size and shapes. You can find bold and thick lines in a diagonal formation that encase and contain elegant round shapes for a nice contrast. The design features mainly black lines with subtle hints of other colors to give it an eye-catching look.
23. Detailed Three Finger Floral Design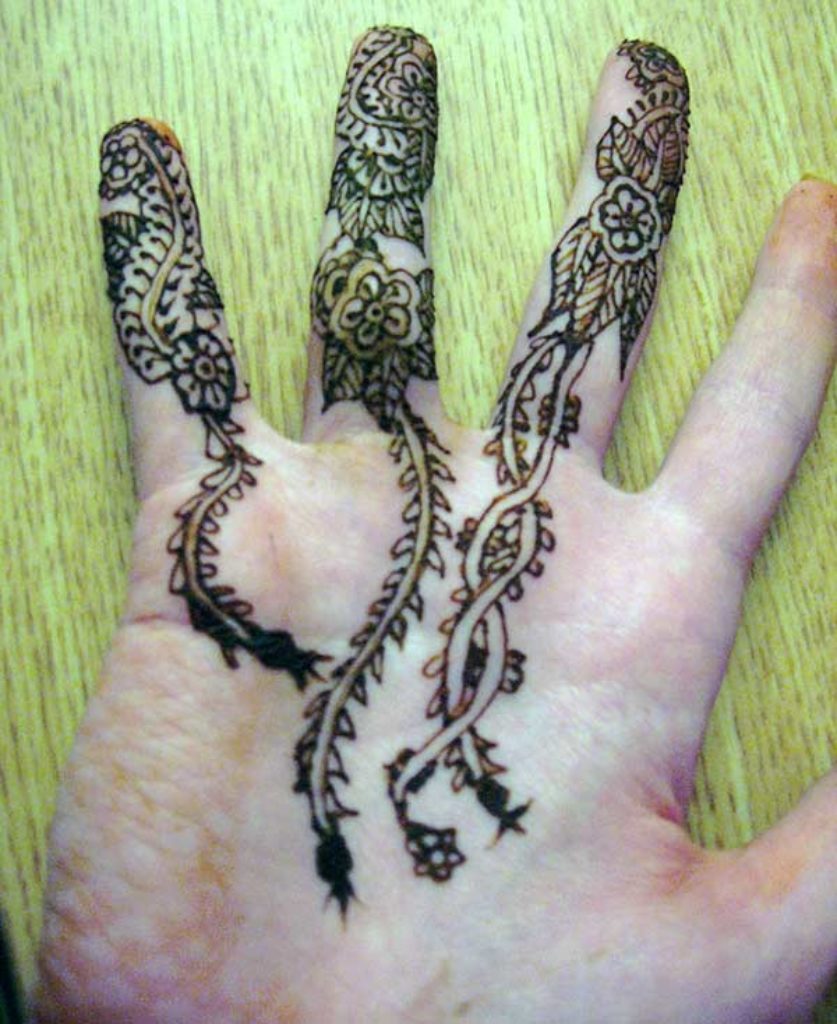 image credit mehndi-design.in
This detailed mehndi design features intertwining flowers that cover the three middle fingers of both hands. The flowers look as if they were being blown away by the wind, as the leaves and petals are lightly spread out and move in a circular direction. The intricate pattern features creative floral motives, perfect for anyone looking for something feminine.
24. Leafy Zari Pattern
image credit pinterest.com
This mehndi design is perfect for those seeking a more contemporary look. It features bold and thick lines that act as the walls of a triangle that is encased by a thin line. In the centre, you can find an intricate pattern of arcs and leaves, giving the design an aesthetically pleasing and modern look.
25. Childhood Movements Mehndi Design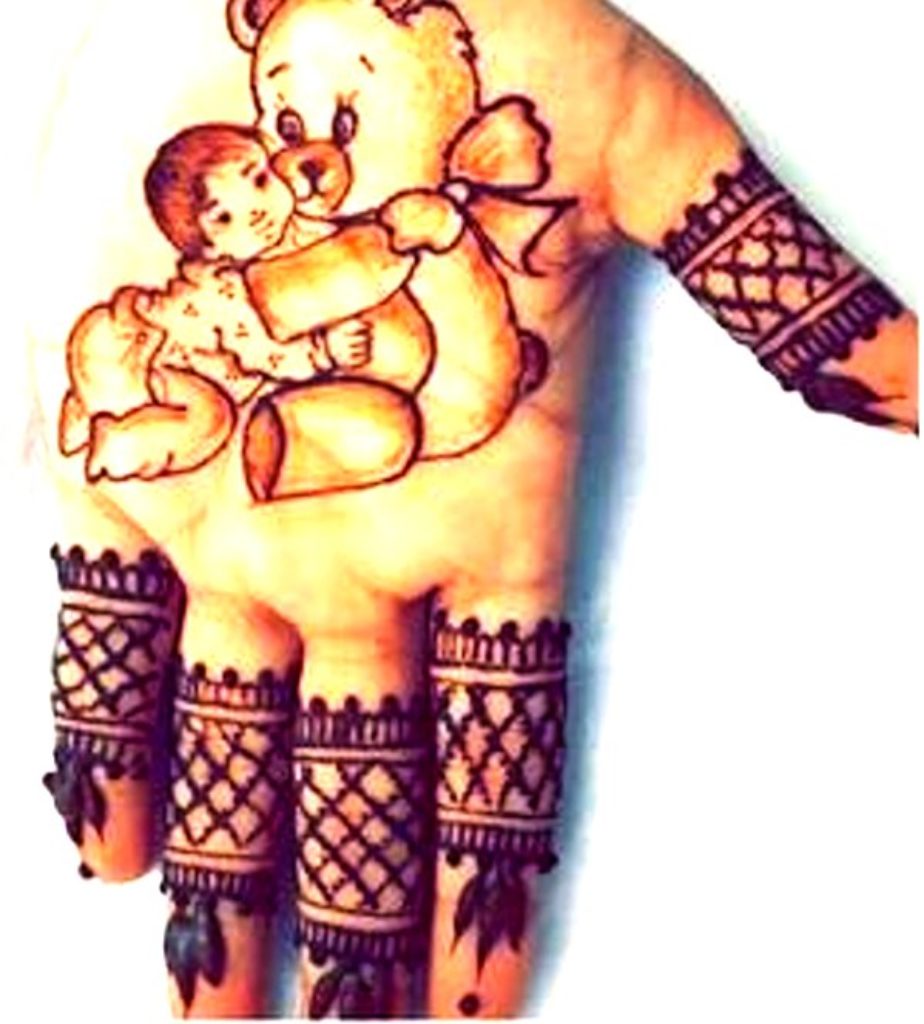 image credit shaadidukaan.com
Do you want to add a one-of-a-kind and personal touch to your Mehndi? This is ideal for you! A adorable miny cartoon rendition of you and your sibling imprinted on your hands will undoubtedly make you grin. It is such a unique method to relive previous experiences with your Mehndi! This very charming and lovely Mehndi is a terrific way to branch out and slay your festival!!
26. Bhai Written Mehndi Design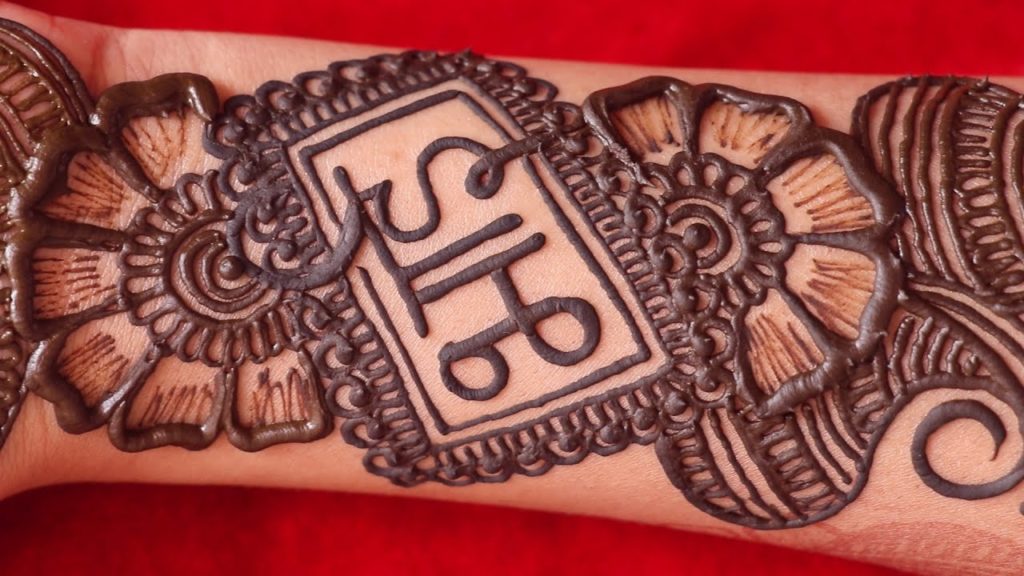 image credit youtube.com
This mehndi design features bhai written in flowing Hindi script, intricately and elegantly styled with fine detail. The script is used as a backdrop to the central motif, which may be of any shape or design, depending on the preference of the wearer. The henna is applied in a thin line on the back of the hand to give the writing an added flourish. The design is perfect for weddings, festivals, and special occasions when a tribute to a loved one is desired.
27. Star Shaped Mehndi Design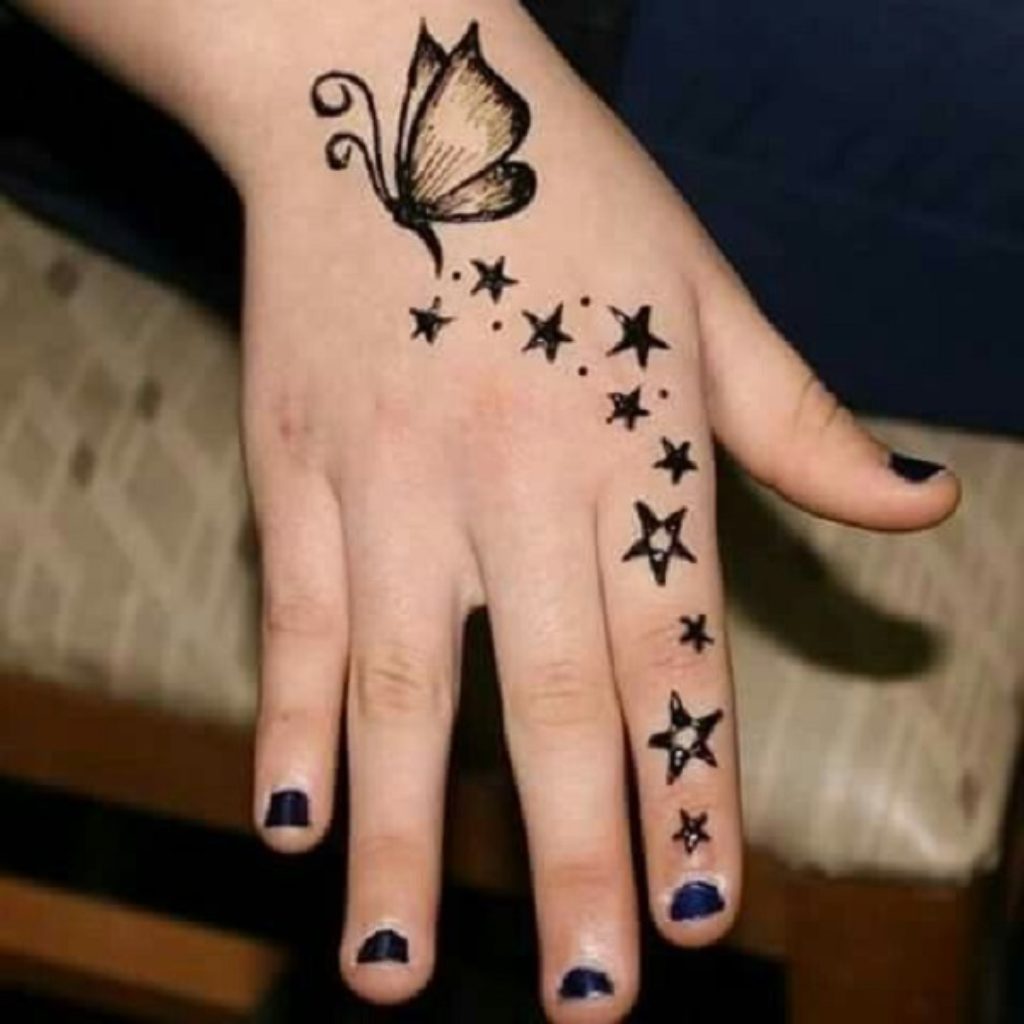 image credit shaadidukaan.com
This beautiful mehndi design features a star-shaped motif with a central dot and radiating petals branching outward in a symmetrical pattern. Perfect for any celebration, this intricate design is applied in a curved line on the hand for a dramatic and colourful look. It can be accompanied with complimentary elements for a more ornate appearance or kept as is for its simplistic beauty.
28. Bracelets Mehndi Design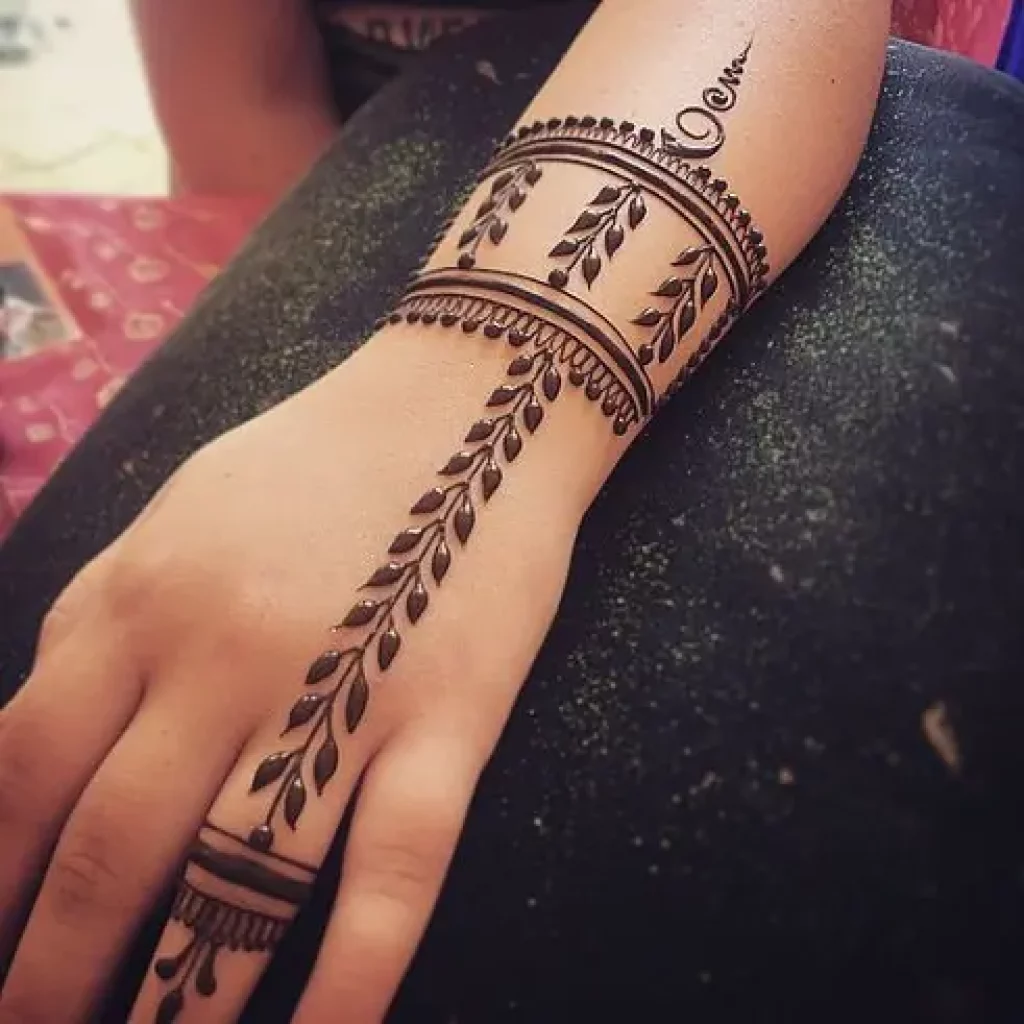 image credit stylesatlife.com
This intricate mehndi design features a bracelet-like pattern wrapping around the arm, with a central part encircling the wrist. Perfect for special occasions, the design is applied in a circular shape at the wrist, and then woven around the arm in a delicate intertwining pattern. Geometric shapes, flowers, and leaves are often added to it for an additional flair, making the design look fuller and more sophisticated.
29. Interlocking Diamond Design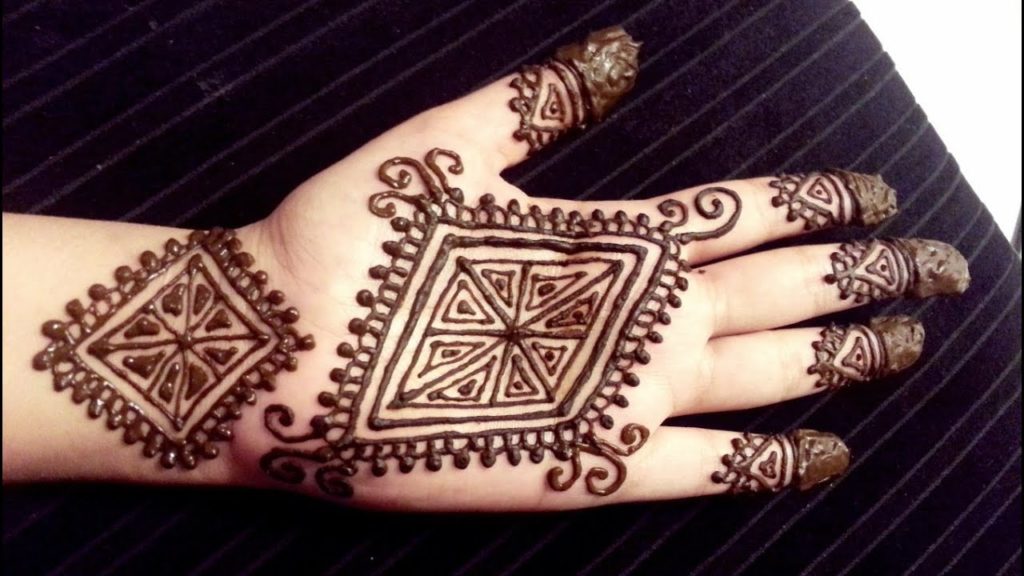 image credit pinterest.com
Featuring intricate interlocking diamonds, this beautiful mehndi design is perfect for special occasions. The diamonds are carefully applied in an overlapping pattern for a dramatic and eye-catching effect, often starting at the wrist and working their way up the arm. The design can be kept subtle or be filled with colourful dabs of mehndi to make the diamonds stand out even further for a one-of-a-kind masterpiece.
30. Fancy Rose Design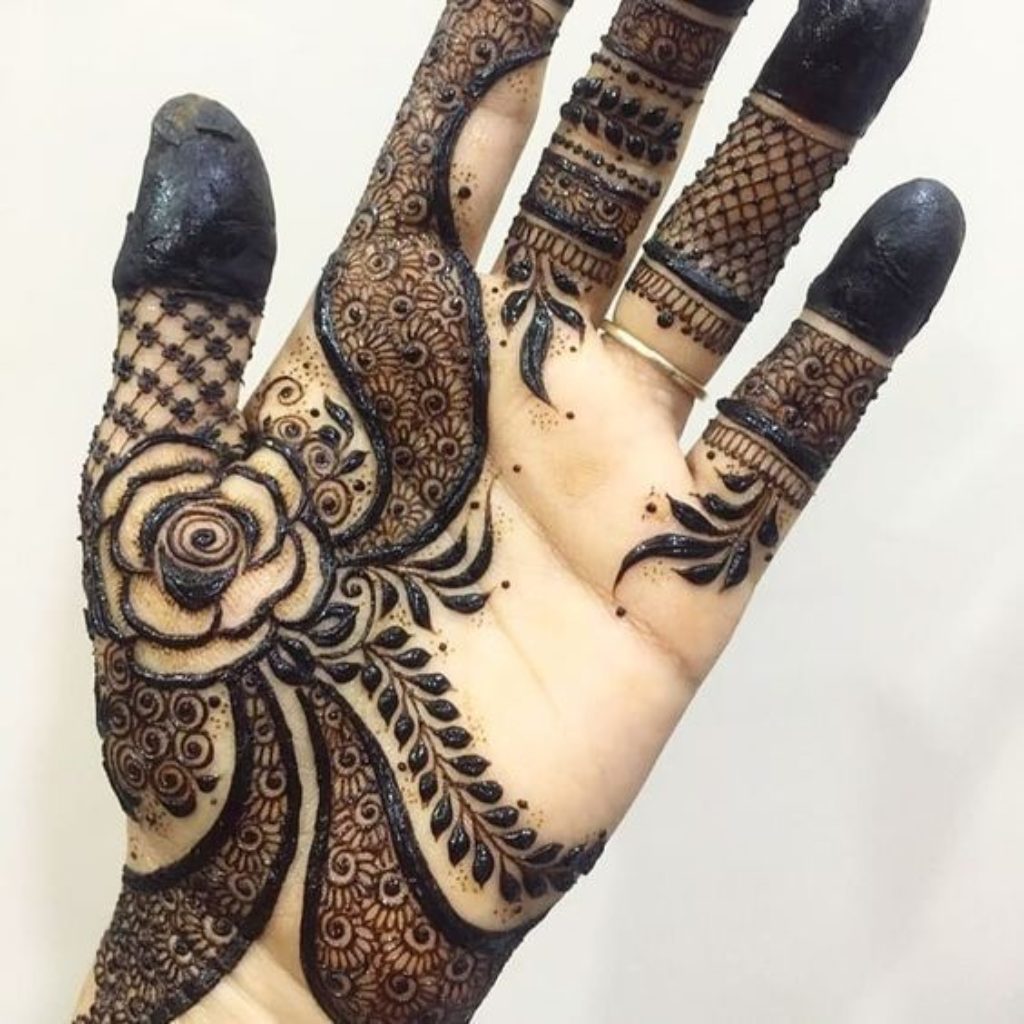 image credit pinterest.com
This stunning mehndi design features a rose in the centre, surrounded by a series of interlocking swirls and intricate laced patterns. Perfect for weddings or special occasions, the design is carefully applied in a web-like pattern to emphasise the beauty of the rose. Coloured mehndi can be used to bring out the shapes and curves of the design even further, creating a dramatic, yet elegant look.
31. Intricate Side Patterns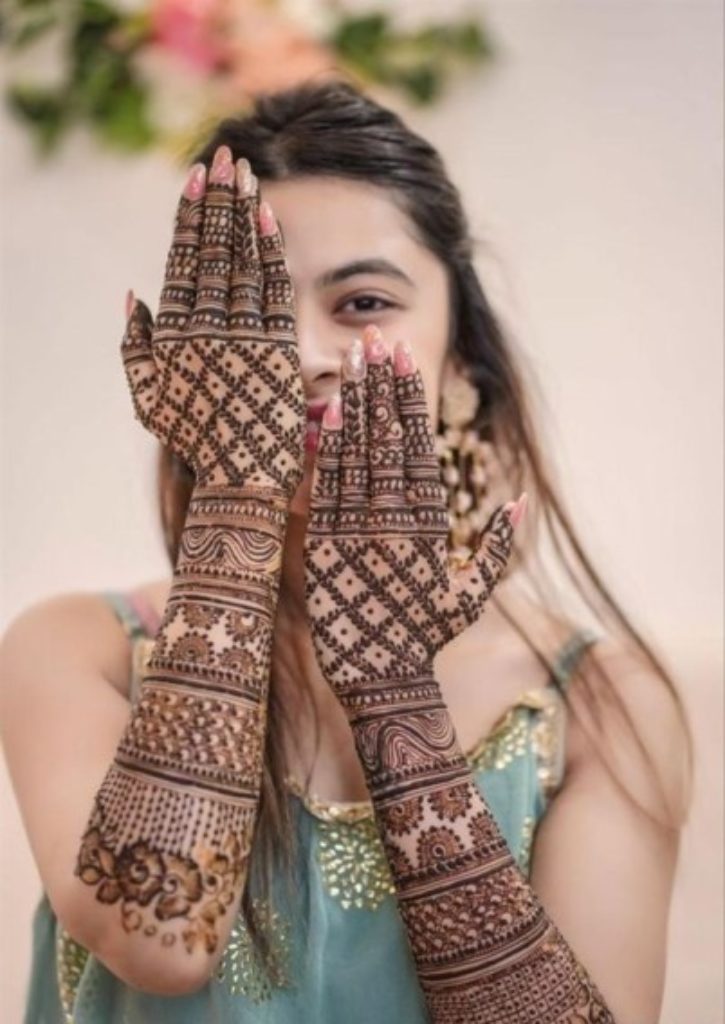 image credit inviteindia.com
This unique mehndi design features a bold metalled pattern extending from the back of the hand, encircled with delicate intertwined lines. Perfect for special occasions, the design is applied in a symmetrical pattern with each side mirroring the other. A central motif can be included as an eye-catching asymmetrical focal point, along with other subtle details such as beads, and stars to create a captivating look.
32. Ganesha Mehndi Design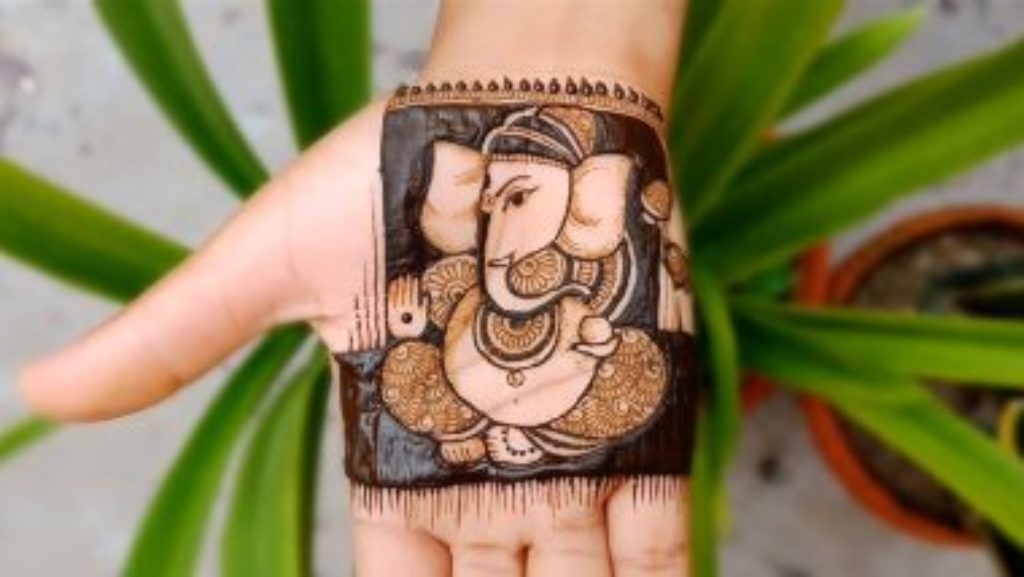 image credit hindi.latestly.com
This beautiful mehndi design features the iconic image of Hindu deity Ganesha, with a lush pattern of paisleys and swirling lines surrounding it. Perfect for religious celebrations, the motif is usually placed on the back of the hand to maximise its visibility. For a more ornate design, small details such as beads, flowers and dots can be added, creating a dramatic effect that captures the eye.
33. Dark and Light Interlocking Patterns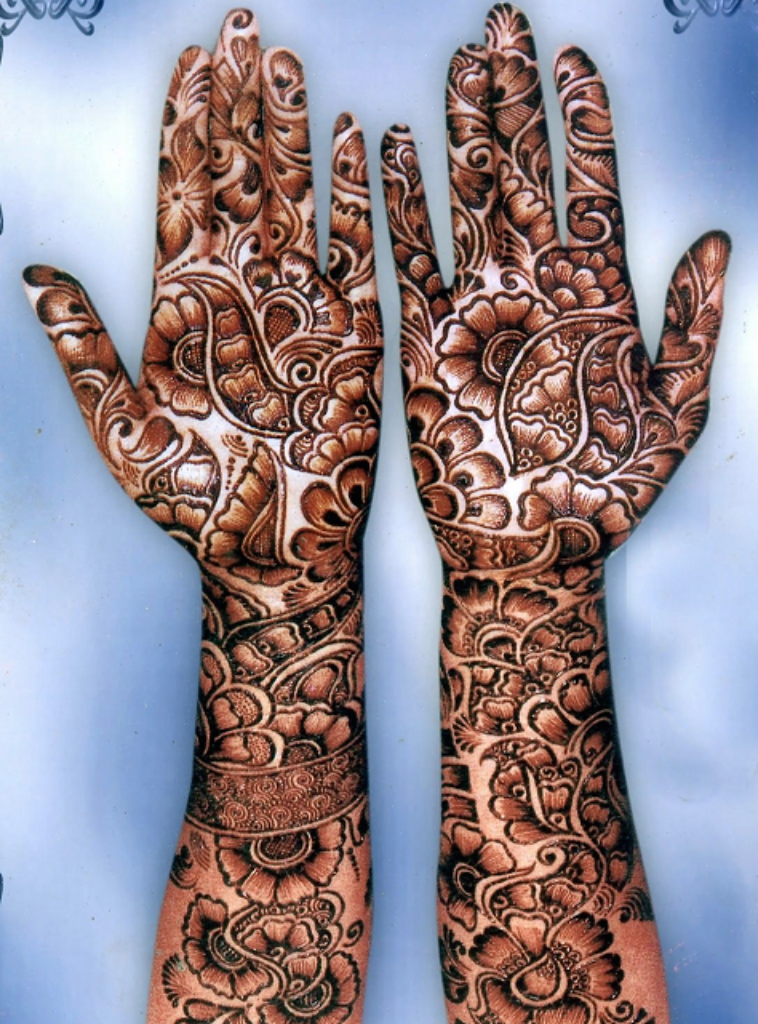 image credit freekaamaal.com
This captivating mehndi design features a series of dark and light interlocking patterns, extending prominently from the central part of the hand to the wrist. Perfect for special occasions, the design is applied in a criss-cross fashion, alternating from light to dark to add texture and depth to the design. Depending on the wearer's preference, delicate additions such as beads, flowers and stars can be included to accentuate the overall look.
34. Jhumka Mehndi Design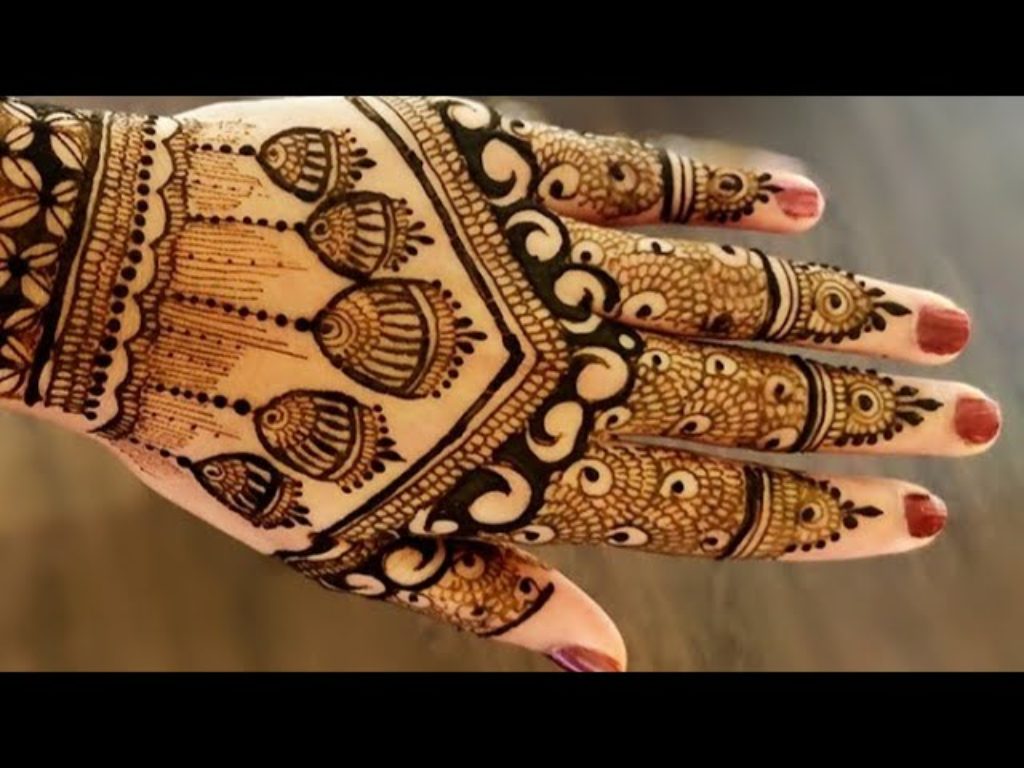 image credit youtube.com
The Jhumka Mehndi design is a stunning and intricate pattern inspired by the traditional Indian earring, known as Jhumka. This design features a combination of delicate curves, fine lines, and elegant motifs, resembling the exquisite beauty of Jhumkas. The focal point of the design is a mesmerizing Jhumka-shaped motif adorned with intricate detailing and embellishments, symbolizing femininity, and grace.
35. Traditional Henna Design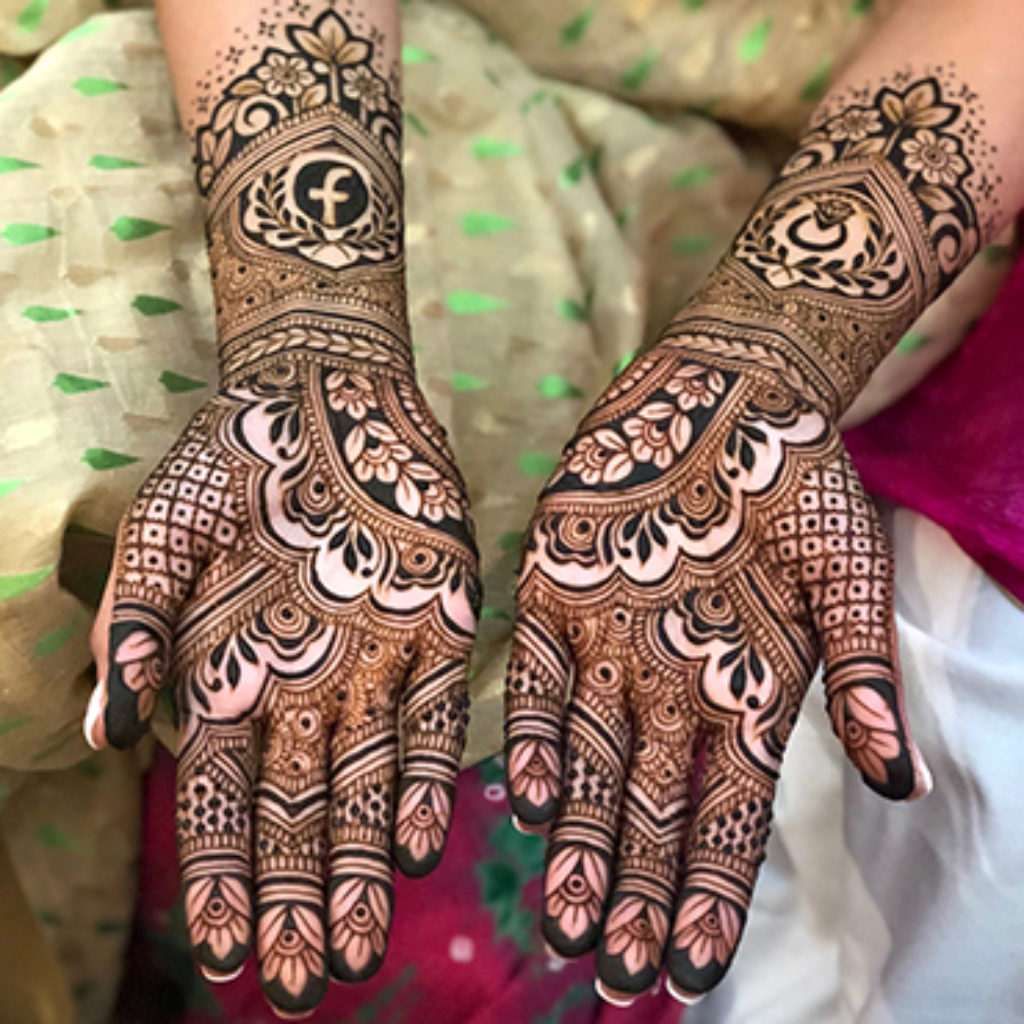 image credit hennabydivya.com
Traditional mehndi designs feature bold, intricate curves and patterns drawn in black henna. The patterns generally focus around the hands and feet, and the artful curls, swirls, and dots sprawl around and within the hands and feet. Typically, the designs begin at the wrist and the ankle and extend towards the fingers or toes. The traditional pattern commonly includes flowers, like lotuses, and leaves framed within separated sections distinguished by dots and lines.
34. Unique Vines and Criss-Cross Patterns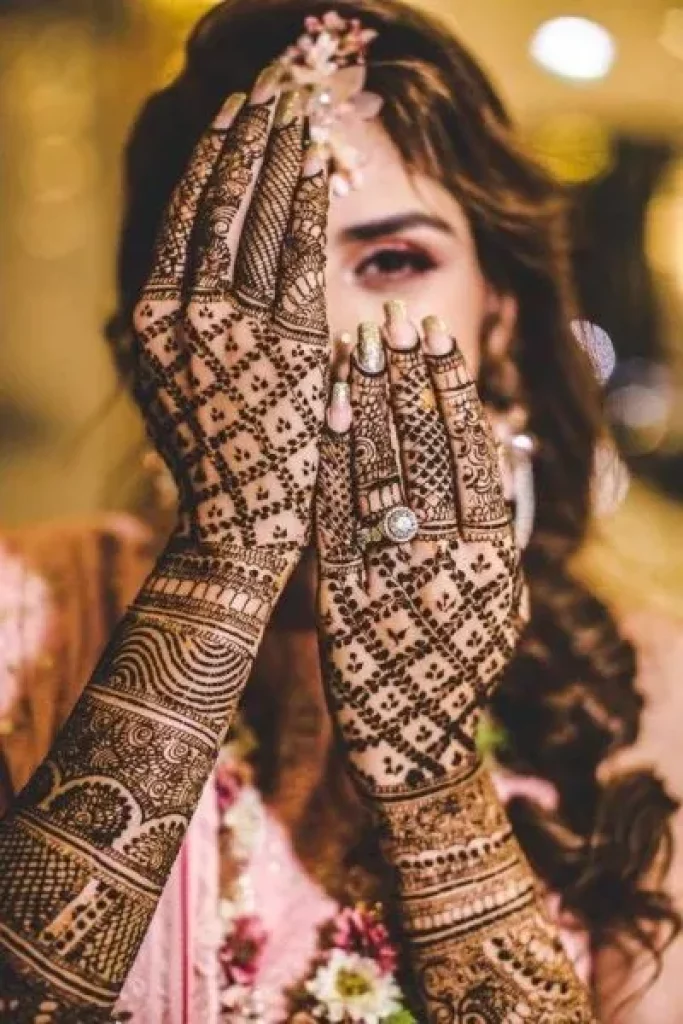 image credit fabweddings.in
Unique mehndi designs draw attention by combining patterns of vines and criss-crosses. The look pairs feminine sensuality with bold complexity, framing the hand and foot with a riot of natural patterns. The vines may draw inspiration from nature, with leaves, vines, and branches careening around the hand in an unfettered design. The criss-crosses often form diamonds, hexagons, and other polygon patterns. The combination of vines and crosses creates a feminine and captivating look.
35.Mirror Image Circles and twirls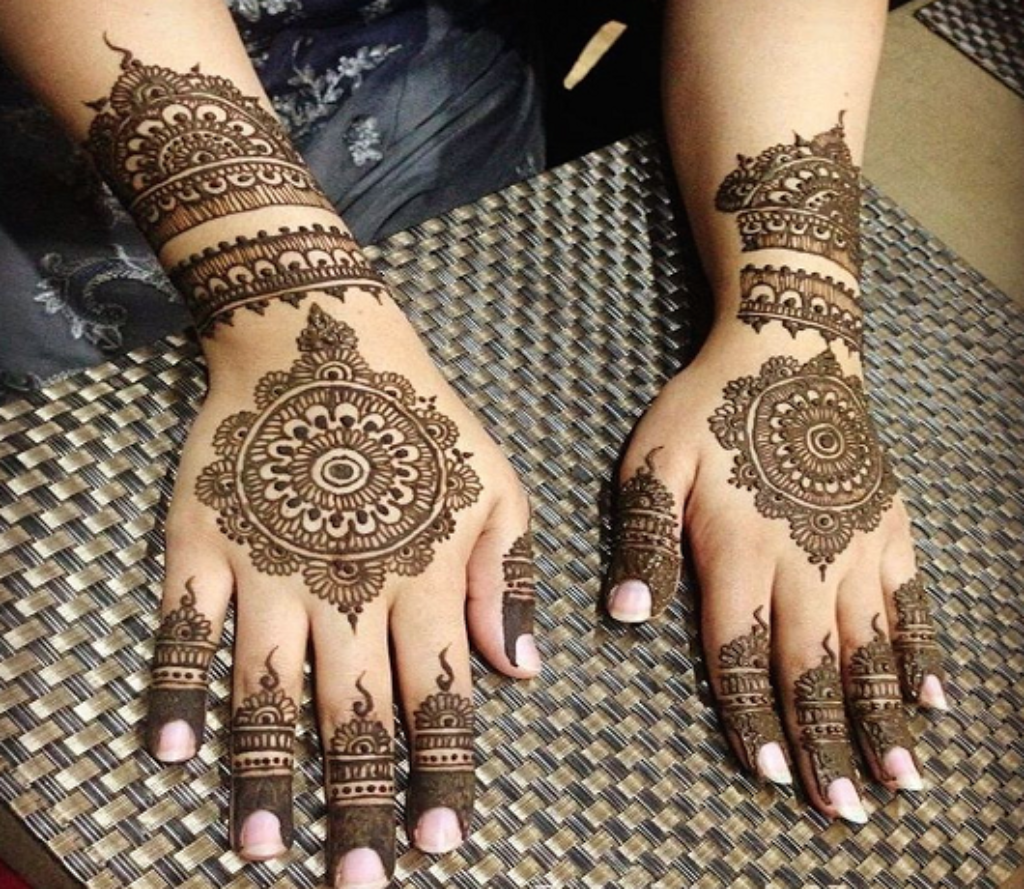 image credit cashkaro.com
An intricate mehndi design featuring mirror image circles and twirls will draw attention to your hands and feet. The design may feature circles of all sizes and shapes, overlaid and repeated until the desired pattern is complete. The circular designs can be mirrored on the opposite hand or foot, with each circles differing subtly in size or shape. A chain of twirls links the mirrored circles to one another and creates visual balance between the hands and feet.
38. Inverted Triangular and Net Design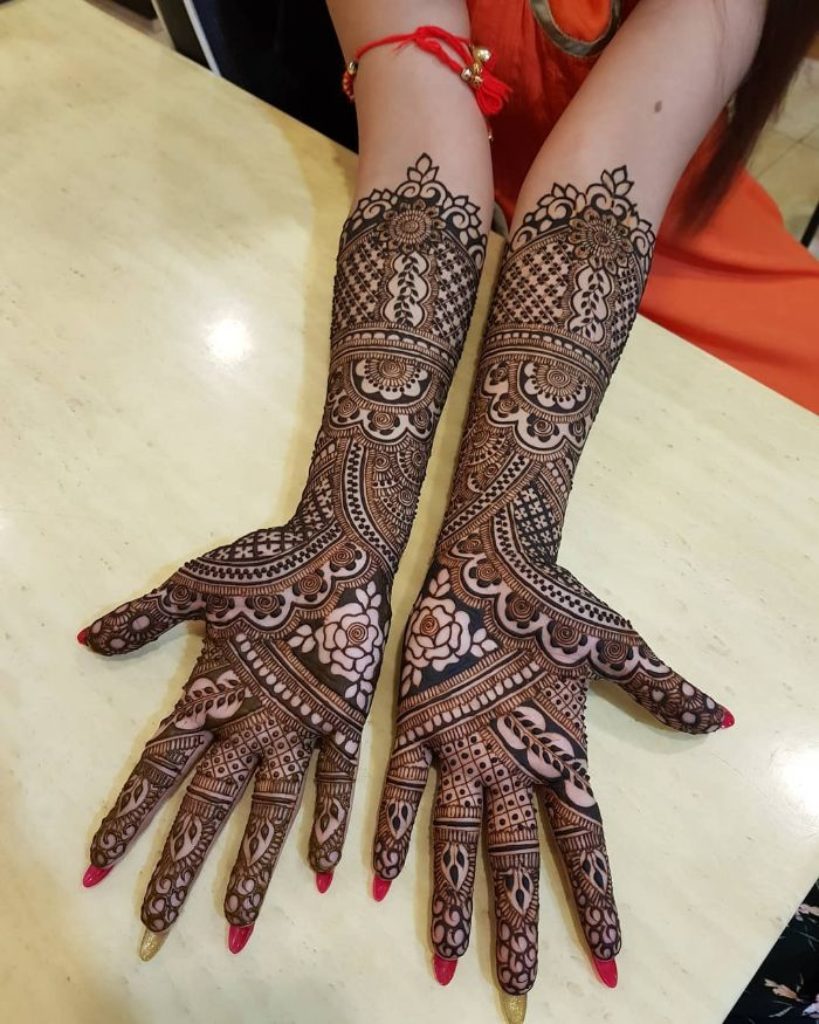 image credit k4fashion.com
An inverted triangular and net mehndi design can create an interweaving pattern that draws the eye towards the hands and feet. The net design usually begins from the wrist and the ankle and extends towards the fingers or toes, forming a complex pattern of connecting lines and diamonds. Frames or borders of dots or points may section off sections of the design. Small inverted triangles scattered throughout the pattern give the overall design a poetic, open feel.
39. Jardosi Mehndi Design
image credit rajumehndiartist.com
Jardosi Mehndi Design is inspired by the art of jewellery making. This type of design is created with jewellery elements such as beads, pearls, stones, and metal accents in order to create intricate and bold designs for hands and feet. This mehndi style is mostly chosen for special occasions and functions as it captures the attention with its unique and heavily embellished mehndi designs.
40. Minimalistic Mehndi Design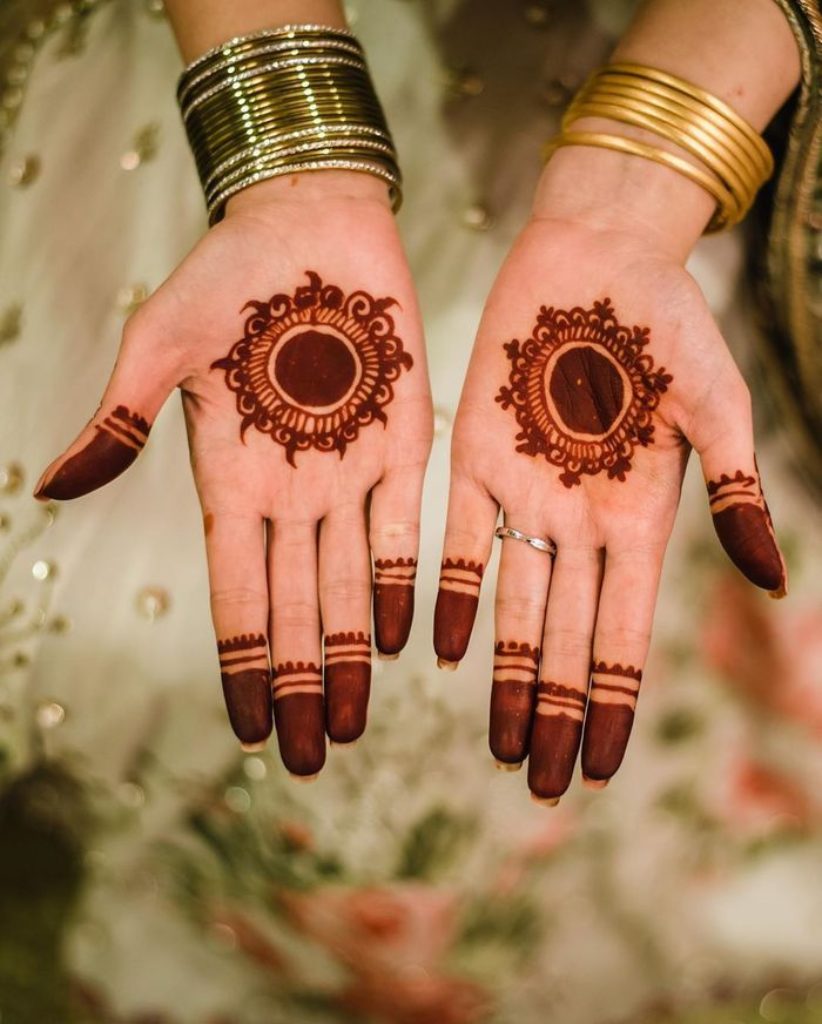 image credit wedmegood.com
Minimalistic mehndi is a new and popular type of design that focuses more on minimalism rather than complexity. This type of mehndi design mainly consists of simpler motifs and patterns such as polka-dots, crescents, turtles, fish, and other simple yet meaningful designs. The use of minimal designs in order to create simple yet beautiful mehndi art is what makes this style of mehndi design popular.
41. Modern Mehndi Design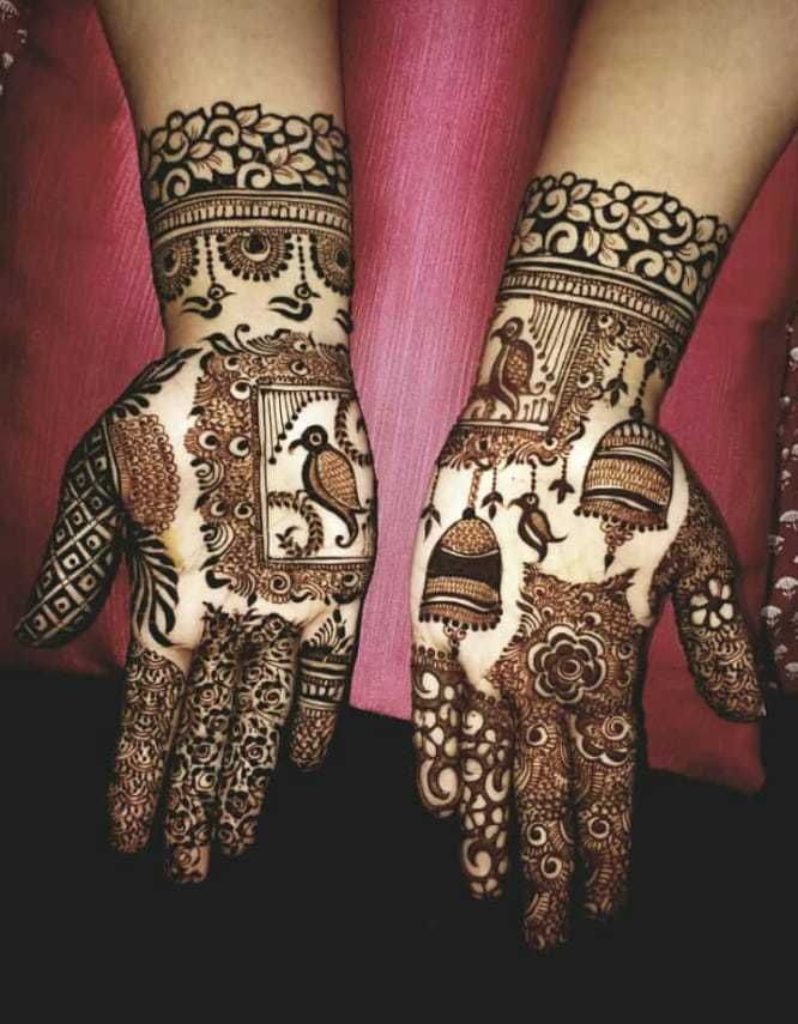 image credit wedmegood.com
Modern Mehndi Design is a contemporary take on the traditional mehndi design. This type of design is a combination of traditional mehndi designs and modern designs. These modern designs may consist of patterns such as hearts, flowers, diamonds, spirals, tribal patterns, and other modern elements. This type of mehndi art is known for its simplicity and intricate detailing which makes it a popular trend amongst youngsters.
42. Glitter Mehndi Design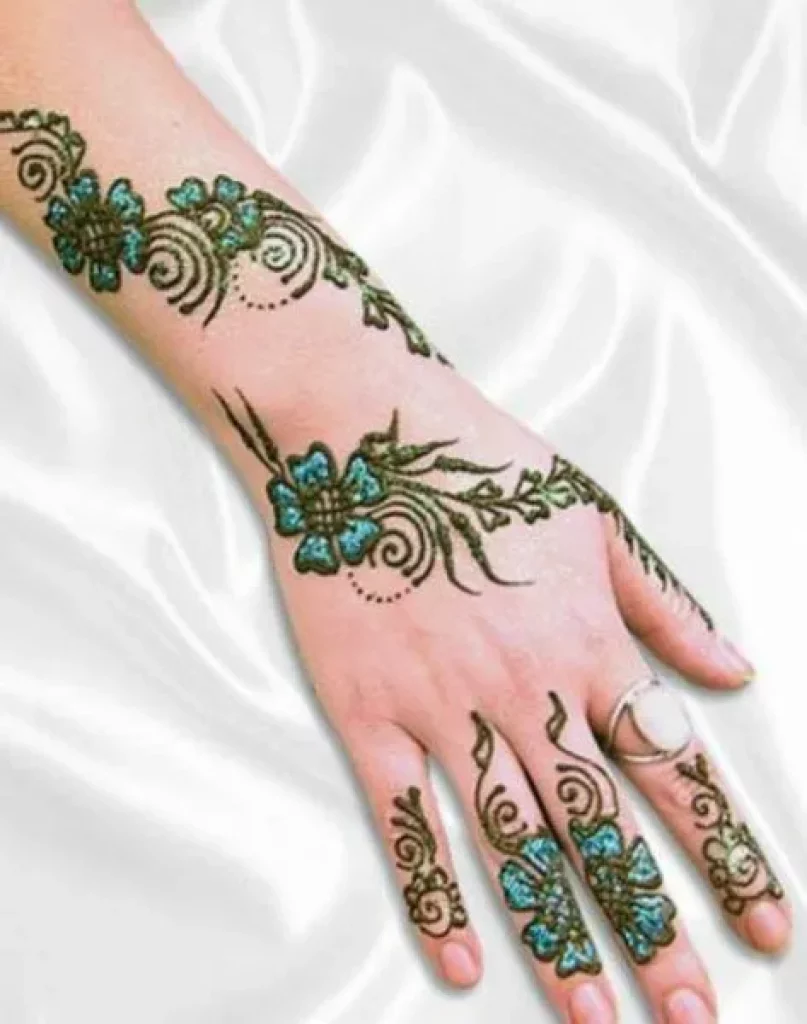 image credit stylesatlife.com
Glitter Mehndi Design is one of the more recent styles of mehndi design that has become the latest trend amongst women. This type of design typically consists of glitter and colourful accents that give the mehndi design a unique and vivid look. The glitter element is added to the mehndi design in order to give it a dramatic effect and to make the mehndi design stand out.
43. Mughal Mehndi Design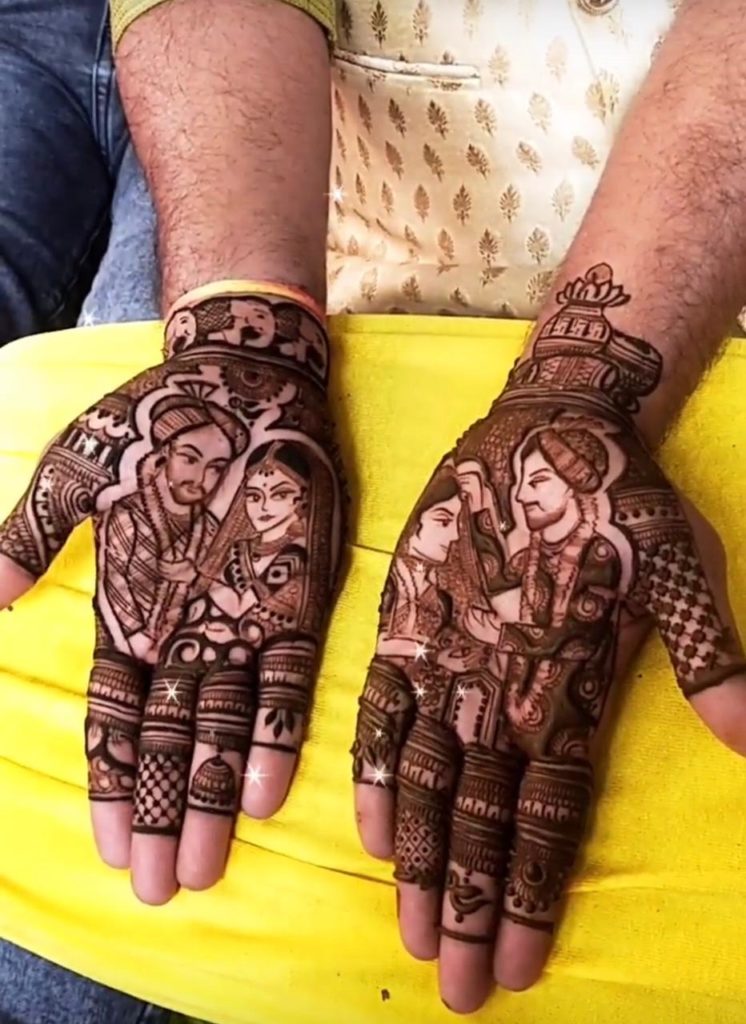 image credit rahulmehandiartist.com
Mughal Mehndi Design is one of the oldest mehndi styles that has been inspired by the Mughal art and culture. This type of mehndi design consists of intricate details such as bold outlines and intricate motifs such as peacocks, flowers, leaves, and others. This type of mehndi design is known for its amazing intricacy and heavily embellished pattern which makes it stand out.
44. Finger Mehndi Design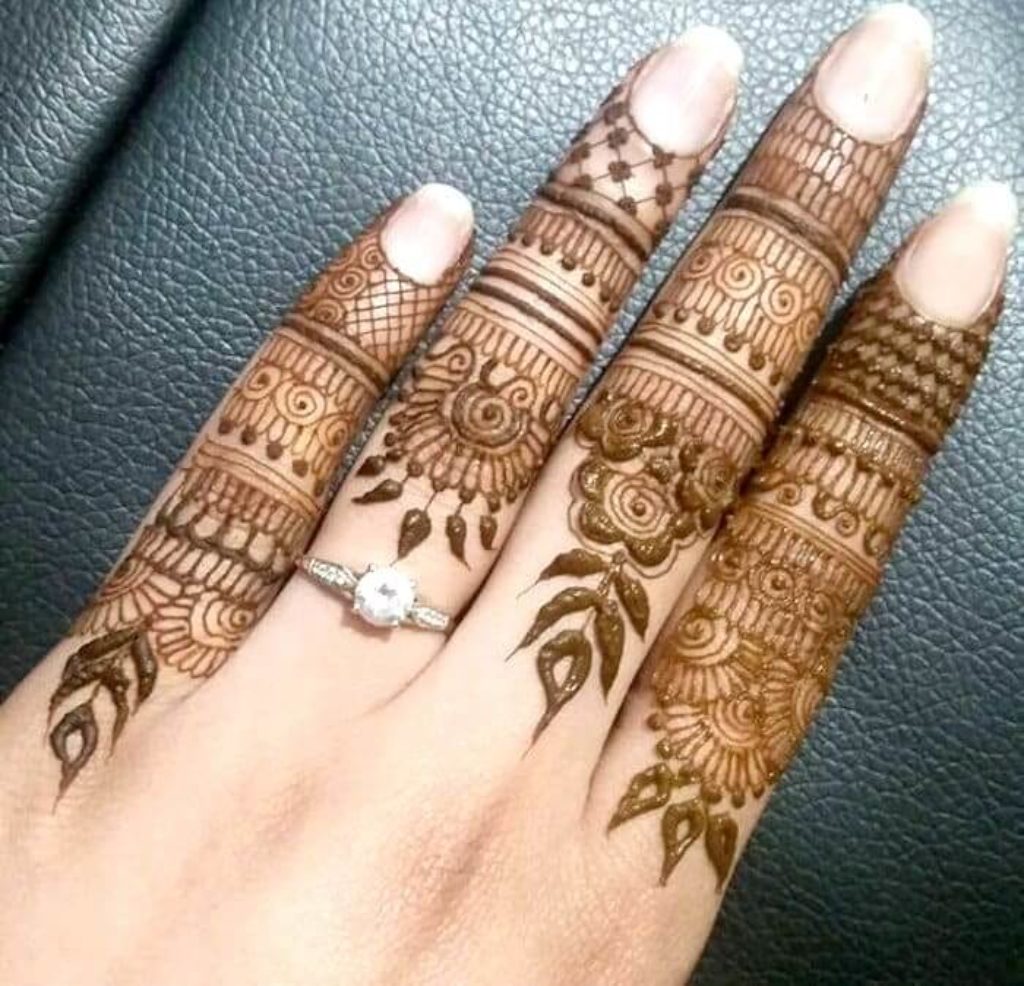 image credit shaadidukaan.com
Finger Mehndi Design is one of the most unique mehndi designs. This style of mehndi art mainly features detailed and intricate motifs on the fingertips. The design itself is usually created using detailed patterns such as swirls, flowers, leaves, and other detailed motifs which are mainly focussed on the fingertips in order to give it an amazing and unique look.
45. Indo Western Mehndi Design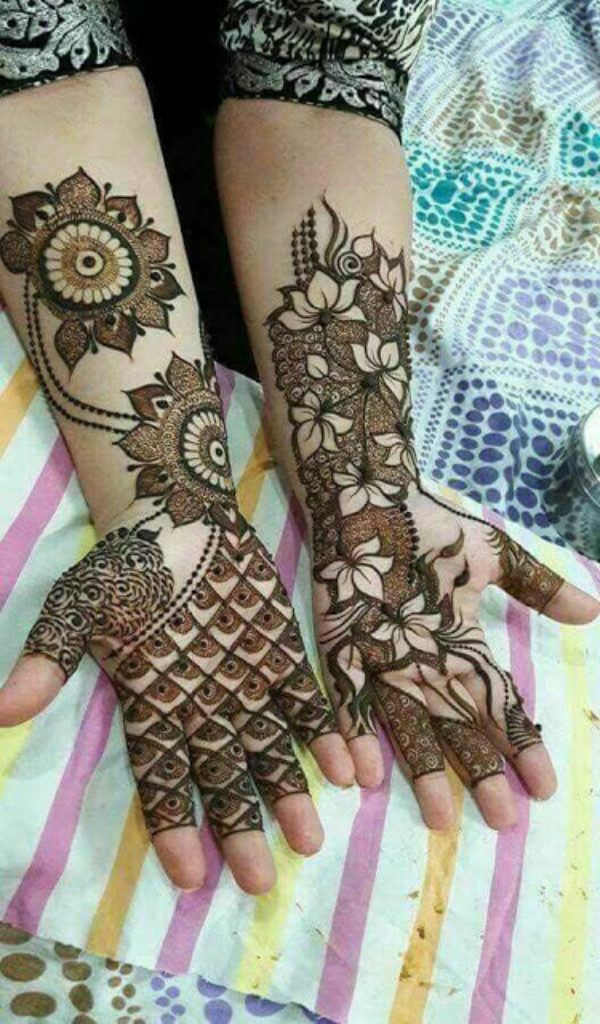 image credit bodyartguru.com
The Indo Western Mehndi design is a fusion of traditional Indian mehndi patterns with contemporary elements, creating a unique and captivating look. This design beautifully blends intricate Indian motifs with modern geometric shapes and lines, resulting in a harmonious combination of cultures.
46. Jewelry mehndi design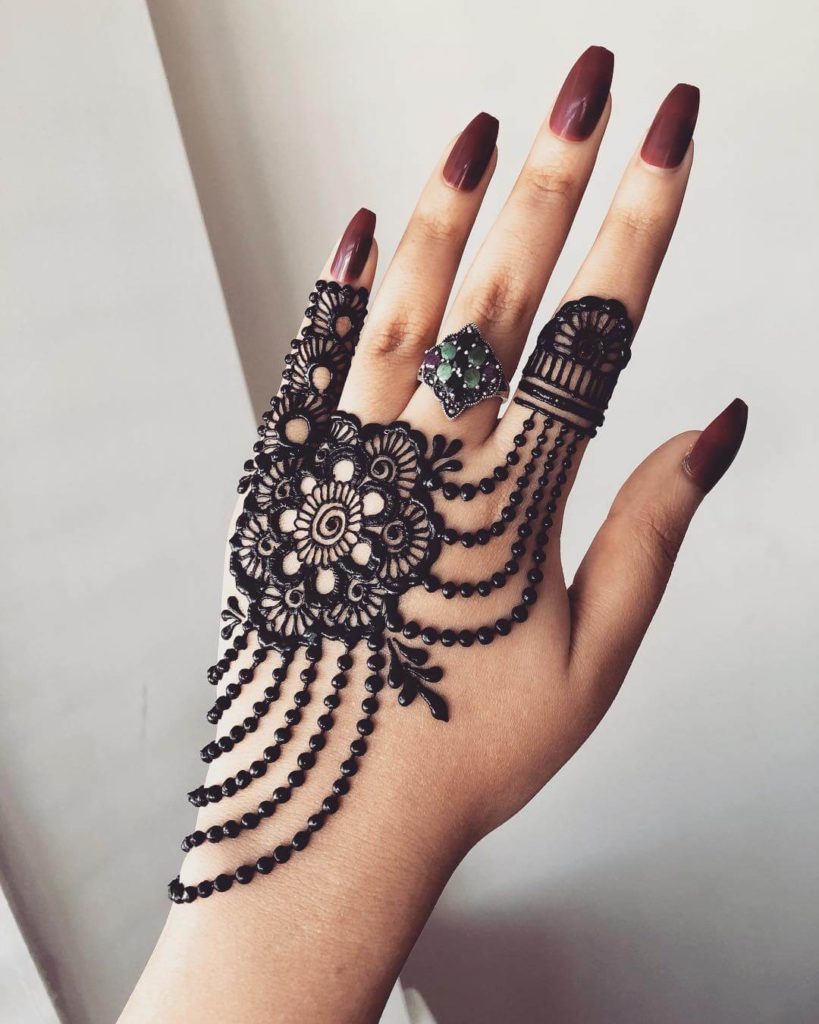 image credit k4fashion.com
Jewelry-inspired mehndi designs are a magnificent way to adorn the hands and mimic the elegance of ornate accessories. These designs incorporate intricate patterns and motifs that resemble various types of jewelry, such as bracelets, bangles, rings, and anklets. The jewelry mehndi design often includes delicate chains, gemstones, pearls, and intricate filigree work to mimic the intricate craftsmanship of real jewelry.
47. Bold Mehndi Design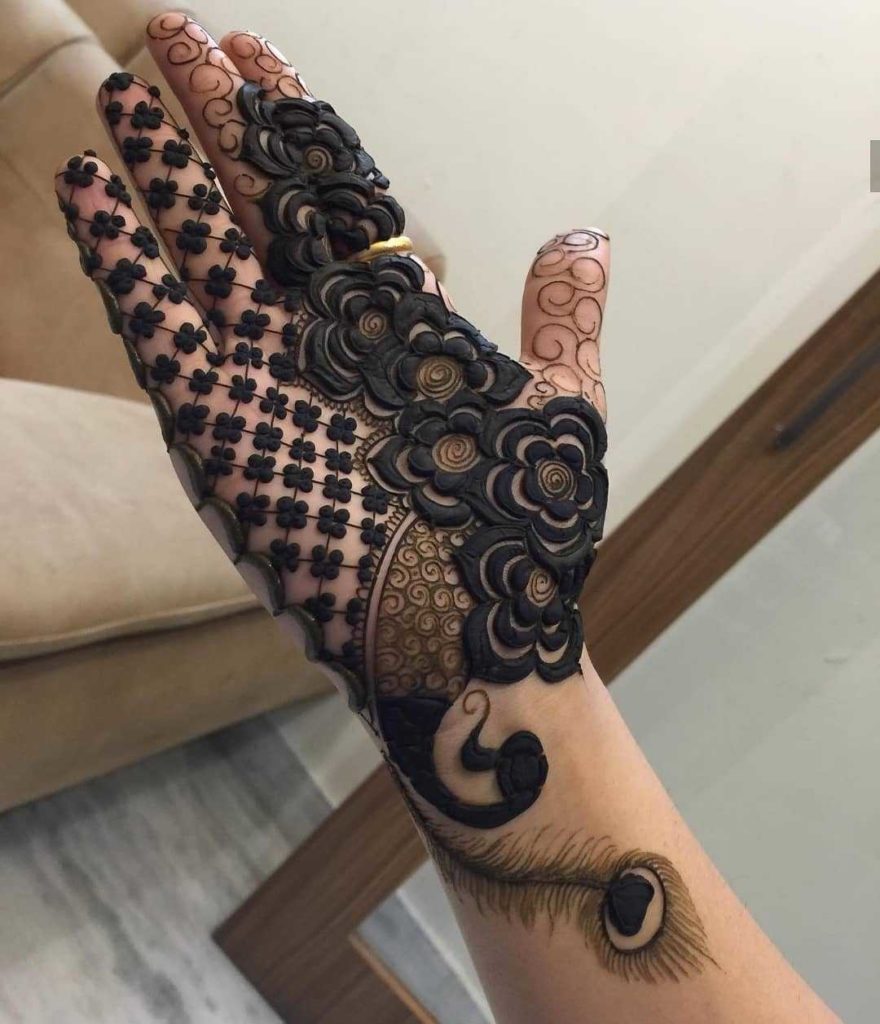 image credit gorgeouslyflawed.com
The Bold Mehndi design is a striking and eye-catching style that emphasizes strong lines, bold patterns, and intricate details. This design deviates from the traditional delicate and intricate motifs, opting for more prominent and assertive elements. The bold patterns often include thick and bold lines, geometric shapes, and larger floral motifs.
48. African Mehndi Design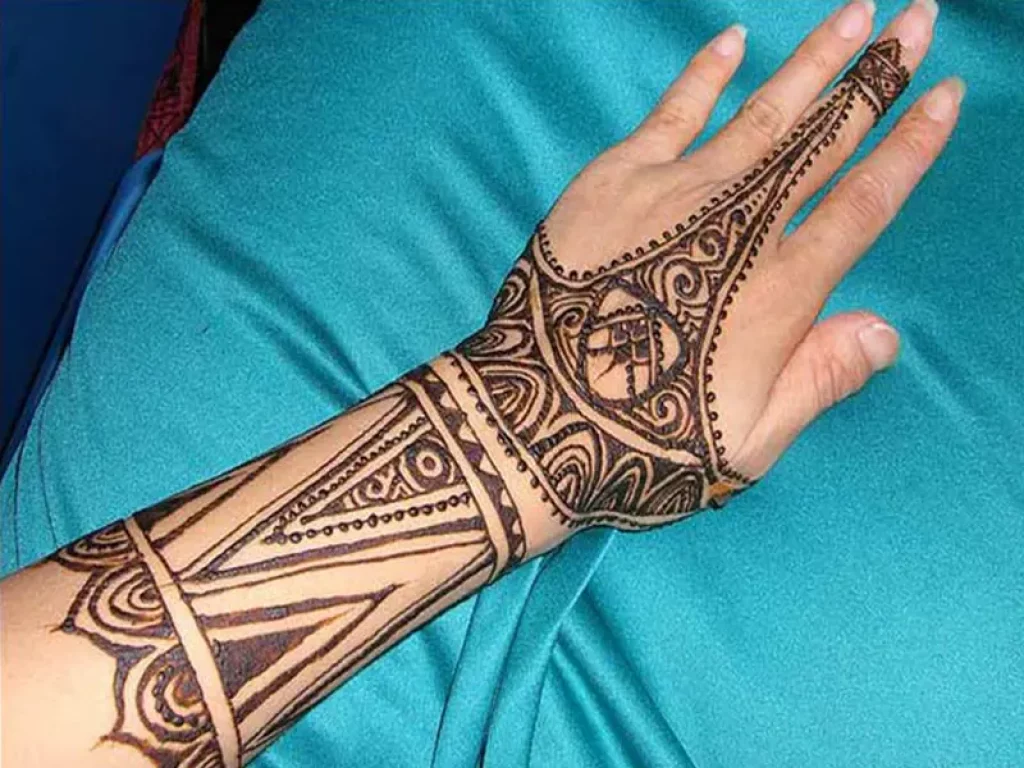 image credit stylesatlife.com
African Mehndi design draws inspiration from the rich cultural heritage of the African continent, infusing it with the artistry of mehndi. This unique style showcases bold and intricate patterns that reflect the diversity and vibrancy of African culture. The design often incorporates geometric shapes, tribal motifs, and symbols inspired by African art, such as masks, animals, and traditional patterns.
49. Pakistani Mehndi Design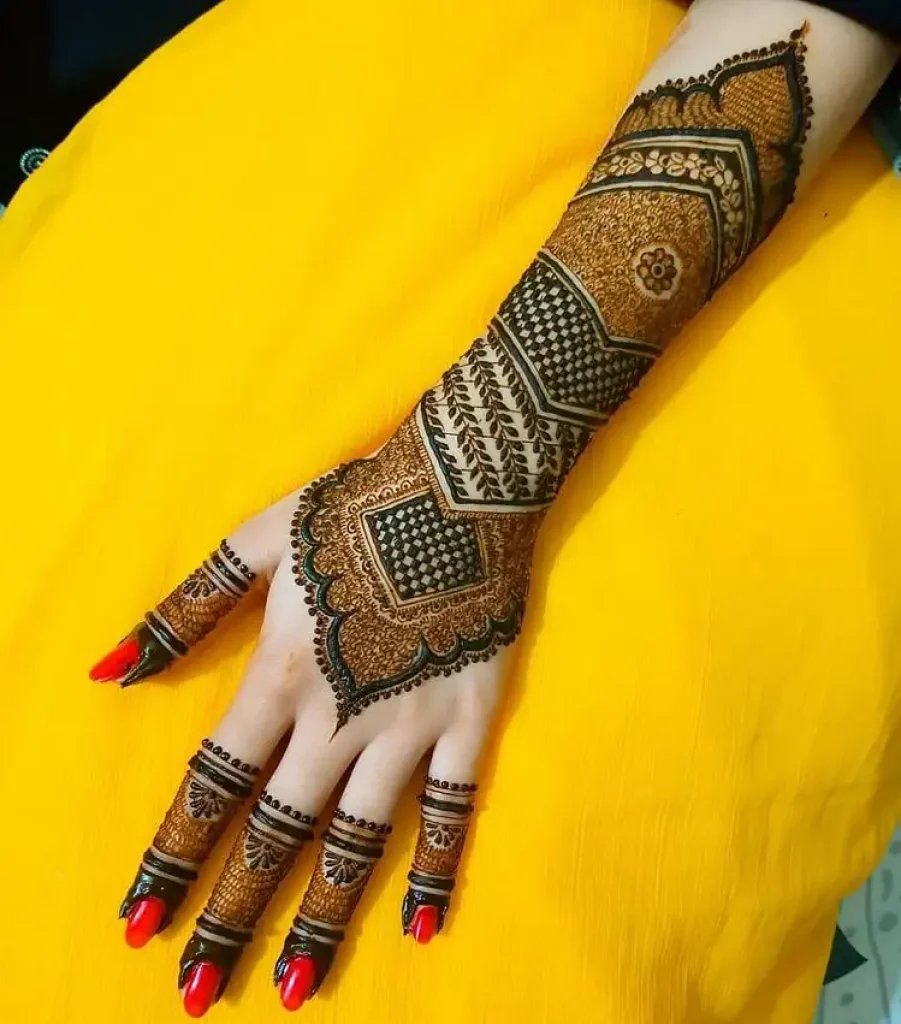 image credit stylesatlife.com
The designs often feature floral motifs, paisley patterns, intricate geometric shapes, and delicate latticework. Peacock motifs and intricate filigree patterns are also commonly incorporated. Pakistan Mehndi designs are known for their boldness and use of thick outlines, creating a striking visual impact.
50. Moroccan Mehndi Design
image credit blingsparkle.com
Moroccan Mehndi design draws inspiration from the rich artistic traditions of Morocco, known for its vibrant colors, geometric patterns, and intricate details. This design showcases a blend of bold lines, geometric shapes, and symmetrical motifs. The focal point of a Moroccan Mehndi design often features a prominent central motif, such as a large flower or intricate mandala, surrounded by smaller geometric elements like triangles, diamonds, and intricate lattice patterns.
51. Bangle style mehndi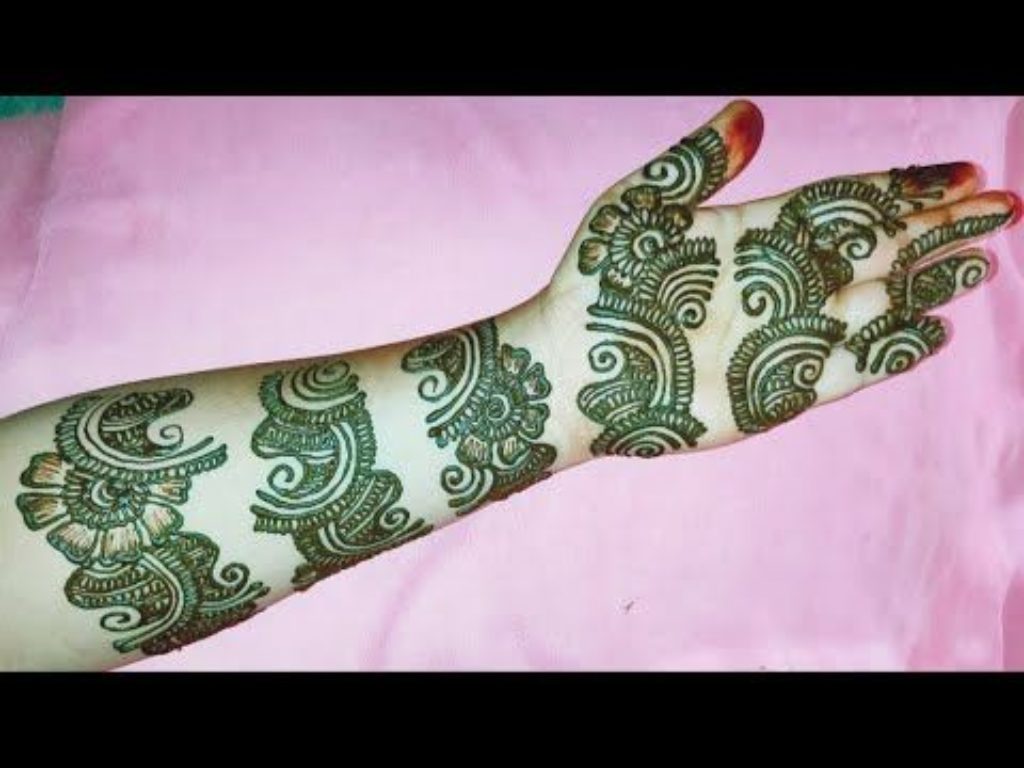 image credit in.pinterest.com
Bangle style mehndi is a traditional Indian wedding mehndi design that is widely popular amongst brides. The design consists of circles or bangles, filled with intricate and detailed patterns, usually made up of floral and leaf motifs along with Paisleys and other geometric shapes. The main charm of this design is its symmetric nature and bold lines that give it a balanced look. This design is often combined with other designs to add 5more intricate detailing, making it quite unique. It is also quite lengthy to finish and usually requires a master mehndi artist.
52. Rajasthani mehndi Design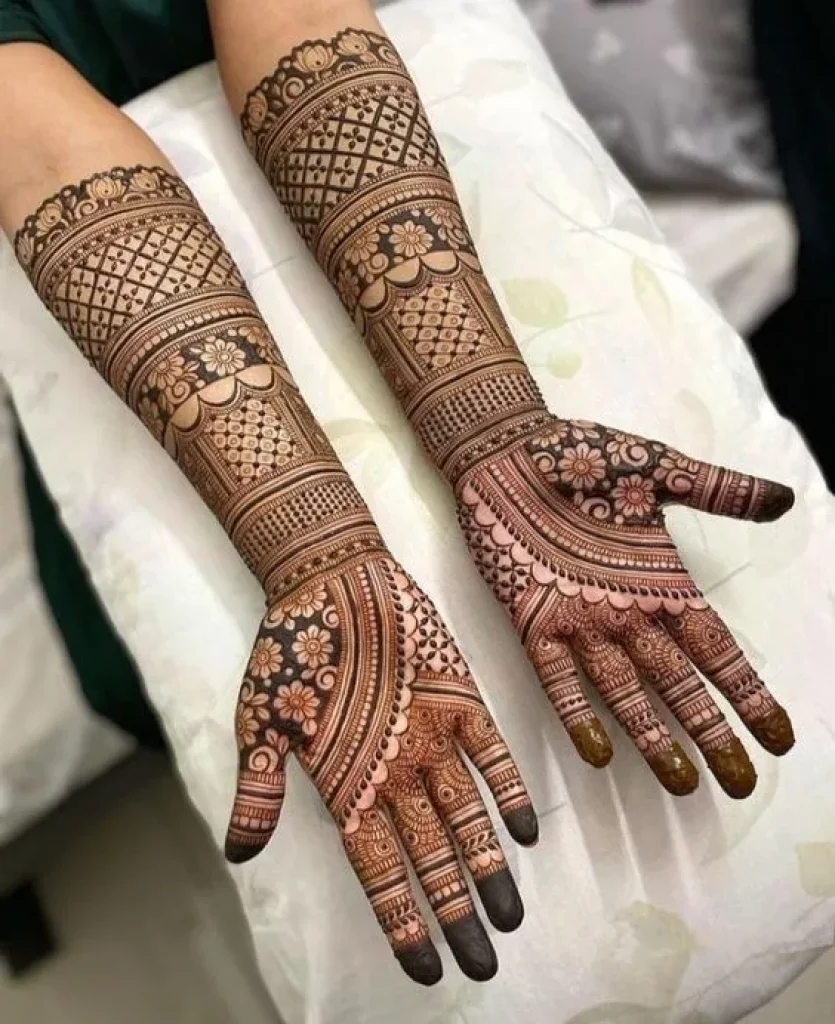 image credit infifashion.com
Rajasthani mehndi is a popular style of Indian wedding mehndi design and typically has elaborate and intricate patterns that capture the true beauty of the culture. Rajasthani mehndi design is made of bold geometrical figures, floral motifs, abstract figures, and the popular Marwari patterns. In Rajasthani mehndi, the lines are made thicker or thin depending on where it is used in the design, and the majority of the design is filled with complicated patterns and shapes. Due to its complex nature, it usually requires an expert mehndi artist to create this art.
53. Contemporary Mehndi Designs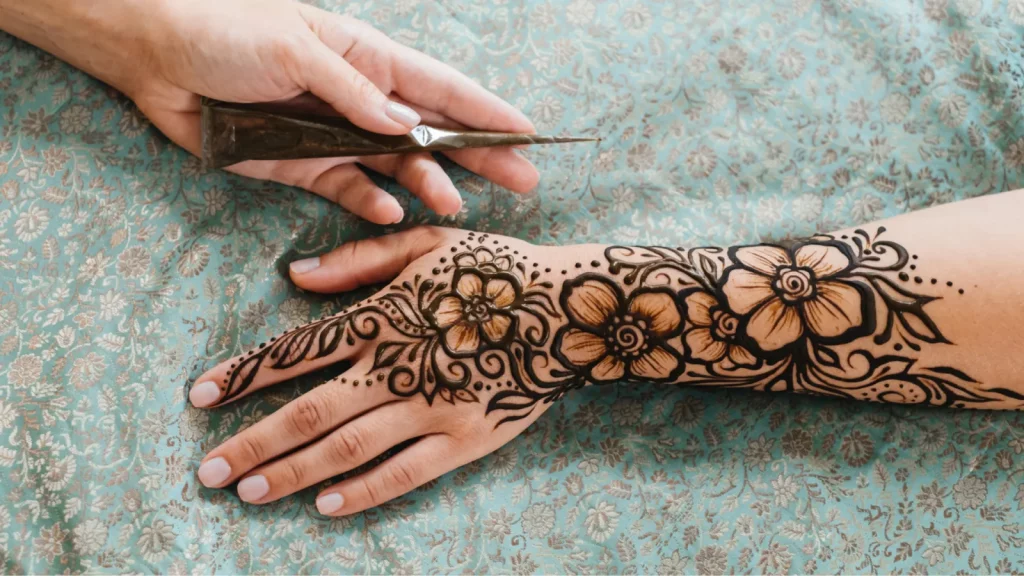 image credit lifestyleasia.com
Contemporary Mehndi Designs are modern forms of traditional Mehndi designs that are influenced by a variety of cultures and traditions. Although this design style tends to have modern elements, it still stays true to the traditional mehndi style. This design often consists of repetitive patterns and motifs, such as flowers, leaves, paisleys, Mughal designs, and other shapes that are used to fill the patterns. This style often includes flowing lines, but can also create a more abstract appearance.
54. Half Mandala Style Mehndi Design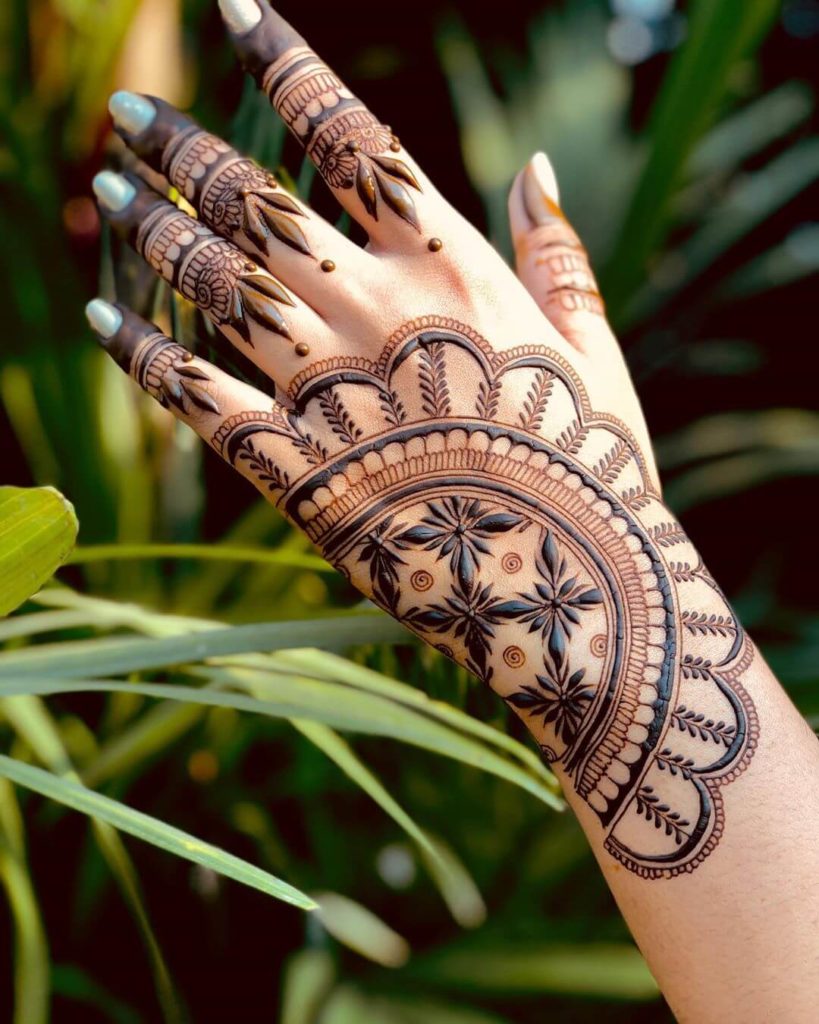 image credit shaadiwish.com
Half Mandala Style Mehndi is a unique mehndi design that combines the traditional mehndi style with a modern twist. It is created with pastel colored mandalas, with the design mainly focused on the center of the hand or feet. Modern elements are a common feature of this design, including a combination of geometrical and floral patterns along with abstract shapes. The design then shifts to the traditional mehndi look where intricately detailed patterns and motifs can be seen.
55. Elaborate Mehndi design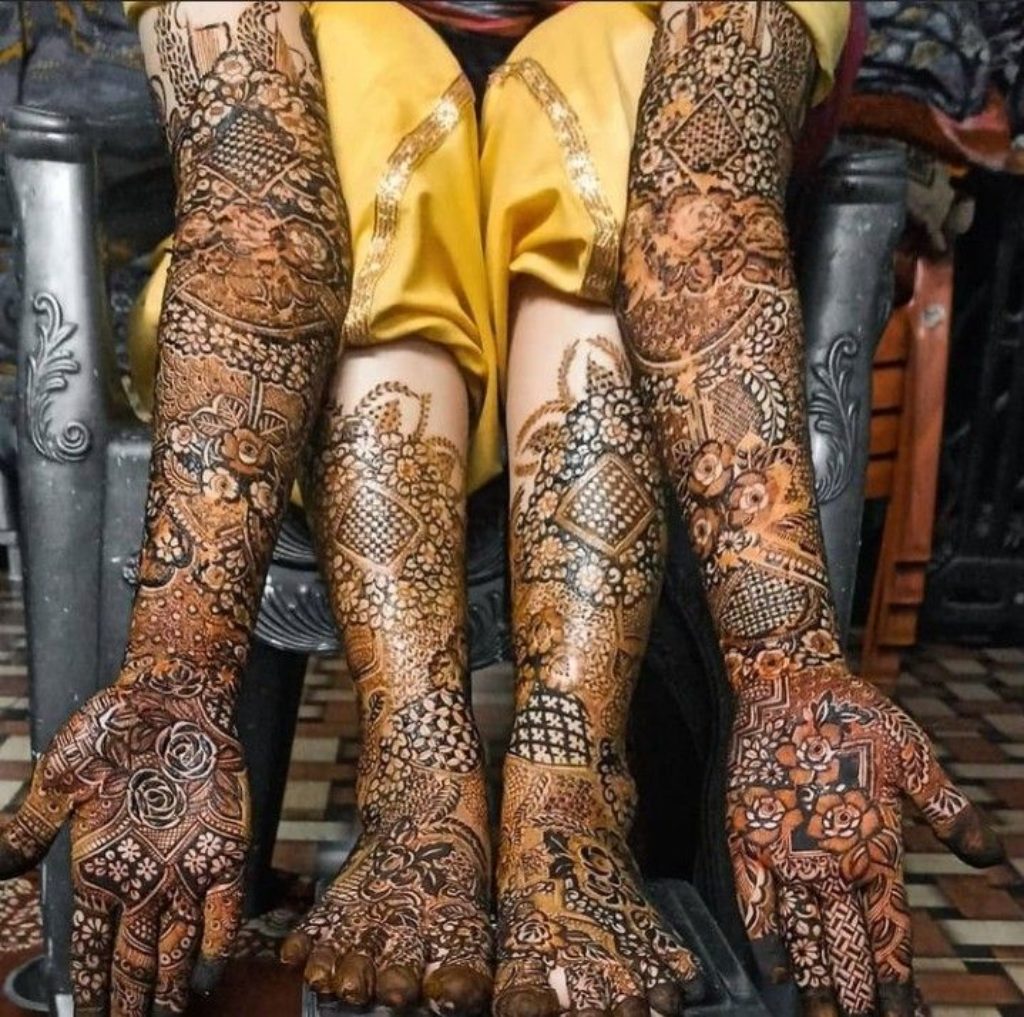 image credit in.pinterest.com
Elaborate Mehndi design is a classic and traditional mehndi style that is created with intricate detailing and patterns. It is a symmetrical design and usually features floral motifs, geometric patterns, abstract shapes, and Mughal artwork. The patterns are often large and extensive, covering the whole arm and sometimes even the shoulder. This design also requires a high level of skill and patience; hence it is usually created by master mehndi artists.
The Rakhi Mehndi design is a beautiful way to decorate your hands for the occasion of Raksha Bandhan. It involves a combination of delicate and intricate motifs that represent luck, love, protection, and happiness. The design can be easily customised to a variety of colours and intricate designs that will make the wearer look beautiful on the auspicious celebration. With this Rakhi Mehndi design, you are sure to dazzle and spread the joy of the auspicious occasion. Try this mehndi design for this Raksha bandan to make your special day delightful.